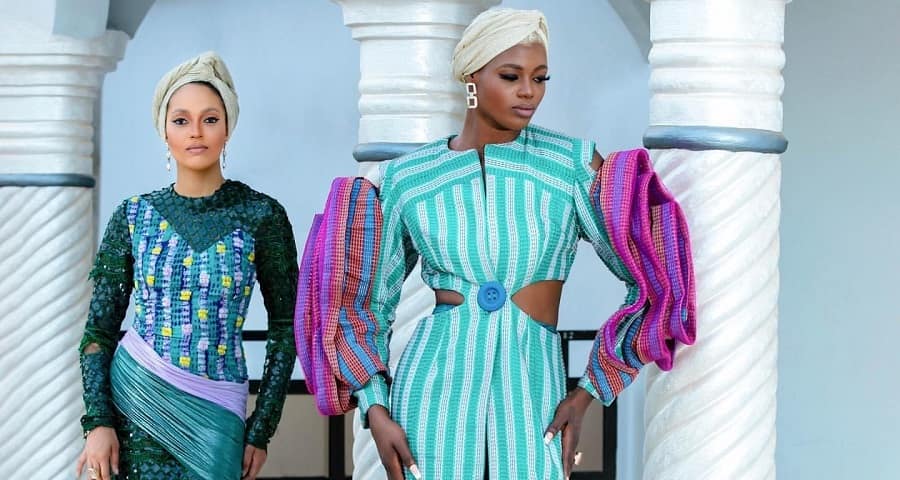 As Nigerians prepare for the forthcoming election to elect a new President in 2023 (God knows who fits the mantle), Ejiro Amos Tafiri is giving us something to remember to help the citizens with their voting choices. Call it a love letter or an inspiration, but Ejiro Amos Tafiri's Spring/Summer 2022 collection is an ode to Nigeria's former First Lady, Maryam Babangida.
The new collection entitled "Retrospect" is making us feel excited about getting dressed like Maryam Babangida, which the brand described as a "style icon" and "uber stylish former first lady of Nigeria." In fact, the collection recaptures the brand's commitment to preserving Nigeria's cultural heritage through fashion and designs. 
"Our spring/summer 2022 collection- RETROSPECT, is inspired by the uber stylish former first lady of Nigeria- Maryam Babangida," Ejiro Amos Tafiri of the eponymous womenswear label said in a statement. "Her style, poise, and sumptuous gait represent the woman we all want to be: confident, grounded, and flexible."
Cut from vibrant fabrics with highlights on hand-woven Aso-oke, silk Adire, and brocade, the retrospect collection gives a modern take on African fashion, featuring a range of silhouettes including 'merry dresses, prim skirts, shapely corsets, and volume jackets.' You will find a corset top, crop top, crop jacket, harem pants, long skirt, as well as a deconstructed jacket without the miss of all the elements that make up African fashion.
In addition, however, the Lagos-based label went the extra mile to project its subtle nod toward diversity, handpicking models from two African countries and one from France, with the lookbook shot in the palm-lined Atlantic coastline city of Lome in Togo.
"To pay homage to a true style icon, we decided to tell a story of diversity and tolerance with models from two African countries and another from France, with a lookbook shot in the windy and beachy city of Lome in Togo," says the brand.
Read more from the brand:
We looked back at our designs from the past years, those that have become easy classics and staples to our customers, and then we reimagined them with Maryam Babangida's eclectic and sexy style in mind.




This collection is very Nigerian in its contemporary appeal, from fabric choices; and masterful drapery techniques to classic silhouettes. We have used meticulous and indigenous techniques to craft finely woven fabrics like Aso-oke and hand-dyed materials.





This retrospect collection offers a diverse range of sophisticated silhouettes, including merry dresses, prim skirts, shapely corsets, and volume jackets.





Taking on the tradition from our previous collections, we have consciously created diversely inclusive designs that offer women of different cultural and religious backgrounds some comfort, a space to be seen, heard, and understood.



Meanwhile, you can view the full Restropect Collection by Ejiro Amos Tafiri on its official website: www.ejiroamostafiri.com.