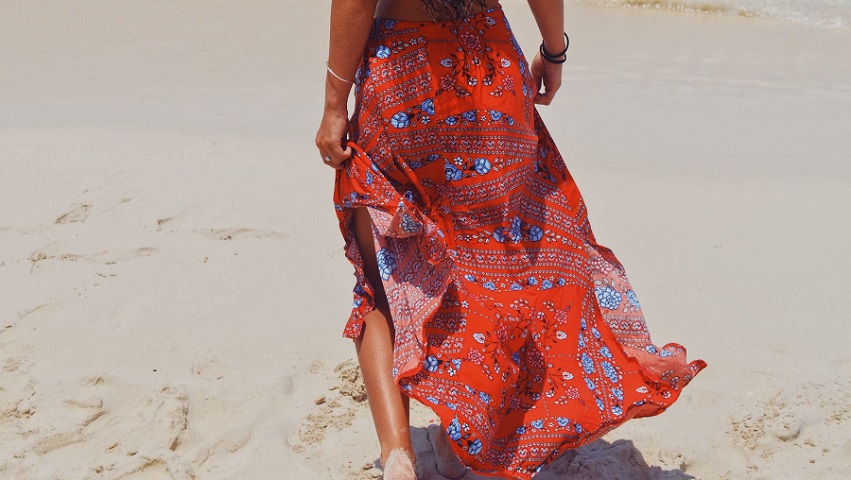 The name "boho," which is short for "bohemian," refers to a style of attire popularized by pre-Raphaelite women in the late 1800s and popularized by free spirits and hippies in the 1960s and 1970s.
The boho style is defined by flowing or tiered skirts and dresses, peasant blouses, ethnic features such as tunics or wood jewellery, embroidery or beading, bordered handbags, and jewelled or ornamented flat shoes (or flat ankle boots). The look is frequently layered and bright.
Boho (and the boho lifestyle, which inevitably became famous in 2000) ideas are most commonly combined into a look with other trends nowadays, rather than dressing up in the trend from head to toe.
In 2005, Sienna Miller, Kate Moss, and Mary-Kate and Ashley Olsen typified the trend, which reached an all-time high. These women are still seen in somewhat boho looks, but with a fashionable twist that incorporates other elements such as menswear, Americana, and sleek minimalism.
A boho skirt is a style of skirt that first gained popularity in the 1960s and is often associated with hippie culture. These skirts are usually long and flowing, and they are frequently made of calico. Prairie skirts from the early 1800s are similar to the boho skirt in many aspects. Let's learn more about the types of boho skirts.

Jasmine Mini Boho Skirt
The Jasmine Boho Mini Skirt makes a statement! The rayon fabric is light and airy, making it ideal for the summer months. You won't regret styling yourself with this Bohemian Mini Skirt. The print contains vibrant blossoms, and the sashes provide a graceful touch. For a laid-back style, pair it with a plain shirt or tank, or dress it up with a Bohemian Blouse for a more modern approach.

Marissa Long Boho Skirt
The Marissa Long Boho Skirt will make you feel like the free-spirited gypsy you've always wanted to be, thanks to its Boho-inspired print and fun tassels. The cool cotton and rayon combination is ideal for summer, and the elastic waistband ensures a secure fit. Let the good times roll with this Skirt in your summer wardrobe!

Amanda Boho Flowy Mini Skirt
The Amanda Boho Skirt will spruce up your look this season. This flowy skirt boasts a Bohemian-inspired design with tassels for additional charm. This skirt is made of a soft cotton fabric and is ideal for warmer days. Dress it up or down depending on your mood; either way, you'll adore wearing this fashionable skirt!

Bohemian Ruffle Wrap Skirt
Are you looking for a Bohemian Skirt with a little glitz? The Boho Ruffle Wrap Skirt is the perfect choice. This cotton and rayon skirt has an empire waistline and a comfy A-line silhouette. The ruffles bring a bit of Boho Chic to the outfit, and the orange print is adorable and unusual. This skirt is ideal for spring or summer and may be worn for any occasion.

Red Midi Boho Skirt
This Red Midi Boho Skirt is very flirty and fun! We adore the print and how it stands out against the crimson backdrop. The shape is really attractive and can be dressed up or down depending on the situation. It's ideal for any upcoming spring or summer gatherings. And we can't get enough of how cozy it is! Every time, the elastic waistband ensures a great fit.

Women's Ruffle Midi Skirt Boho Tiered
Blue is almost everyone's favorite color and when you see this amazing ruffled, tiered, tie waisted boho skirt, you just cannot help adding it to your cart. It is 100% suitable for the weekend or even daily wear. It's also the perfect outfit for a date and you'll leave your partner mesmerized by your beauty.

Eleanor White Boho Skirt
In the Eleanor White Boho Skirt, you'll always feel like a beautiful lady! This Boho Chic is as comfy as it is gorgeous, thanks to a tiny lace pattern on a midi A-line silhouette, a high elastic waist, and a flowy fit! The empire waistline looks good on everyone, and the mid-calf length makes it a flexible garment that can be dressed up or down.

Layered Tiered Floral Boho Maxi Skirt
This women's layered tiered floral boho maxi long skirt is the perfect outfit to go out with friends or even on a date. You can style it up with some great accessories, and you'll be good to go. You will also earn many compliments because this style is unique and eye-catching. Look like the woman of your man's dreams in this beautiful floral boho maxi long skirt.

Natalie Maxi Boho Skirt
Looking for a flowy skirt to get you through the transition from spring to summer? The Isla Maxi Boho Skirt is the perfect choice. This bohemian skirt has a flattering A-line silhouette and charming ruffles down the hem and is made of breathable cotton fabric. This piece is sure to bring some boho flair to any wardrobe, whether you're spending the day at the beach or going out for brunch.

Nova Long Boho Skirt
The Nova Long Boho Skirt is constructed of breathable fabric and has a flattering A-line silhouette, making it the ideal complement to your spring collection. You'll be able to put together outfit after outfit with ease thanks to the whimsical ruffles! Whether you're relaxing at home or going on a stylish journey, this boho flare will keep things fascinating no matter what happens next.

Stella Wrap Boho Skirt
The Stella Wrap Boho Skirt is ideal for a day of sightseeing or relaxing at the beach. The lightweight fabric features a lovely design and falls in an A-line style that is flattering on all figures. The ankle-length boho skirt features tiny ruffles and a Bohemian-inspired shape that will make you feel like a free spirit all season.

Floral Midi Boho Silk Skirt
Get your designer Boho Midi Skirt in the latest style. It's comprised of a brilliant colour combination of Indian Poly silk crepe fabric. Summer fashion wear, Bohemian fashion style, Gypsy fashion, Gothic fashion, Urban fashion style, Beach Wear, Resort wear, Club attire, and beach party wear are all excellent choices.

Boho USA Style Frilled Skirt
Get this red colored USA style boho frilled skirt and impress everyone around you! Style it up with some cool accessories and you will surely look like a diva! It's your turn to rock with this amazingly designed frilled skirt.

Boho Beach Casual Style Skirt
The boho beach casual style skirt is perfect for summers as it is light and has a beautiful color which is perfect to wear under the warmth of the sun. There's nothing better than having a nice beach day and wearing your favorite boho beach casual style skirt! You may also inspire other people to flaunt a nice kind of fashion and wear boho beach casual style skirts.

Boho Print Long Skirts
Yes, long skirts are still in fashion! And you can have your very own boho print long skirt in your closet which you can wear anytime you want. It will be perfect to go out with family or friends on the weekend and also for a date.
Conclusion
There are several alternatives available if you're seeking for the right skirt to wear this season. Some skirts include vibrant colours and designs that will make your heart skip a beat, while others are larger in size or unique cuts that will help you attain a flattering style.
Hippy skirts are a great way to add individuality and flair to your outfit while yet remaining classic. Wear your favourite hippy skirt with an all-black or blue combination to obtain the Bohemian look. For added warmth on chilly days, try mixing your favourite red or green skirt with an olive Boho top.
It's all about showing off with the Boho skirt trend.