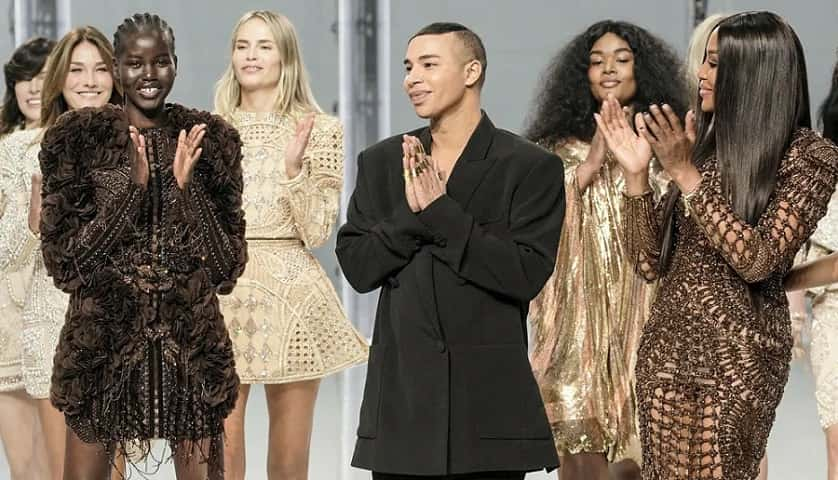 There's Dior Beauty, Valentino, and Gucci Beauty, just to mention a few. But the latest label joining the long list of luxury beauty ventures is none other than Balmain, a French fashion house helmed by Olivier Rousteing.
The 37-year-old creative director joined the French luxury house in 2011 and has since revolutionized the brand into a celebrity, cult-favorite name. Now Rousteing is upping the ante with the launch of a Balmain beauty line. But his fearless approach to the beauty industry is very intimidating, one that will give his rivals a run for their money. 
In what looks like a campaign video released by the brand, starring the creative director, Rousteing revealed his intention for creating the Balmain beauty line, and as per the French designer, he wants to represent all women, regardless of their race.
"Something new happened to my life," he said in the video. "This is a new journey. This is the Balmain journey. What I love about this new adventure is that I want to represent all the beauties of the world. No exceptions."
View this post on Instagram
For the new beauty launch, the brand is collaborating with the beauty giant, Estée Lauder, to ensure the best beauty products for fans. 
"For over ten years, my Balmain team and I have been pushing the boundaries of what is possible in fashion," says Rousteing in a statement. "We've been determined to reflect the way that today's diverse generation wishes to live and dress." So, obviously, there was no way that we were going to expand into beauty without ensuring that we had found the partner who understood and shared our outlook. From the very beginning, the team at The Estée Lauder Companies made it very clear that they support Balmain's distinctive vision, as well as our goal of disrupting the global luxury beauty paradigm. Knowing that—and knowing that Estée Lauder is the paragon of excellence—well, I can't wait to start working with them."
The new line of cosmetics and fragrances will be under the direction of Olivier Rousteing and Lauder executive Guillaume Jesel and is coming in Fall 2024.