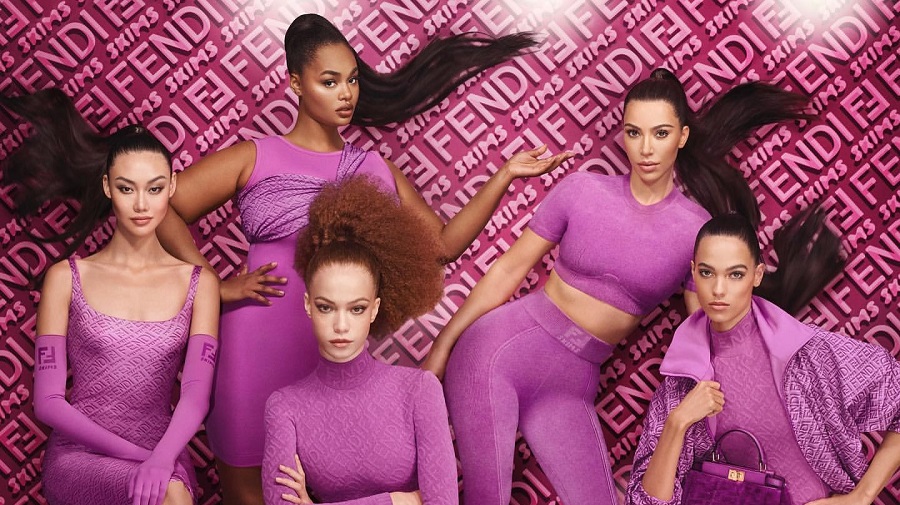 Following the massive success of SKIMS since its launch in 2018, Kim Kardashian is teaming up with Fendi on an exclusive collection to further strengthen her brand's market domination. Kim is joining forces with the Italian label to create first of its kind collection for SKIMS, which means we can expect a lot of desirable underwear, loungewear, and shapewear from the new capsule collection.
The reality star dropped the news on Instagram yesterday. "Introducing FENDI x SKIMS – a first of its kind collaboration that unites the luxury of @Fendi with the innovation of @SKIMS," captions the post on social media with her photos flaunting the brand's new designs.
View this post on Instagram
While sharing the exciting news through the brand's 'Gram handle, she also revealed the new pieces will offer new forms, blending SKIMS' silhouettes, fits, and Fendi's functionality and chic aesthetic. For the campaign, she joined other notable models such as Precious Lee, Jessie Li, Tianna St. Louis, and Grace Valentine to flaunt the eye-catching monogrammed pieces.
View this post on Instagram
"The idea for the collaboration came about when my team and I were sitting around a table at the studio in Rome," Fendi's creative director, Kim Jones explained. "Suddenly, all the women went silent and started looking at their phones. I didn't know what was going on, but they were waiting for the launch of the new SKIMS collection. It was then that I thought: Let's do something together. [Its] mission of creating solutions for all women is directly mirrored within that of Fendi. My Fendi is about creating something for every woman, every different shape—and that's something at the heart of SKIMS too."
In response to Jones's sentiments, the fashion mogul confirmed that in truth, both brands share a similar vision. "Both Fendi and SKIMS have a cultural power very different from each other, but equally as strong," Kim Kardashian said in a statement. "We share a desire to push boundaries, think differently, and challenge convention, which is why we found so much common ground collaborating on this collection together."
Fendi x SKIMS officially launches on November 9 but you can sign up on fendiskims.com to be the first to shop.