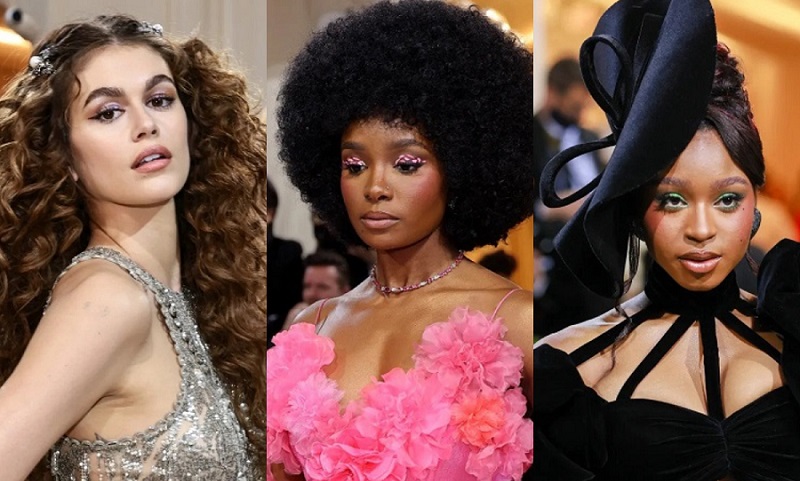 After two years of the COVID upheaval, the Met Gala returned to its regular date being the first Monday in May. For the night, celebrities sashayed down the New York Metropolitan Museum of Art's Costume Institute in their over-the-top red carpet dresses complete with undeniably beauty looks. If you have an important event coming, the 2022 Met Gala could be your reservoir of beauty inspiration. From colorful eyeshadow, red glamour, to soft and magnificent, keep scrolling to see the best looks.

 Sophie Turner
Game of Thrones star,  Sophie Turner, arrived with spectacularly dark brown curls that slid down her shoulders. Perfectly complementing her eyeshadow and the contoured cheeks, Mrs. Turner then added the crimson red lips to further uplift her ladylike black ensemble. 

 Blake Lively
Blake Lively sported a gleaming jeweled crown atop her waterfall of wavy blonde curls. Her gorgeous rose lipstick is a near-perfect match to the pink in her outfit.

 Alicia Keys
Alicia Keys accessorized her swooping edges with gems and a serpentine ponytail braid trailing behind her. Hers was a deeply architectural look that complemented her Ralph Lauren gown. The singer creatively added a touch of afro-futurism to the gilded glamour look with her disc ponytail.

 Billie Eilish
Billie Eilish rebelliously embodied an Edith Wharton heroine in Gucci's Age of Innocence. Known for her unconventional and daring approach to beauty, she stormed the Met Gala with a rock 'n' roll fake mohawk once again. Billie's shoulder-length hair was highlighted by the spiky updo, which was complemented by some brow-sweeping baby bottleneck bangs that framed her face.

 Hailey Bieber
Hallie Bieber kept things minimal yet very chic above the neck, especially after embodying such a white feathery art of a dress. Her glossy updo and nearly natural appearance complemented her smoothness.

Normani
Normani's all-black-themed trendy ensemble at the met gala was solidly highlighted with vibrant eyeshadows and blush hues.

Camila Cabello
Soft and magnificent, Camila Cabello's beauty look was supported by a baby pinkish floral hair accessories, that in combination raise her beauty stakes to the maximum.

 Lucy Boynton
Boynton's beauty looks never disappoints, and her jewel-encrusted lashes may be an inspiration the world would fly with, in no time. The actress's makeup artist paid close attention to detail, and it paid off.

Emma Chamberlain
A celebrity YouTuber, Emma Chamberlain, shone in gold. She added on-theme pizazz to her smoky eye with gold foil properly placed in the center of her eyelids.

Kaia Gerber
The model's hairdo set a high standard for wavy curls. The flowing hair framed her face and by falling down at the sides gives Gerber the appearance of a dream girl, even transcending the gilded age.

Kiki Layne
Kiki looked lovely with '70s-inspired hairstyle and delicate pink flowers on her eyes to accentuate her pink floral gown. Charming, to say the least.

Kiki Hadid
As a model, Gigi Hadid knows how to command attention. As if her dramatic Versace look wasn't enough, she added the crimson-red lip for extra attention.