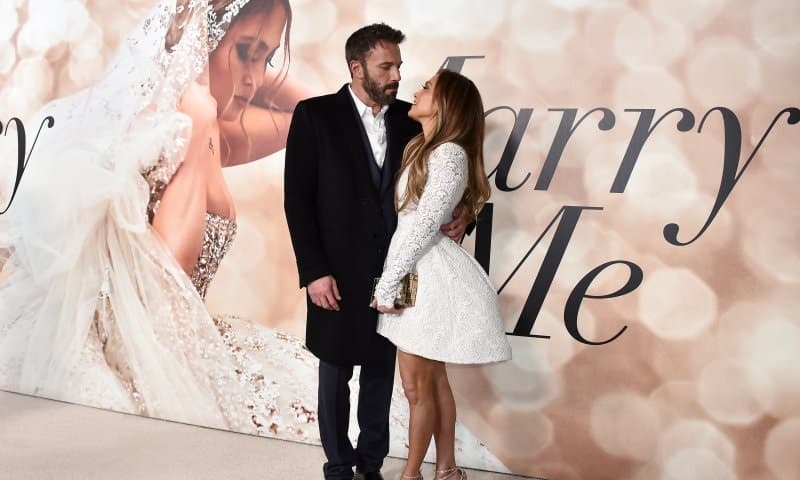 Following their strong romance, along with a series of PDA, Jennifer Lopez and Ben Affleck are officially married. The two lovers tied the knot in a secret ceremony over the past weekend in Las Vegas, after they both obtained a marriage license in Clark County, Nevada, on Saturday, according to a report by PEOPLE.
News of the "Marry Me" singer and "Deep Water" actor getting married also came after their engagement was revealed in April 2022, in which the singer released a video showing off and admiring her emerald-cut, pale green diamond engagement ring.
. According to a source who spoke with PEOPLE, the marriage ceremony was a super small one. "It was super, super small. They just wanted to be married so they got married."
Lopez and Affleck, however, have a strong history of affection, and it's good to see the pair finally tying the knot after decades of their initial and highly publicized engagement back in 2002. The pair started dating in the early 2000s but later postponed their wedding in 2003 due to "excessive media attention," which subsequently broke off their engagement months later. 
However, after going their separate ways, Affleck later got married to actress Jennifer Garner while Lopez was married to singer Marc Anthony. But the marriages only lasted for a few years.
Nevertheless, the superstar couple reunited in early 2021, and their relationship has been a subject of public discussion and speculations ever since then. Speaking about their relationship, the 52-year-old singer called it a "second chance."
"I just feel very happy and lucky to be in a relationship that's happy and loving, and I want to do everything I can to protect that and keep it safe," she told People. "It deserves that, it really does. … We hold it sacred."
"It's beautiful the way it feels very different than it was years ago," she continued. "There's more of an appreciation and a celebration for it, which is nice. … When you find somebody and you really, really love them and you get a second chance at that? That is a really rare, precious, beautiful thing and we don't take it for granted."
For Affleck, their decades-spanning relationship is a "great love story." "I can say that it's definitely beautiful to me," he said during an interview with WSJ. Magazine. "It is a good story. It's a great story. And, you know, maybe one day I'll tell it. I'll write it all out. And then I'll light it on fire."