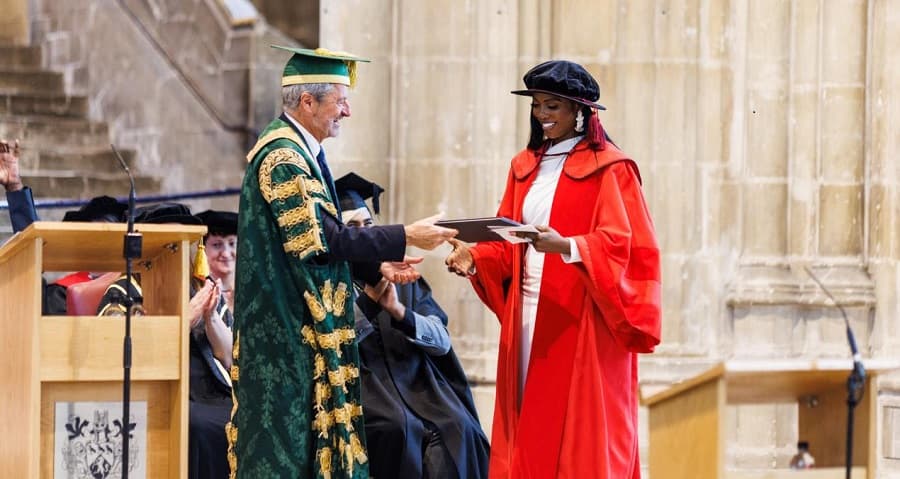 It's official: Tiwa Savage is now Dr. Savage and we are serious. 
The award-winning singer has earned herself a Doctorate. On Friday, the University of Kent awarded the Nigerian Afro-pop star with an honorary doctorate degree that recognized her long-spanning success in the music industry. She accepted the honor onstage during a graduation ceremony for the Class of 2022 at Canterbury Cathedral in Kent, where she gave an emotional speech to the graduates.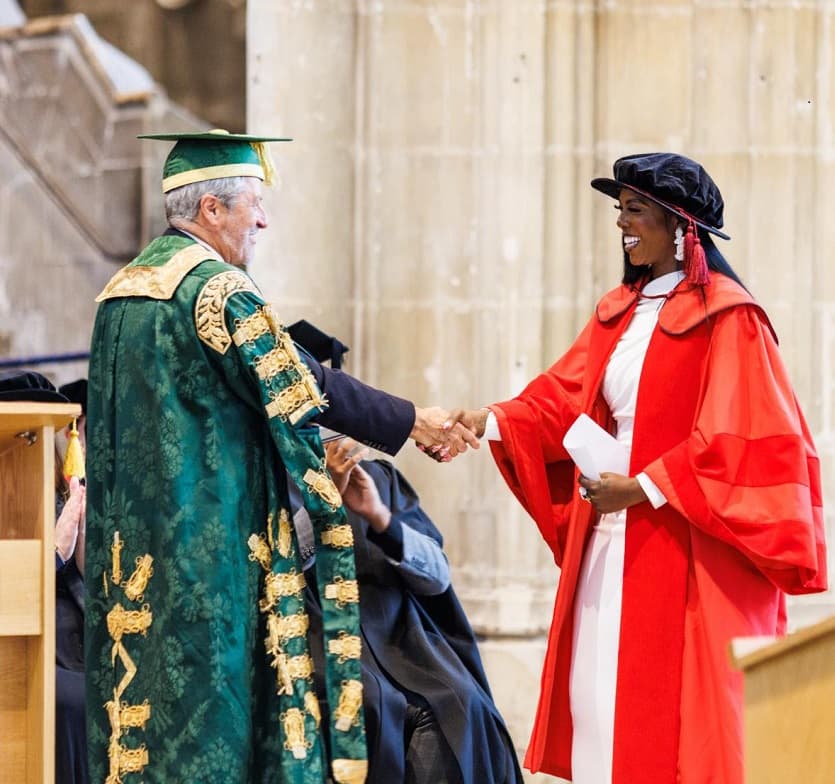 Photo Courtesy
In a video shared by singer Bankulli Osha on Instagram, Savage who is an alumnus of the University of Kent reflected on her time in the school. "I failed at a lot of things, actually," Savage said in her speech while adding that she "was bullied severely when she moved to the UK."
She continued: "I ran away from home a few times. I was suspended a few times from school. I've been globally really cute a couple of times. I'm not gonna say what it is but it rhymes with cake the irony. And I also feel the principles of finance at this very university when I was graduating. But this same girl, this same girl went on to be a leading figure in a global phenomenon called afrobeat and some call me queen but it's Dr. Savage from now on."
View this post on Instagram
The school also confirmed her doctorate by congratulating the singer on its official Instagram account, where she received a handshake from Kent's chancellor Gavin Esler, just after receiving her honorary degree.
"Congratulations Dr @tiwasavage! 👏," captions the photo. "We're super proud to have awarded the Queen of Afrobeats an honorary doctorate at Canterbury Cathedral this morning."
View this post on Instagram
In another video shared by the school, Tiwa delivered a message to the graduating students while introducing herself as Dr. Tiwa Savage. "I'm super proud and I want you to go out there, have fun and kill it. Be the best you that you can be because you truly deserve it," she said in the video.
View this post on Instagram
Our congratulations are in order!