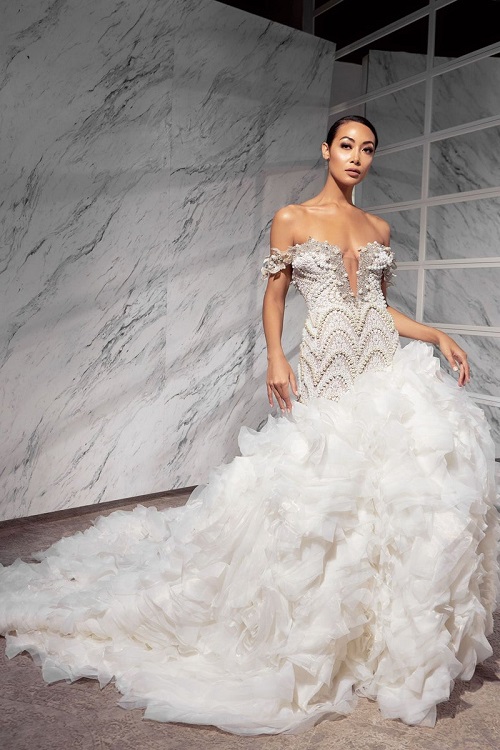 Photo courtesy
Just when the Covid-19 hit the peak a few months ago that literally forced everyone into the compulsory lockdown, it all appeared as if there will be no more marriage proposals, no more bridal shower, or weddings during the weekend. It was as if the world has come to an end and marriages should be put on a halt. 
But like the ocean, true love is boundless and in the midst of a pandemic, weddings are still taking place and brides are still walking down the aisle, whether digitally or by keeping up with the social-distancing guidelines. This means weddings are not canceled and Esé Azénabor is dropping dreamy wedding gowns for her Haute Couture collection.
The new collection entitled 'Grand Cathedral' comes with the 3D presentation of 4 pieces from the collection, where the Nigerian-US-based brand says it's 'a celebration of craftsmanship; a call to the modern bride with a flair for the extravagant. One who's not afraid to take up space, ever graceful and timeless.'
View this post on Instagram
While there's a lot to see and talk about here, all the looks have one thing in common: they're decidedly fashion-forward. You'll have the feel of opulence in all the dresses such as delicate embroidery, crystal beads adornment in classic and flattering ballgown silhouettes.
"Throughout history, cathedrals have represented both immense power and beauty," the brand said in a statement. With this collection, we tap into that confluence and explore the magnificence of details and measured opulence."
Meanwhile, the collection is supposed to be showcased at coming NYFW in September but considering the Covid-19 situation, Azenabor made the most of digital technology and gave consumers an awesome 3D virtual runway delivery while also sending a shout-out to other designers that utilized the digital concept recently.
"Shout out to all the amazing designers doing great things in 3D rendering AngelChan, Hanifa, Vimana Clothing, and others #futureoffashion #Digitalrunway✊🏾✊🏾," Azenabor wrote.
Ahead, keep clicking through the gallery to see the collection for yourself and you can also place your order here at: Eseazenabor.com.