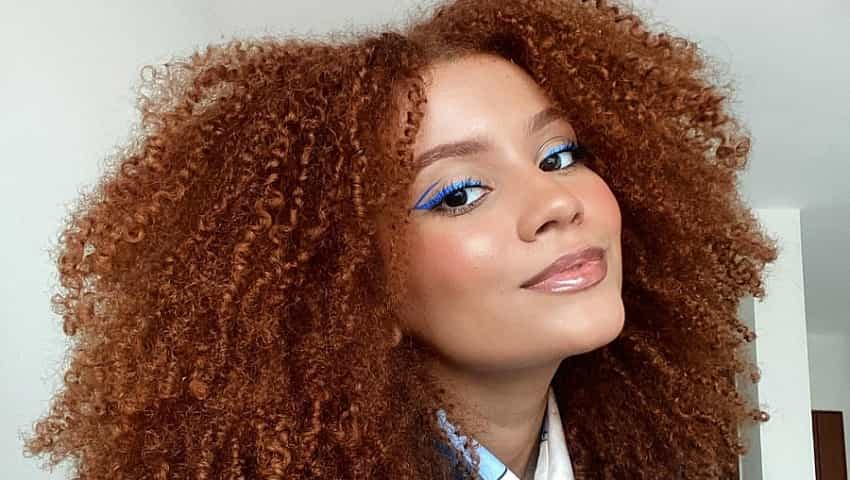 Fall is upon us. This transitional period between summer and winter is a time to relax your summertime restrictions to adapt to changes. Generally speaking, fall is a great season time to experiment with new styles, trends, and colors.
But even if you're not usually one for switching up your look, there's something about Fall that makes us all crave a change. Maybe it's the change in season, or maybe it's the fact that we're ready to start fresh after a long summer. Either way, now is the perfect time to experiment with a new hair color. Therefore, if you're seeking hair color ideas for the fall, we've got you covered with some of the coolest colors below.
You can try these vibrant but natural face-framing highlights, like the blonde shown here on Isabela Merced, if you're not ready for an all-over blonde commitment. These highlights are both low-maintenance and high-impact hair colors.
This shade of brown was inspired by the cap of a portobello mushroom and used as inspiration for the hair color. It can include some creamy or ashy tones and is neutral or slightly on the colder side. Given that both blondes and brunettes may easily obtain mushroom-brown hair using cool-toned highlights or a taupe hair gloss, this color is becoming more popular.
This Pearl-blonde hair has a neutral undertone that doesn't lean too cool or warm, making it easier to pull off than a typical platinum blonde. The warm tones that make up the pearl blonde are ideal for the season. It is a cool platinum blonde with subtle hints of purple, pink, and pastel blue. The color may make you think of a mermaid's tail or a pearl in a clam. All the same, it's such a beauty to try.
Such a cheery hue! If you're looking to change things up on your hair this fall, consider switching to a darker, bolder pink tone for fall, like Lizzo's. Depending on your skin tone, the hue veers between pink and red and may even appear a touch raspberry.
Like the traditional pumpkin spice, there is much to be said for the subtlety of copper's natural-looking appearance. Additionally, due to its ability to skew lighter into the strawberry region or deeper into the auburn tones, copper is simple to reproduce on several blonde-to-medium-brown hair hues.
Without a question, the deepest and most stunning hair color is black. This inky black shade has a frosty reflection with an intensity that would liven up your autumnal disposition. If you already have dark brown or black hair, an all-over dye will make your hair look as glossy and jet-black as Hoyeon Jung's, the Squid Game star. Just keep in mind that black often fades surprisingly quickly, which is why naturally dark hair makes it easier to achieve.
You're already into making changes in this season, so why not attempt the crimson color worn by Winnie Harlow? It has the ideal balance of warm and cool tones, so the finished shade can appear slightly pinker or slightly more orange depending on the lighting, your undertones, clothing, and makeup.
For anyone who dislikes the thought of visiting the salon regularly, this is the true meaning of low maintenance. Applying a homemade hair gloss to enhance warmth for two to four weeks will make your look even more low-maintenance.
It is as sleek as it sounds!  Warm-blonde, honey, and toffee color blend together to give caramel hair significant dimension without seeming overly bright or summery. Ask your hairdresser for caramel-toned highlights or babylights if you already have brown hair. If you want to change your hair color completely, get an all-over balayage just like Jennifer Lopez's.
This is a getaway from the melancholy of autumn. So, try this subdued color, as seen on Meghan Fahy, for an extra bright appearance. Due to the honey-blonde highlights around her face, which also give her hair a fresh, crisp feeling, it has a touch of warmth, and the deeper, cool-toned lowlights give her hair slight fall overtones.