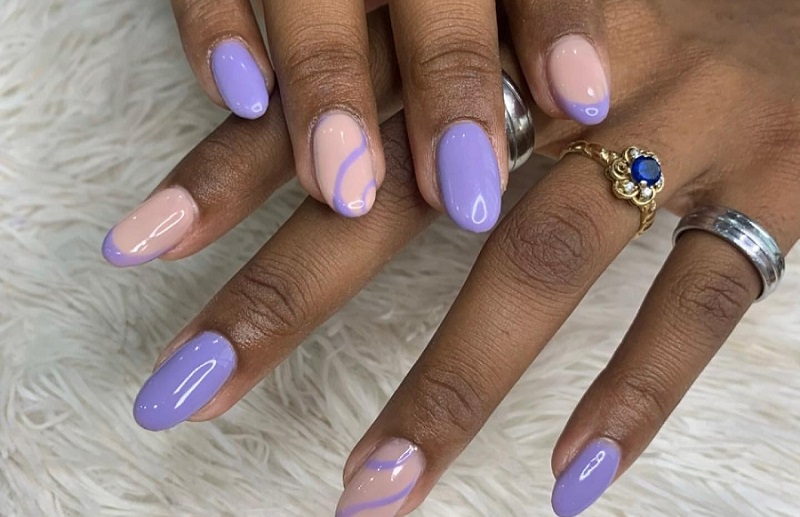 If the "almonds" you know as fruits are oval-shaped, then you guessed right — Almond nails are in the same vein, oval-shaped nails that come to a soft point. This nail design is widest at the base, somewhat rounded on the edges of the free edge, and pointy at the very tip. It was inspired by the almond's shape, may be worn short or long, looks good on most nail beds, and goes with almost any nail art style, making it the highlight of nail shapes.
In addition to giving the appearance of longer nails, almond nails also give off an impression of elegance while being relatively safe for you to get stuff done without hurting yourself or others. Also, a neutral shade of color would make the nail art pop.
This gentler nail art variation is a fair compromise between style, and practicality, so give it a try if you love the look of pointed nails.
Finding inspiration might be difficult when there are so many almond nail art alternatives available to try out. So, scroll down to see 10 cool and screenshot-worthy almond nail designs you might swoon over for your next manicure.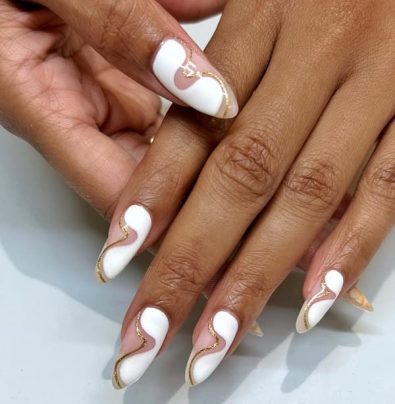 Almond-shaped nails are the perfect choice if you're looking for some fun swirl art manicure designs to explore. This abstract design benefits from the additional support that the almond shape offers.
Photo: Instagram.com/nailartbyqueenie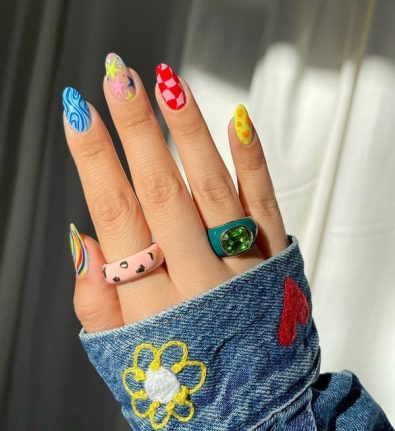 If you love to rock different-colored nails all at once, then this mismatched manicure idea for your almond-shaped nails is meant just for you.
Photo: Instagram.com/amyle.nails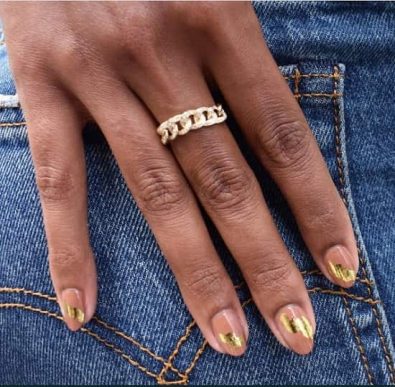 These minimalist almond-shaped nails are just as attractive as their longer or mid-length alternatives. For this nail art, you have many options as long as you have a large enough open edge to shape. It's ideal for those who frequently type on keyboards or use their fingers for other types of work.
Photo: Instagram.com/paintboxnails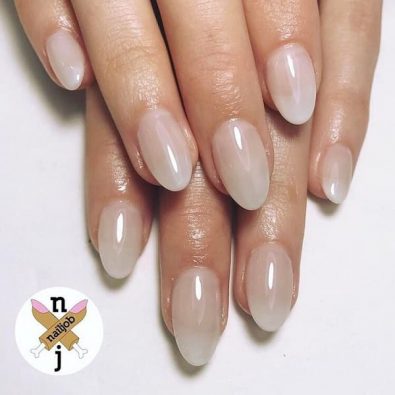 Similar to almond milk, these typically white, slightly translucent manicures resemble a glass of skim milk poured over your fingertips. The hazy, barely opaque color is perfect for nail polish. And is just classy and delicious-looking when combined with an almond shape.
Photo: Instagram.com/lovelydotasia

Bring-the-rainbow-close Almonds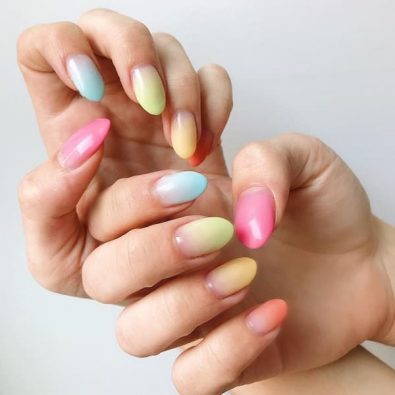 Each almond-shaped nail is given a different hue in this rainbow manicure. When multicolored nail paint is used, the almond-shaped nails instantly give off the freshness and newness that a rainbow brings.
Photo: Instagram.com/chillhouse

Crescent Moon Almond Nails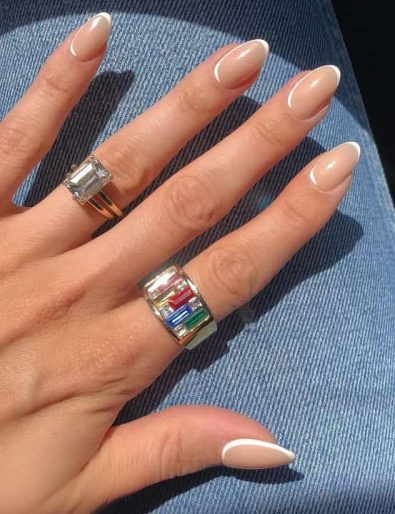 An understated crescent moon shape is painted along the nail bed's edge for this nail art design. Sometimes all it takes to draw attention to your nails is a razor-thin line around the borders of your nails, and you'll have people gawking.
Photo: Instagram.com/bluesy_nails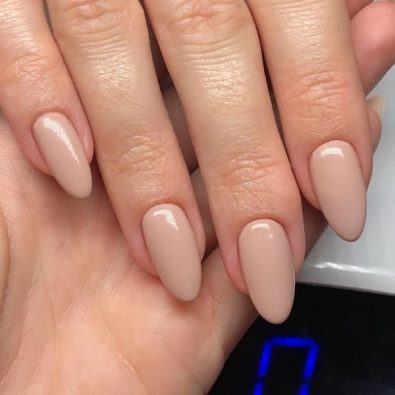 This is hardly even a discussion; an almond-shaped nail elevates even the most commonplace, neutral hues to the level of fine art. It's also amazing that the neutral color is appropriate year-round and literally doesn't compete.
Photo: Instagram.com/nailsbytaylorjustine

"Half this, Half That" Almond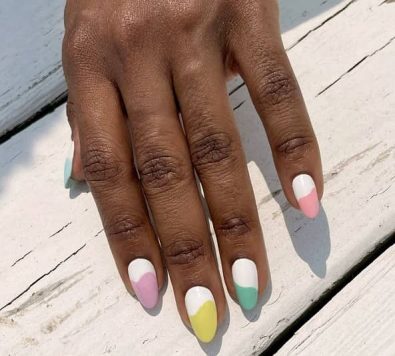 A girl loves to look good and this DIY nail design's great combination with the almond shape makes it easier. To make your own, simply draw a wavy line dividing the nail in half, then paint the bottom white and the top in the color of your choice.
Photo: Instagram.com/jinsoon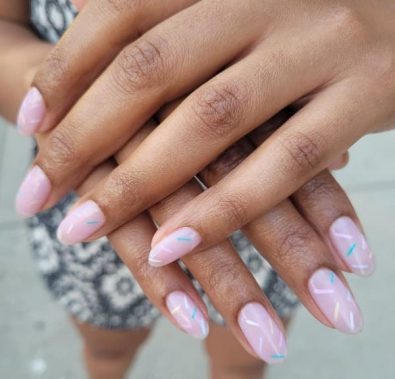 If in doubt, sprinkle some glitters on your almond-shaped nails. In essence, these confetti nails provide the appearance of sparkles floating on your manicure, similar to confetti being thrown in the air. Excitingly vintage, if you ask me.
Photo: Instagram.com/tipsnailbar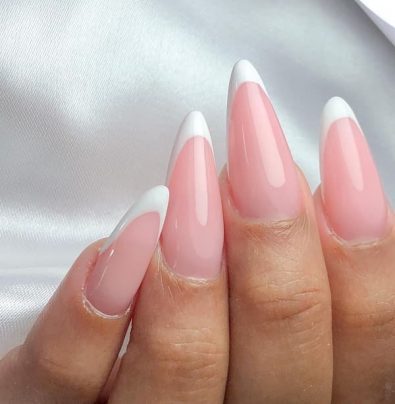 A timeless nail art style that works for any occasion is the French manicure. You probably notice it on all nail shapes, and the almond shape is no exception.
Photo: Instagram.com/amandacruz.nails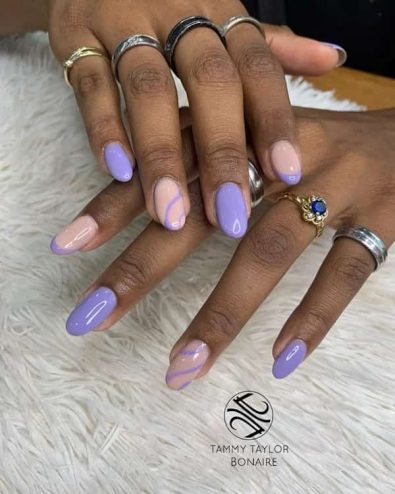 A break from the mundane – that's what this purple almond-shaped nail design offer. Since almond nails have been trending since last year, there have been many iterations of the style. From minimalist designs to intricate ones, there's an almond nail art style for everyone.
And if you're looking for something different, then go for a purple shade. It's a great way to add a pop of color without going over the top. Plus, it's an elegant shade that will go well with any outfit.
Photo: Instagram.com/tt_bonaire