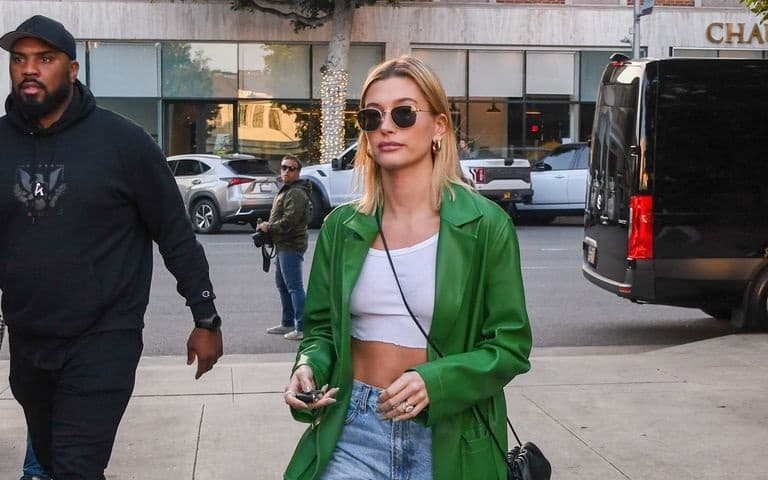 An excellent leather jacket is a must-have for every closet. Leather jackets are a staple in one girl's wardrobe since they may be worn with everything. As far as hues go, black is unquestionably the most royal. 
However, you may mix and match a wide variety of leather colors. Here, I want to address the hot green leather jacket. When you have a green leather jacket, it might be tough to determine what attire to wear. 
Other aspects, like the wide variety of outerwear, make it more challenging for those who aren't fashion-conscious to shop for something they enjoy. It might be tempting to think that a green jacket is all you need to seem stylish, but if you don't pair it with the proper accessories, the look could backfire.
The idea of a green women's leather jacket may seem strange initially, but the color conveys a positive mood because of its lively nature. A green jacket may be worn and styled in various ways without drawing attention to the wearer or making them feel out of place. 
With the addition of a green leather jacket, getting dressed will be the simplest part of your day. This jacket is the perfect accessory for your sense of style and will also help you stand out and feel confident. 
Want to know how to wear a green jacket but don't know where to start? You've come to the perfect spot. Just keep scrolling down to make your selection.
1. How to Style a Green Leather Jacket?
 
Boost Your Athletic Attire
Sportswear with Tracksuit: Throw on a green leather jacket over your casual clothes before you leave home to do errands, pick up the kids, or get some coffee, and you'll instantly seem put together. Adding this top, you can easily spice up an ensemble consisting of leggings or track pants and a hoodie.
Hooded Sweatshirts with Leather Jackets: This green leather athleisure style is perfect for men and women who want to appear stylish without trying too hard. However, to avoid making your leather jacket seem too thick, we advise teaming it with a thin pullover when going for this style.
Sportswear with Neutral Colors
Black or brown leather jackets are timeless, but a pop of color from your favorite sportswear may give them a modern twist. A green leather jacket may be made more subdued when worn with a dark color like black or grey. Put on your favorite sneakers, and you're good to go!
2. Elevate Your Everyday Attire With A Little Edge
Flaunting Spiky Boots and Skintight Leggings: A leather jacket is a perfect way to transition your outfits between seasons. Wear it from spring through summer, fall, and winter by adjusting the fabric and the accessories as needed for each season. You may wear your favorite dress year-round by switching to boots from sneakers or sandals, donning tights instead of baring your legs, and topping off the look with a leather jacket.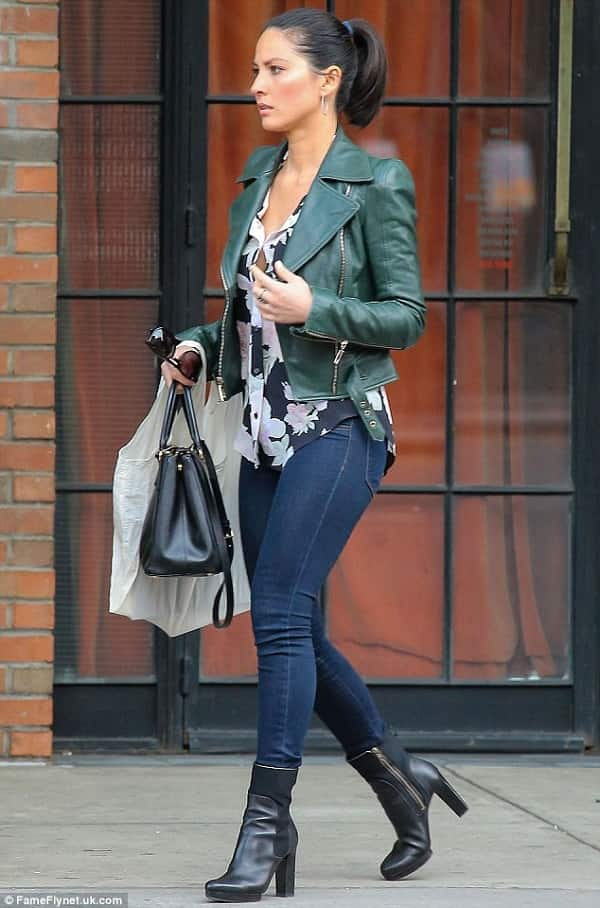 A Soft Color Scheme: Another approach to give a beautiful summer dress some edge is with a women's leather jacket. Layer a green leather jacket with statement-making metal hardware over a pastel summer dress for the ultimate in rock chic.
3. Try on a Monochrome Ensemble
In addition to being a terrific choice for any time of year, men and women alike may benefit from the timeless appeal of monochrome. Whether you choose an all-black ensemble or select complementary shades of grey and white, you will exude an air of effortless elegance. It's also a terrific method to wear a leather jacket without drawing attention to yourself or making you feel too out-of-place.
Monochrome With Jeans: Put on your favorite green leather jacket over a casual outfit of black trousers and a black V-neck t-shirt. In contrast, a graphic shirt may give you a rocker vibe while still looking casual and cool.
4. Pick Your Favorite Pair of Jeans
A Plethora of Denim at Your Service: An excellent outfit combination is a leather jacket and jeans. Your leather jacket is the perfect way to dress up a pair of jeans, a denim skirt, or a denim blouse for any casual occasion. You can simply transform your casual jeans into a fashionable and beautiful outfit, perfect for a day at the office or an evening out with friends.
Dressed in Denim and Sneakers: Whether you're going out or staying in, ladies, rock a sharp pair of heels or a laid-back pair of white sneakers. Leather jackets, blue denim, and boots make for the ideal day-to-night look for men.
5. Increase the Color Contrast with Women's Leather Jacket
To break up an all-black ensemble, try donning a green leather jacket. Leather jackets are great for giving your outfit that extra something, whether you're going for a strong and colorful look with a green jacket or a beautiful and delicate look with a pink or white jacket.
You could always go for the safety of black or brown, but if you're daring, try something bright that you already possess quite a bit of. Any leather jacket is too unique to risk never being worn because it doesn't go with anything you own.
Combine a polka-dot skirt with a striking red leather jacket for a stylish throwback outfit. You could also just wear your favorite pair of black figure-hugging pants and a pair of red sneakers to go with your red jacket. Bright leather jackets look well with traditional shirts for guys.
6. Add Some Motorcycle Chic
A jacket in the iconic motorcycle design has been popular for decades. Leather jackets were originally used when driving, and this style remains popular today. The first green motorcycle jackets looked similar to those seen in stores today.
Use Leather Motorcycle Boots: Men's and women's cowhide boots are a great way to channel the style of the '70s and '80s. Choosing a pair of black torn skinny jeans will complete your outfit.
7. Make Some Style Changes for the Office
Incorporating a leather jacket into your professional wardrobe is a simple way to modernize your look without spending too much time or effort. Whether your workplace requires smart-casual attire or you just wear a white shirt, tie, and pants daily, a green leather jacket will be a welcome addition to your wardrobe.
Putting on your leather jacket after a long day at the office can give you the casual edge you need to head out for drinks with coworkers. To make things even more relaxed, take off your tie and remove the top buttons on your shirt.
Wrapping It Up…
This proves that a green leather jacket is distinct from any other color jacket you might wear. The tone might be either formal or relaxed. Try donning a green jacket instead of the standard black or brown to stand out from the crowd.