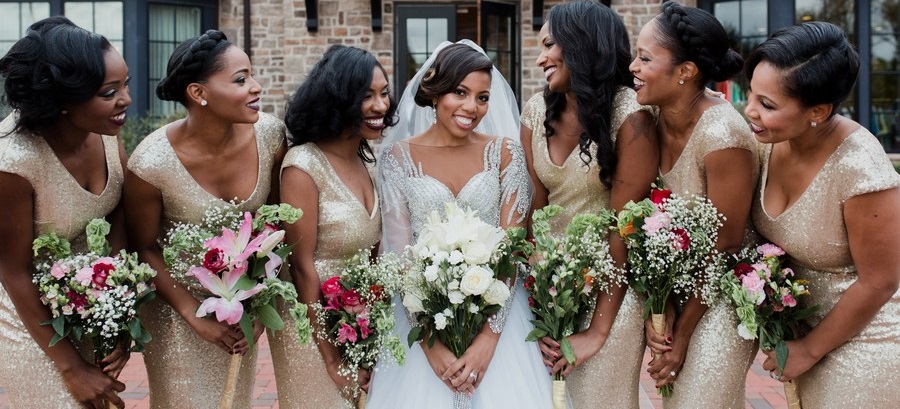 Traditionally, the bridesmaids are the ones who will pay for their dresses, makeup, and hairdo. They are also expected to do a lot of things to help the bride plan her wedding. Being one of the bridesmaids definitely not always easy, that is why gifts are often given to them to show that they are appreciated.
When you are wearing your bridesmaid dress, this is particularly true. For one, you do not want to draw attention from the bride. For another, you want to maintain a low-key, elegant, understated look. Accessories should accent you and your outfit, they should not overpower it.
And when it comes to bridesmaid's accessories, these include woman purses and clutches, wedding hairpins and other headpieces, and jewelry. These things can make great gifts for your bridesmaids. However, when choosing these accessories, you have to consider a few points.
Here show you the bridesmaid list for you:
Necklace
Keep it simple when selecting a sterling silver necklace for your bridesmaid dress. Simple chains of Kundan necklace sets would make a big impact. Strings of pearls are a great addition too. A chain or string of small beads with a simple pendant may also work. You have to consider the dress, the style and what the bride is wearing (you don't want to out-dress the bride!). Your best bet with necklaces is to stay away from large, chunky jewelry and keep it simple.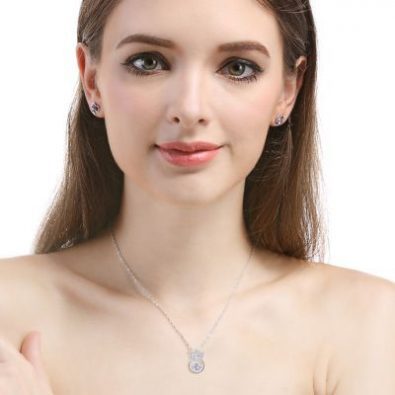 Photo: via Pinterest
Earrings
There was a time when simple, stud earrings were the acceptable ear accessory for bridal jewelry. However, an elegant drop is now entering the race and changing the face of bridal accessories. You can even forgo a necklace if you select a sophisticated drop earring. Just keep it simple and not too large or gaudy.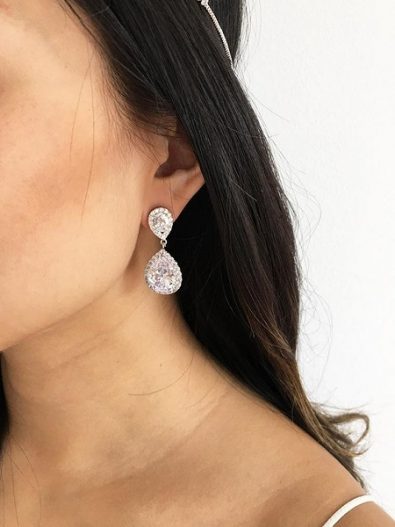 Photo: oliveandpiper.com
Bracelet
You have a little more playroom with bracelets. Check with the bride first, though, to make sure that your bangles are acceptable. You may opt for a simple sterling silver bracelet or a clean, easy chain. Your best bet is to always check to see what the bride is wearing and dress down accordingly.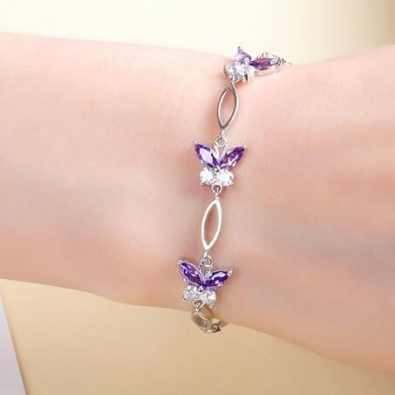 Gloves
Some bridesmaids are requested to wear gloves. You generally do not wear gloves as an accessory unless the bride requests it. Gloves are not an accessory that you use on your own, this is usually an accessory that either all of the bridesmaids wear or none of them wear.
Bags
Again, handbags are another accessory that is generally carried by all of the bridesmaids or none of them. Check with the bride to make sure. The bridesmaid evening bags are usually satin or lace, small and more for decoration than the utility.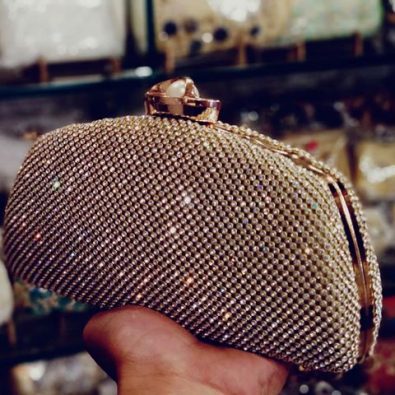 Photo: via Pinterest
Hair Accessories
Hair accessories come in many different styles and types. You can use hair sticks, barrettes, and wedding hair clips, depending on your hair length and your chosen style.
Hair Sticks
If you have long hair and style it in an updo, you can use decorative hair sticks to hold it in place. Hair sticks are available in a variety of styles and materials from metal to natural wood.
Barrettes
Barrettes are great for long, medium or even short hair. Select barrettes that compliment your dress. You can go a little glitzy here with Swarovski crystals and gold or silver; however, you don't want to go too over the top with the glitz and glamor. This is the bride's day.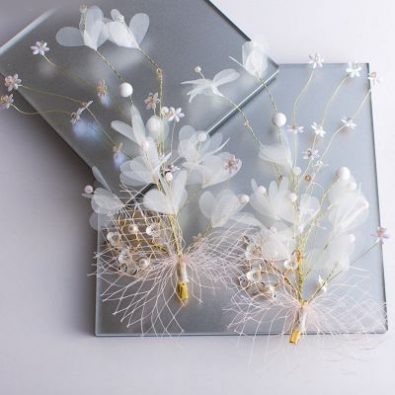 Clips
Clips are good for securing stray hair in an updo, but they can also be used with medium or short hair. You can find plain clips or clips that are adorned with Swarovski crystals, pearls or metal etching and designs.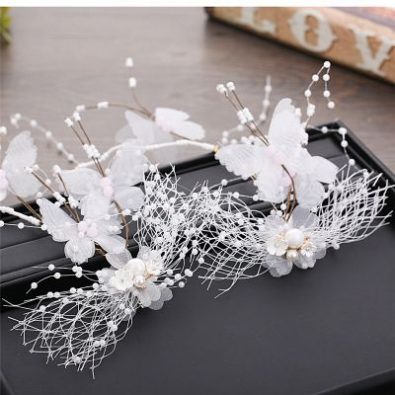 When you accessorize with jewelry or hair accessories, remember that it is the bride's day and that you do not want to outshine her. Keep it simple, elegant, and understated and you will shine in your own, beautiful way.
Bridesmaids Bouquets
The bouquets are the largest ensemble your bridesmaids will carry that is why you need to make sure that they will look just perfect. One of the guidelines for choosing bridesmaid's bouquets is to make sure that they coordinate with the dresses that the girls will wear, as well as your wedding gown and the theme of your wedding. Perhaps the major concerns when choosing bouquets are the color, type of flowers, size, shape, and accents for the bouquets.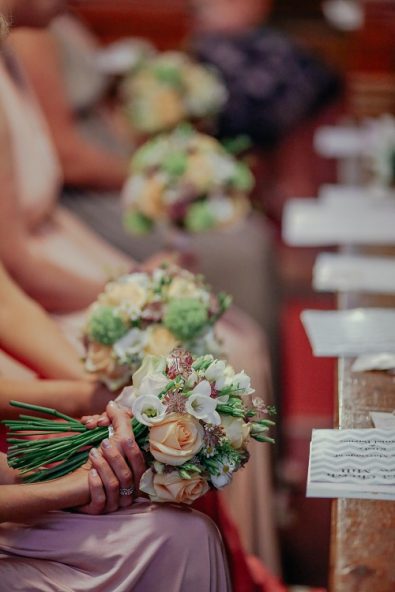 Photo by Wedding Photography on Unsplash
Wedding dress
Naturally, it's the bride who will be the focus of attention on her wedding day, but it's important for the bridesmaids to look gorgeous too. Choose something simple and not overdecorated or detailed, but which will make your bridesmaids look elegant, sophisticated, and feminine.
It's important to choose a dress style which will flatter everyone's figure. This is never an easy task, but empire waists and A-line or princess skirts will tend to suit most shapes and sizes.
If your bridesmaids have very different figure types and heights, and you think they might feel uncomfortable in matching dresses, a nice alternative is to choose the fabrics and colors and allow each individual bridesmaid to choose her own dress style.
Apart from the above-mentioned aspects, you still should other aspects such as the price of dresses. The most important thing before you buy the dresses, you should let them have a try of the dresses to make sure they look terrific on your bridesmaids and never force them to wear the dresses for which they are not comfortable.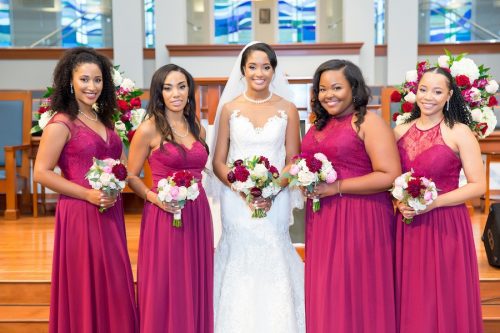 Photo: Munaluchibridal.com
How to choose perfect bridesmaid accessories?
Perhaps one of the confusing challenges is picking out the right accessories to complement exquisite, bespoke bridal gowns. The right [or wrong] final touches can make or break the look. Here are some tips to help you out.
Don't Wait
Accessories are not something you can simply put on at the last minute and hope for the best. Finding the right jewelry and accessories to help complement bespoke bridal gowns will take time and careful planning. Don't stress about it, though. Instead, make sure it's part of your plan and factor in the time to organize a fun shopping day with your bridesmaids so you can seek their opinions.
Avoid Overdoing It
Less is more is a very important rule to adhere to when it comes to choosing your accessories. A lot of brides seem to think that the bigger their 'blings' are, and the more of them, the better. This is certainly not the case. You need accessories that complement your dress, not overpower it in order to come across as elegant and sophisticated, not cheap and tacky. Take into account the bespoke bridal gowns you are considering and tailor the accessories to match.
Study Your Options
Keep in mind that the choice of jewelry and accessories for a wedding is not limited to matching pearl sets and net veils. You can choose silver, gold, platinum, even resin in designs ranging from elegant, elaborate, vintage, or uber-modern.
Consider the Overall Look
Here are some important factors that you need to keep in mind when matching your accessories to your particular dress.
Color
Most wedding dresses come in ivory, slightly off-white or white. As a broad rule of thumb, platinum and pearls work best for white bespoke bridal gowns, gold for ivory-colored ones, and gold and silver of off-white.
Neckline
The neckline design of your dress is also an important consideration when choosing accessories. For sweetheart necklines that come with embellishments, it is generally best to go without a necklace but instead wear an elegant pair of earrings and maybe a matching ring or bracelet.
Style
Consider the overall style of your gown. If you opt for an elegant gown without any or very minimal embellishments, you can compensate with an intricately designed necklace. For vintage designs, a birdcage veil can present a perfect accessory.
Personality
Don't forget to add your very own personal style, even in your choice of accessories. It is always best to give it your own unique flair that best reflects your personality. Of course, you still need to keep in mind the basic rules before you break them!
In conclusion, bridesmaid's accessories are just as important as any bride's ensemble. Whether you opt to give those as bridesmaids gifts or buy another set of gifts, it would be ideal to give your bridesmaids some stuff that they can use on your wedding day and later on.