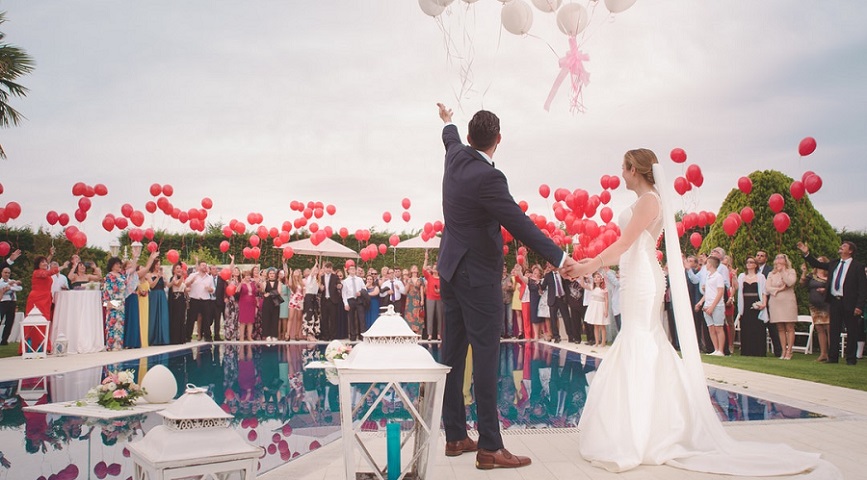 Is there anything worse than sitting at a wedding ceremony that seems to drag on? How about a boring reception?
With 2.2 million weddings expected to occur through 2023, you'll likely sit through your fair share of boring weddings. However, if your wedding is on the schedule, you can ensure that your guests don't die of boredom.
The last thing you want to see is your guests checking the time every five minutes, hoping they can skip out early! With your wedding date set, you'll need to look into reception ideas to ensure you keep your guests entertained. 
If you're searching for fun reception ideas, keep reading for some of the best ways to ensure your wedding is one to remember.
Hire Performers
One of the best ways to bring life to your wedding reception is to hire live performers. With so many options to choose from, you can find the best fit for your wedding.
Though live bands can be a blast, your guests will want to do more than dance! From tarot readings to comedians, you can bring your reception to life.
Hiring a live painter is one of the most popular options. Your guests will be amazed by how easily the artist can capture the mood of your wedding.
You can also hire acrobats or stunt performers to make your wedding more dynamic. Whether they put on an act or stay off to the side, their extraordinary capabilities will captivate your guests.
Go out with a bang
If you want to make your reception one your guests will remember forever, invest in wedding fireworks!
Your guests will be in awe when your floor lights up during your first dance with your new husband or wife! Plus, this will create some of the most unique and stunning photos you'll use to remember forever.
However, you can also set up sparklers to add accents to your venue. You can also use dry ice or even bubbles to create magic and add visual interest to your setting. 
Set up games
Though the thought of games at your wedding sounds cheap, you'll be surprised by how fun and classy these can be! Ditch the cliche wedding games that only focus on the bride and groom, and let your guest have a blast. 
Your guest will jump at the chance to get competitive with each other! 
Setting up outdoor lawn games can help your guests get outside. Whether you set up bocce ball, giant Jenga, or kick back with cornhole, there are so many fun games to keep your guests entertained. 
If you want indoor games, you can get creative with a classier frat party favorite and set up beer pong. Though you won't want to use actual beer, filling the cups with water can keep your venue from feeling too much like a frat house.
Finally, you can set up giant connect four for your guests or even designate one area for playing different card games. 
Create a photo booth
Want to keep a smile on your guest's faces all night? Create your own photo booth to make sure the laughter never stops!
This is one of the most simple and creative reception ideas. All you need is space, a backdrop, and props to keep your guests feeling silly and carefree.
If you wanted to DIY this, you can head to your local craft store and find fabric to use as the backdrop. You can also create your own props like paper mustaches, tiny hats, funny glasses, and even cutouts of the bride and groom's faces.
Not only will this ensure your guests have a good time, but it also gives them a souvenir to take home! Don't be surprised to see snapshots of these photo strips all over social media!
Send guests on a scavenger hunt
Keeping your guests up and on their feet is a great way to make sure they aren't bored all night! One of the best ways to do this is to set up a scavenger hunt.
Ideas for things to find include:
Selfie with the bride and groom

Your dinner for the night

Someone dancing

Group photo of your table

A heartwarming moment
However, you can also opt to include things specific to your reception and venue. Is your dog the best man? Have guests take a photo of him! 
To make this even more fun, give each of your guests a disposable camera to take home with them. This acts as a great party favor, as it's filled with memories from the night.
Food trucks
If you want to keep your guests from getting hangry, a traditional dinner plate may raise tempers. Since it can take a while for these plates to make their way out of the kitchen, your guests may get restless.
Instead, you can make your reception stand out by hiring food truck vendors to serve food at your wedding. 
Not only is this one of the most unique reception ideas, but it adds variety to your menu! This works exceptionally well if you and your fiance have different preferences when it comes to dinner.
From tacos and dumplings to burgers and wings, you can choose your favorite foods to keep your guests fed and happy.
Try these reception ideas to rock your wedding
Though weddings are for celebrating the love the couple shares, you'll still want to make sure your guests have a good time!
While having a great playlist can help, not everyone wants to dance the night away. Instead, planning reception activities can keep your partygoers partying all night long.
If these reception ideas have you ready to throw the wedding of a lifetime, you'll want to head over to the rest of our website. There, you'll find more great lifestyle and planning tips and tricks.