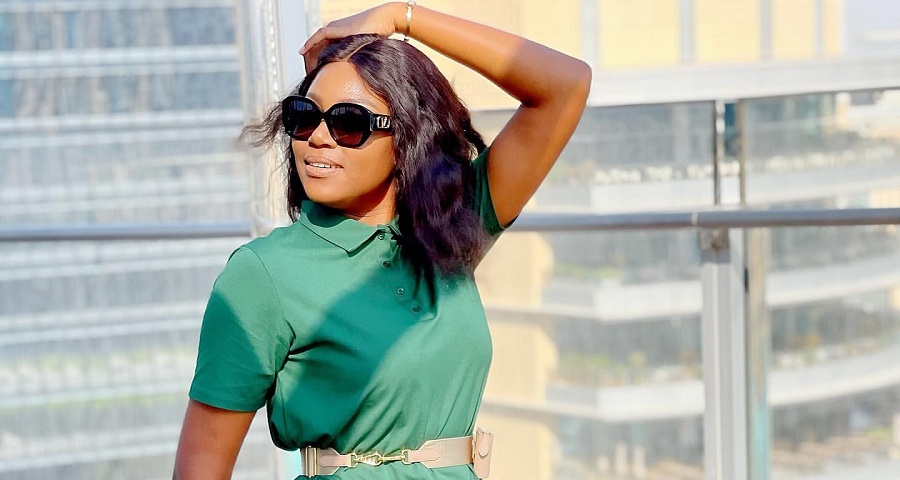 She is one of the Ghana movie industry's leading actresses.
And Yvonne Nelson looked radiant as ever she showed off her long legs while modeling for Yunizaah, an Accra-based handmade bag brand. 
This afternoon, the 35-year-old stunner shared some snaps on Instagram where she's put her modeling skills on display and as well sported a sexy shoulder-baring dress. In the pics, which you can see here, Nelson posed for the camera in the pretty red number which she teamed with a pair of matching sunglasses, purple pointy-toe heels, and a cowrie necklace. 
She also ditched her favorite wig extension for an adorable natural hairstyle with the middle part framing her face, and topped off the look with a bold red lip. Nelson absolutely knew her look was worthy of attention as she asked fans to focus on the bag. 
"C ooooncentrate! Do you have your @yunizaah bag? DM them ✌#realleather," she captioned the image. 
View this post on Instagram
In the second photo, Nelson made sure all eyes were on her neck as she revealed quite a generous amount of skin. "My @yunizaah bag handle is on my NECK ," the post captioned.
View this post on Instagram
The leggy actress announced her collaboration with Yunizaah in September, and according to her post on Instagram, she's part of the design team that's designing the new collection for the brand. "I'm excited to announce my Collaboration with @yunizaah..," the actress shared the news on Instagram. "I DESIGNED these 4 beautiful purses (meg /rynit/ aurora and yude) Real leather, hand made with so much love and off course paying attention to our lineage surely a must have you can get yours from @yunizaah."