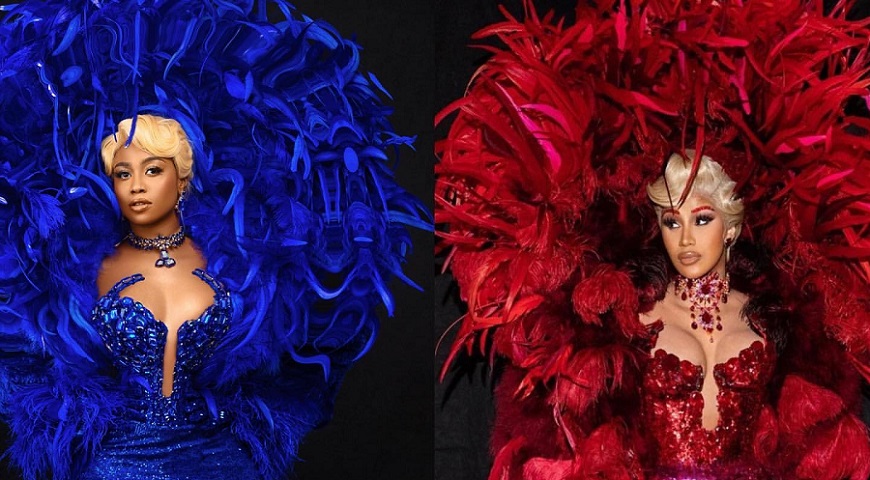 We haven't seen Lilian Afegbai for some time but all of a sudden she's back.
The actress marked her 30th birthday yesterday and in the last 24hrs, photos of the Nollywood star in three different looks have emerged in honor of her new age. 
Her first look was an inspiration by Cardi B's Thierry Mugler feathered dress she wore to attend the designer's SS'22 Paris Fashion Week show in September. During the show, Cardi, who just welcomed her second child made her first public appearance as she arrived at the event in a red sequin dress with a plunging sculptural neckline. The dress also featured a flowing red cape adorned with thousands of scarlet feathered head-piece. Cardi further stepped up the dramatic number with an extravagant matching necklace.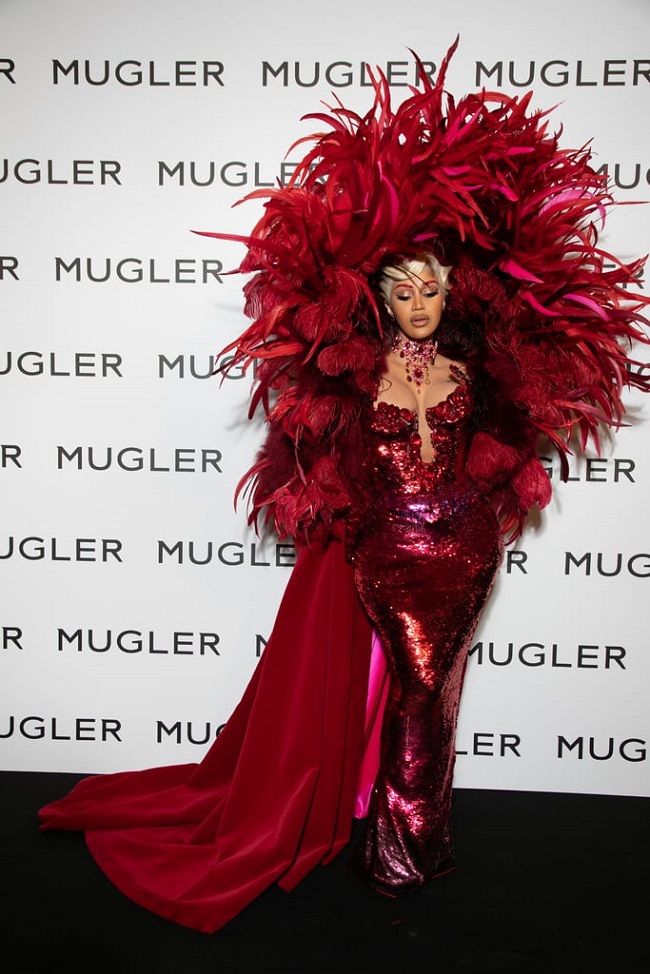 Photo: Getty Images
However, a great dress deserves a copy, and Lilian Afegbai with the help of stylist Swanky Jerry and Khavhia Woman, a ready-to-wear Lagos-based brand recreated the look to celebrate the actress's 30th birthday. Lilian's version comes in a rich cobalt blue color, featuring a figure-hugging bustier as she added more sparkles with matching sequin evening gloves, a glistening chandelier necklace, gemstone earrings. Just like Cardi, Lilian finished up her look with a gold blonde short hairstyle and all we can say is WOW!
View this post on Instagram
The brand revealed the painstaking process of creating the breathtaking look was four days "BTS!!! It was so much fun and work creating this look. From the feathers, accessories and outfit….4 days of nothing but blue feathers," the brand wrote in a post and deleted Instagram caption. "The outcome was and is well worth it. Special thanks to @swankyjerry for working with us on this project and bringing it to life. And thank you all for the love💙."
Afegbai's second look is an unexpected gold bodysuit creation by Erica Moore which she amped up the ante with super voluminous afro hair. "I guess this is welcome to the 3rd floor," she captioned the beautiful look.
View this post on Instagram
For the third look, the 30-year-old beauty opted for a Weizdhurm Franklyn's bronze blazer with intricate crystal shoulder detailing paired with mesh chantilly lace leggings. Lilian wore her hair in a towering top bun and slipped into black pumps. "30 means I'm coming for it all 🔥🔥," she wrote.
View this post on Instagram
Now if this is not how to turn 30, we don't know what else!