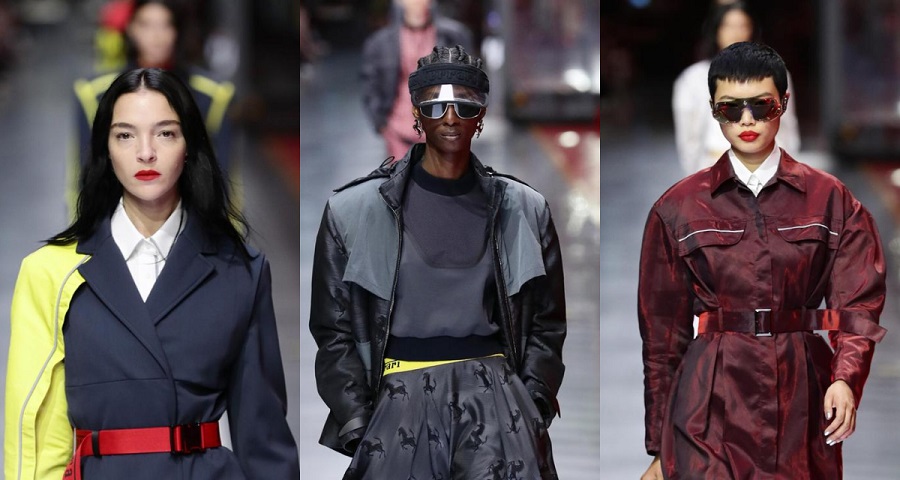 Italian luxury sports car maker, Ferrari, is now in the business of fashion. The brand, on Sunday debuted its first-ever fashion collection, offering fans a line of fresh, high fashion ready-to-wear pieces. Designed by Rocco Iannone, former Armani creative director, the collection was showcased at the Ferrari supercar assembly plant in Maranello, Italy, with a diverse number of models parading themselves in the new range.
The new Ferrari debut collection features 52 looks in vibrant hues for men and women. You'll recognize a range of must-have wardrobe items such as shirt dresses, jackets, skirts, and overall sport-inspired pieces. According to reports, the supercar manufacturer employed the partnership of Puma and Ray-Ban to provide sneakers and sunglasses with Ferrari motifs.
"We want to attract young people and women," Iannone said in a statement. "Our targets are not just those who buy a Ferrari but also those who have awareness of the brand and of its values." As per the creative director, the brand made the best use of carbon fiber and silk fabric to represent Ferrari iconography, as he describes the collection as "fluid."
"Most of them are high-performance technical fabrics but with an haute-couture touch," he said. Here, continue to scrolling to have a glimpse at the collection.