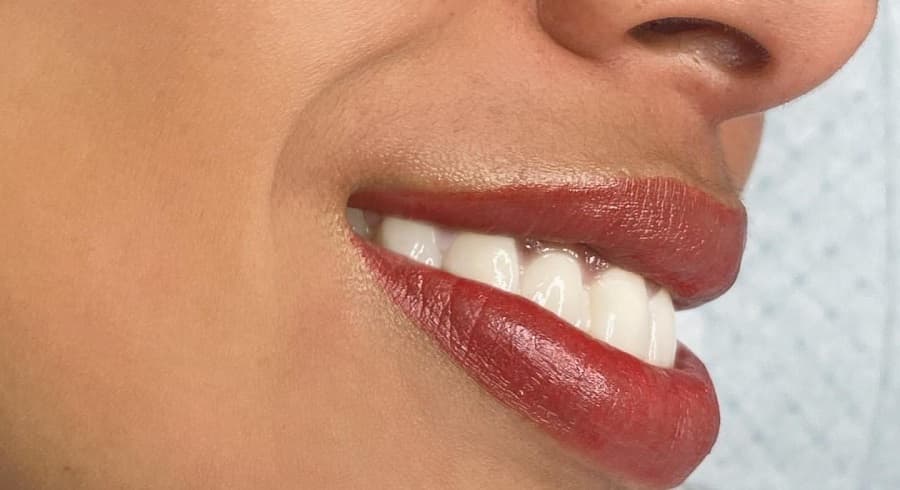 The lips have always been the focal point of the face, and in the realm of beauty, countless makeup techniques and procedures are available to enhance them. One such method is lip blushing, which involves injecting colored ink into the lips with a motorized needle to temporarily boost their color.
Lip blushing has become very popular on social media due to the possibilities it gives to keep your cosmetic routine as easy and low maintenance as possible. Here, keep scrolling as we go over what lip blushing is, how it's done, and how to take care of your newly blushed lips.
What Is Lip Blushing?
Lip blushing is a type of cosmetic treatment that can be used to improve the appearance of the lips. It is done solely for aesthetic purposes — to improve the shape or color of the lips, or to produce a more even coloring without the use of temporary lip cosmetics. This pigment-depositing procedure aims to provide a woman's lips with a flawlessly natural-looking, uniform outcome. Lip blushing enables you to wake up with picture-perfect, gorgeously flushed lips without using a single drop of lipstick, balm, or gloss, much like other semi-permanent beauty procedures like brow micro blading and tattooed eyeliner.
This beauty treatment is effective and can be done for all ages, lip colors, thicknesses, and shapes, particularly asymmetrical ones. It is also fantastic for lips that have lost their natural coloring. Although lip blush tattoos are pricey, the procedure is mostly adored for the time-saving advantages and natural-looking results it gives. If you are considering lip blushing, it is important to consult with a qualified cosmetic surgeon to ensure that the treatment is right for you.
How Long Does A Blushed Lip Last?
The blush or tattoo gives your lips a beautiful hue like a stain or balm would normally last for two to three years. If you want to change up your look after receiving lip blush, you can still use lipsticks and other lip colors, although many people who have lip blush are content enough to forego lip makeup.
Does Lip Blushing hurt?
During lip blushing, some people could feel some discomfort or pinches and itches. Depending on how each person experiences pain, the degree of discomfort may change. However, your aesthetician would use a topical anesthetic or numbing medication on the region beforehand to lessen pain, bleeding, and edema. Ultimately, people who carry out this procedure should let the clinician know if they are feeling particular pains afterward.
Is Lip Blushing Difficult To Remove?
According to the Society of Permanent Cosmetic Professionals (SPCP), the removal of permanent makeup is difficult. As it includes tattooing pigment into the top dermal layer of the skin, the SPCP views cosmetic tattooing—such as lip coloring—as permanent. In order to maintain the coloring, people may need to apply additional lip blush to restore color that has faded over time. The rate of fading may be accelerated by sunlight exposure or other environmental factors, and topical lip treatments may also influence the duration of the color.
Side Effects of Lip Blushing
Lip blushing typically only has minor negative effects. Immediately following the surgery, there is frequently considerable edema. Some people's lips swell more than others, based on the individual. The majority will appear to have recently had lip fillers injected. Furthermore, although it is uncommon, bruising can happen. Redness is also typical. There will be some peeling and lymph fluid seeping as the tattoo heals, just like with a traditional tattoo. These are all entirely normal and a part of the skin's regenerating process, according to experts. The FDA does not regulate cosmetic procedures like lip blushing, therefore if you want to carry out this procedure, you must confirm that your aesthetician utilizes sterile tools and has the necessary skills and expertise, to avoid gross side effects.
Aftercare Recommendations for the Lip Blushing Procedure
Usually, it takes five to 10 days for a lip blushing tattoo to fully heal. Applying ice packs within 24 hours of the tattoo could assist to lessen the swelling. It is crucial to protect the lip area from irritants and potential infections. As a result, specialists advise staying away from activities that make you sweat or expose you to the sun to maintain optimal lip protection while they recover.
It is safe to say that you'd need to pause exercising, sunbathing, and sauna baths while avoiding touching anything that can irritate or infect your lips while you heal. Furthermore, as much as you can, take a break from kissing, swimming, sweating, eating spicy food, and applying any cosmetics to the lips area until it has healed. Overall, you will need to adhere to all your aestheticians' precise aftercare instructions and this would also include applying for lip balm protection because some people might feel a little dry.
After the healing phase, you may further schedule a follow-up consultation so their doctor may take a final photo of the healed procedure.
Summarily, Lip blushing is a virtually low-maintenance beauty procedure that can save valuable morning prep time if you can afford the price and recovery time needed. Granted, the procedure can be expensive, but many women who have done it speak highly of the results and claim that their flawlessly colored and shaped lips make it all worthwhile. However, before you get down for it, please do your research.