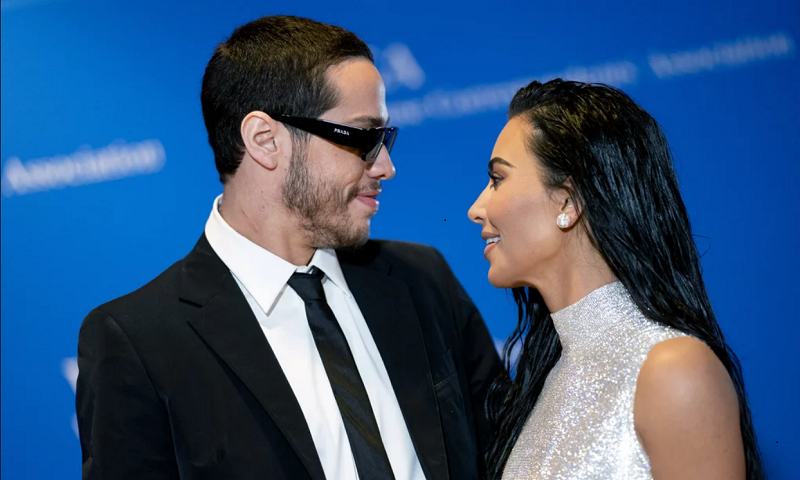 Kim Kardashian has had highs and lows in recent years, and the majority of these events have provided insight into her relationships. Kim K clearly did not start dating and marrying today. It all started when she was 19 years old, and now she's 41, already married and divorced three times, and dating again.
Kim Kardashian and Pete Davidson first met when she hosted an episode of Saturday Night Live in October 2021. In an exclusive report, Pete was said to have waited until they finished working together before making a move after igniting dating rumors in the same month.
In what could be said to be an unexpected romance, Kim Kardashian, and her 29-year celebrity comedian boyfriend, have continued to wax strong thus making global headlines. Following the 'Saturday Night Live' stint, the duo's relationship has witnessed so many public gushing comments since going public on March 11 and by what we see, there's no stopping yet.
How is the Kim and Pete relationship going?
Flickers of Kim and Pete's unpredictable and captivating romance style have been unfolding in deep bits and we love to see it. Since the announcement of their relationship, Kim has introduced Pete to her kids with her ex-husband, Kanye West. According to exclusive reports, Pete seems to be bonding really well with the kids, without any rush.
Pete even tattooed some tributes to Kim Kardashian his body and just recently, he was photographed exiting the Fonda Theater in Los Angeles with a fresh tat inscription – "KNSCP" on his neck. This was quickly linked to Kim and her four children with her ex with speculations that each of the letters represented Kim, North, Saint, Chicago, and Psalm.
The #Kete couple has been spotted a few remarkable times and looking through the glitz and swoon-worthy chemistry surrounding their public and private appearances, it seems that their intimacy grows by the day.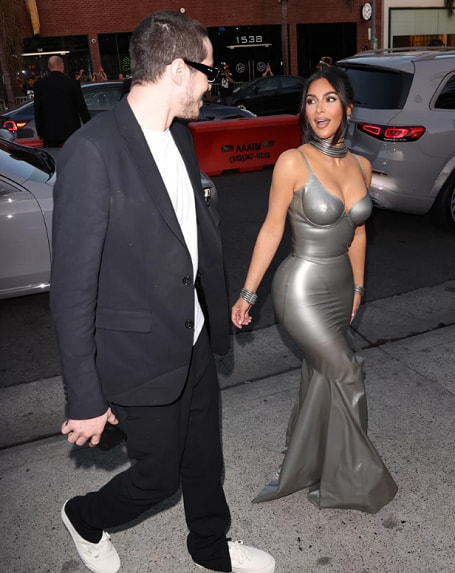 Photo: Backgrid
Kim Kardashian and
Pete Davidson's first red carpet appearance
Kim Kardashian and Pete Davidson made their first red carpet appearance on April 30th at the White House Correspondents' Dinner in Washington, D.C. The reality star was invited by Disney and ABC, following the launch of her Hulu show: The Kardashians. To the occasion, Pete played the right-hand-man role, sporting a black Prada suit, black Vans sneakers, and sunglasses while Kim slipped into a classic, body-fitted shimmering silver Balenciaga couture gown and Lorraine Schwartz jewels with her signature black hair flowing down in lush waves. Kim later shared photos of herself and Davidson holding hands at the event on Instagram, along with the caption "White House din din." Then came Khloe Kardashian's wordplay comment on the photos -"What a glamour puss".
On the 24th of April however, the duo made an appearance at the 23rd Annual Mark Twain Prize for American Humor in Washington, D.C., marking their second official public appearance. Taking place at The Kennedy Center, the pair matched elegantly in black, with Kim sporting ladylike sequinned dress and slicked-back hair.
Kim Kardashian and
Pete Davidson's Met Gala debut
At the 2022 Met Gala, the couple recorded their second red carpet event and of course, their first Met Gala together. Davidson was pictured steadily by Kim's side even as she graced the massive New York Metropolitan Museum of Art, wearing the famous Marilyn Monroe's "Happy Birthday President" dress and a white fuzzy shawl right before she changed into a replica of the dress. The dress, its wearer, and the sentiments that surround it have kept the internet talking for a while now.
Nevertheless, Davidson has been in the know of the situation between Kim and her estranged husband and has maintained calmness and supportiveness so far. Kim and Kanye West were among the most Holywood's power couples, and their divorce was portrayed in exaggerated ways due to their social status and Kanye's mental health challenges.
Amidst so much drama surrounding the divorce process, Kim had joked about her marriage on the SNL show in October 2021. As per the report, she said in her monologue, "I've been very blessed in this life, and I'm grateful for everything, honestly, all the ups, all the downs. I mean, I married the best rapper of all time. Not only that, he's the richest Black man in America, a talented, legit genius, who gave me four incredible kids. So when I divorced him, you have to know it came down to just one thing: his personality. I know it sounds mean, but people keep telling me that comedy comes from truth. And if there's one thing that I always strive to be, it's genuine."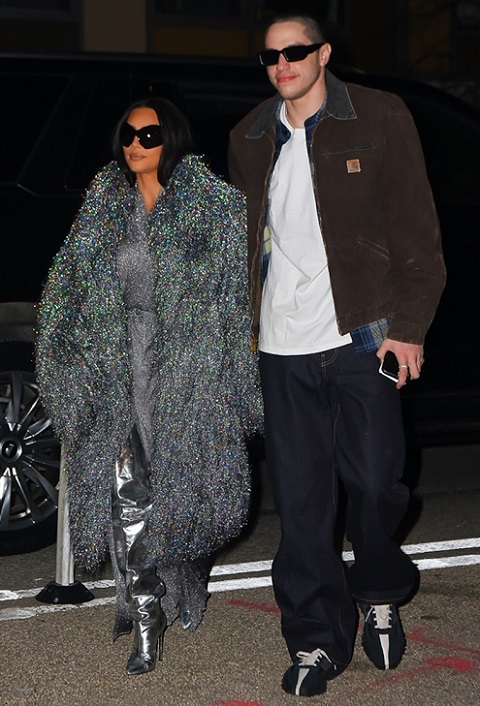 Photo: Backgrid
Kanye didn't receive that 'joke' well and he clapped back in an interview in January saying, "How you gonna bring me to SNL and then kiss the dude you dating right in front of me?" In the same month, he made fun of Kim's new beau in a song titled "My Life Was Never Easy," with a rap line that read, "God saved me from the crash just so I can beat Pete Davidson's ass."
Well, a little diss here and there hasn't stopped Kim and Davidson from making their delectable public appearances. Speaking about her current relationship, Kardashian hinted at a long-term romantic engagement with the comedian in an April interview with 'Good Morning America' co-anchor, Robin Roberts. "I wouldn't be with someone if I didn't plan on spending a lot of my time with them," she said. "Obviously, I wanna take my time, but I'm very happy and very content, and it's such a good feeling just to be at peace."
Kim Kardashian's relationship with Pete Davidson is her first public romance following seven years of marriage to Kanye West. Even though their relationship is still in its early stages, the duo has stayed close while keeping the specifics of their ecstatic moments really sophisticated, together.