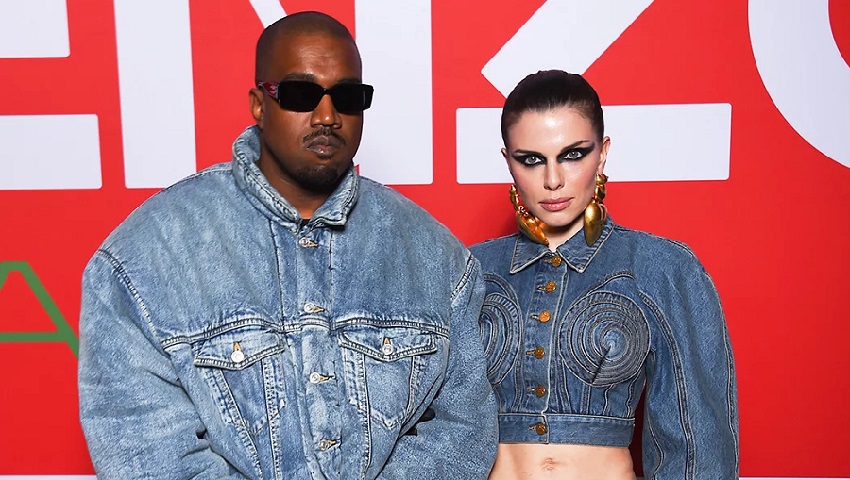 Kanye West is no stranger when it comes to fashion. Right from the days of his dramatic Yeezy shows to the days of the music star with his estranged wife, Kim Kardashian, West owes no one an apology for his maverick sense of style. He simply gravitates towards unthinkable, OTT pieces that are enigmatic and with his newfound love with Julia Fox, the American rapper is even taking things to greater heights.
Barely one month into their relationship, Kanye and Fox are already proving themselves as couple goals or at least, couple match made in heaven. They are often seen together loving up and making bold and matching fashion statements. It's either they are pictured in matching denim, with Fox opting for low-rise pants, or they are bundling up in leather outerwear. 
In fact, the ongoing Paris couture week came just in time for the pair who arrived in the French capital for their first fashion shows together. West and Fox set the record straight while attending the Kenzo show for its debut collection by artistic director Nigo, as they opted for a matching denim look with knee-high utilitarian boots.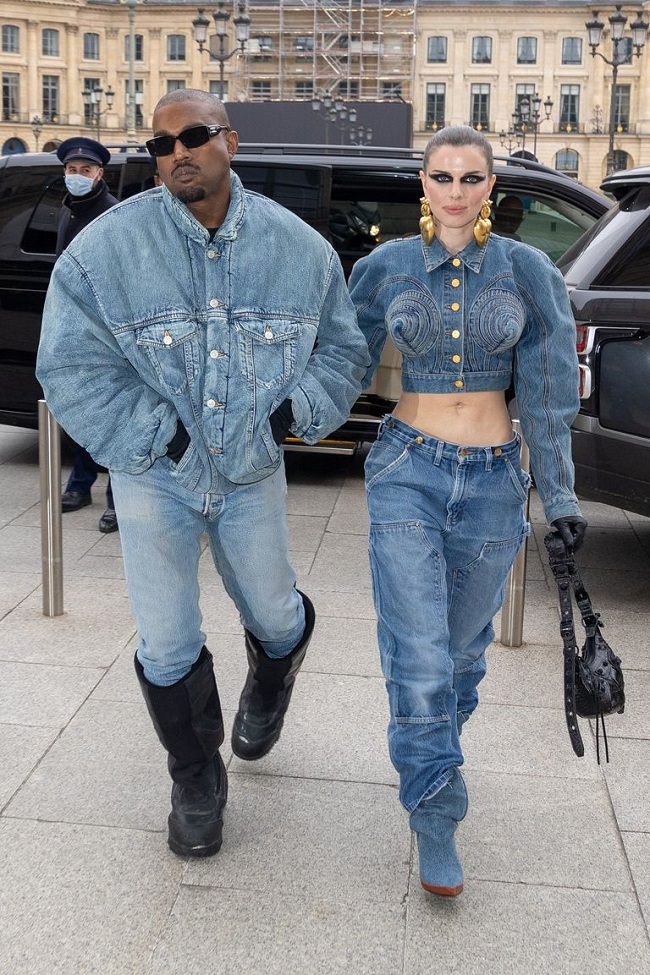 Photo: Mack Piasecki / Getty Images
While the rapper teamed his look with black booties, the actress made a case for denim-on-denim dressing with a cropped denim jacket featuring a 3D conical breast from Schiaparelli's spring/summer 2022 ready-to-wear collection. She coordinated the dramatic piece with baggy low-waist jeans and slouchy denim boots by Diesel. As for the accessories, the No Sudden Move star carried a black bag, matching gloves, along with a pair of shoulder hovering gold heart earrings from Schiaparelli. 
They were also pictured during their dinner date but this time, Kanye remained eccentric masking up with a hoodie-styled face mask, along with a distressed biker jacket with gloves, leather pants, and his Red Wing boots. Fox who donned a red one-shouldered gown with metallic stiletto boots took some style tips from the rapper and threw on a black leather coat.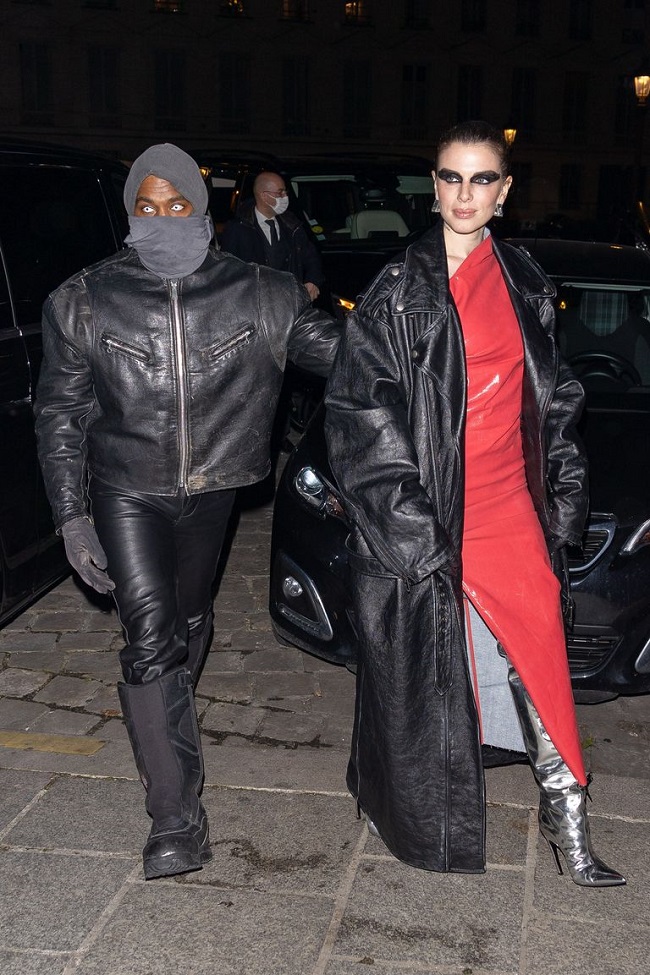 Photo: Mack Piasecki / Getty Images
For the Schiaparelli haute couture 2022 spring/summer show which took place on Monday, January 24, the couple once again coordinated in head-to-toe leather. Although there's no big difference from Kanye's previous look, he only traded his face mask hoodie with a black mask designed only for the vision. Nevertheless, Fox looked well put-together in what seemed like a futuristic look. Wearing another conical bra-shaped number from the French fashion label, the slender beauty complemented her outfit with covetable gold earrings and a matching handbag.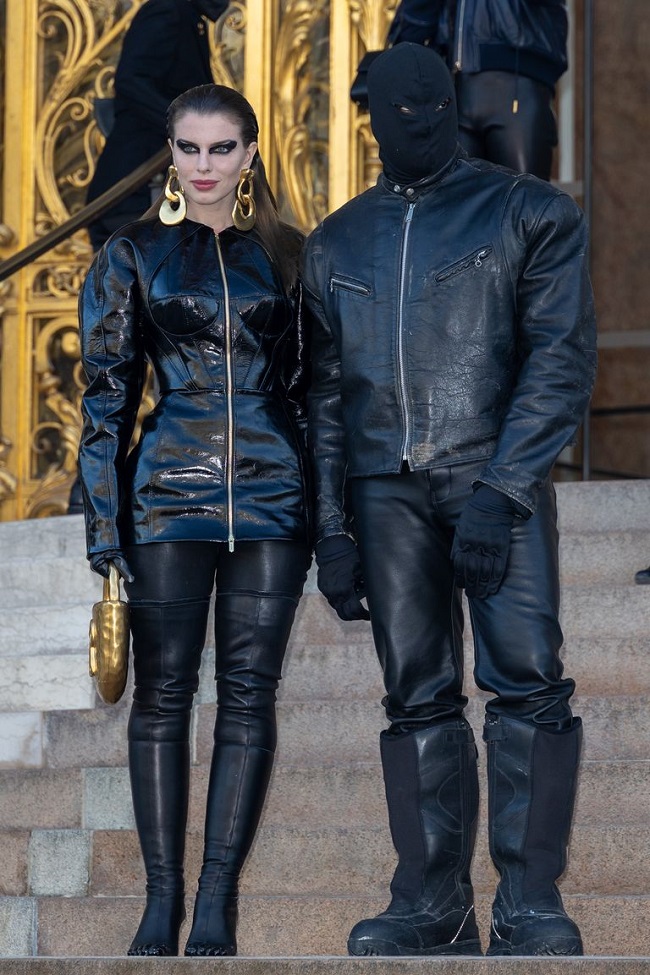 Photo: Mack Piasecki / Getty Images
Considering their explosive and whirlwind relationship, Kanye and Fox have been making headlines in the past three weeks as fans accused the actress of dating the rapper for attention. In response, however, she shut it down by telling all the naysayers that she's been dating 'billionaires her entire adult life.'
"It's funny cause I'm getting all of this attention, but I really couldn't care," the 31-year-old said during a conversation with co-host Niki Takesh in the newest episode of her Spotify podcast. "People are like 'Oh, you're only in it for the fame, you're in it for the clout, you're in it for the money.' Honey, I've dated billionaires my entire adult life, let's keep it real."
She added that she only cares about creating art and 'putting things into the world.' "Watch my movie, read my book," the actress quipped. "That is more thrilling to me now than eyes on me. I couldn't care less."