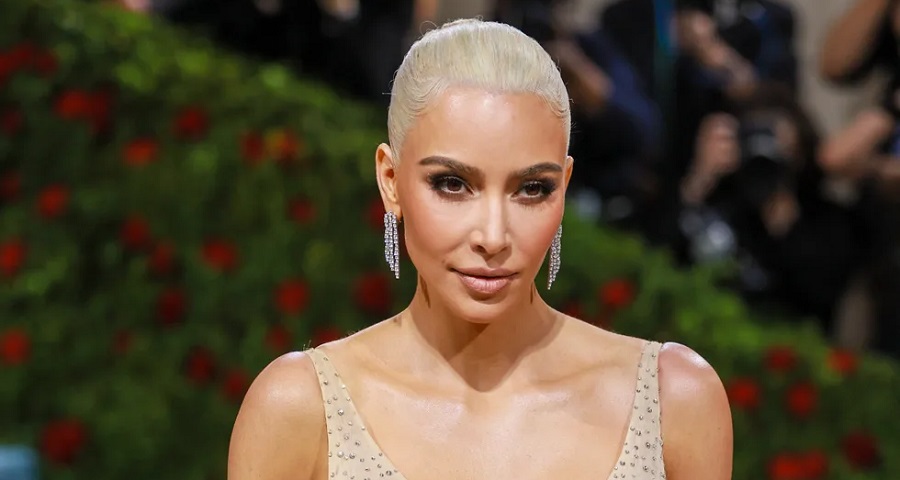 Kim Karkardian is sparking criticism for her 2022 Met Gala dress.
For many times and counting, Kim Kardashian has always committed to her appearance at events. More so, all her years as a guest on the Met Gala red carpet have never gone without sculpts of her style being talked about.
This time, the reality star went all out for the 2022 Gilded age-themed Met Gala night, all inspired by Marilyn Monroe, of whom she wore her "Happy Birthday Mr. President" dress and significantly transformed into a blonde beauty. However, her choice of dress was met with a media backlash.
Bringing her representation of the anthropology of fashion in America, Kim stunned the globe with a dramatic transformation. From debuting a historic garment since it was last worn by Marilyn Monroe 60-years ago to going for a platinum blonde.
The reality star affirmed being inspired in September last year after she had given the world a silhouette piece of her in that Balenciaga all-black attire that kept the world guessing. In her words, "The idea really came to me after the gala in September last year. I thought to myself, what would I have done for the American theme if it had not been the Balenciaga look? What's the most American thing you can think of? And that's Marilyn Monroe." she further told Vogue, "For me, the most Marilyn Monroe moment is when she sang 'Happy Birthday,' to JFK, it was that look."
Barely a week after the event, Kim is still on the lips of conservationist designers and fashion curators for her choice of Marilyn Monroe's classic Jean Lious gown which made history about 60-years ago. Not just that, the backlash on the internet for revealing that she took too strict dieting just to fit into the dress, is quite overwhelming.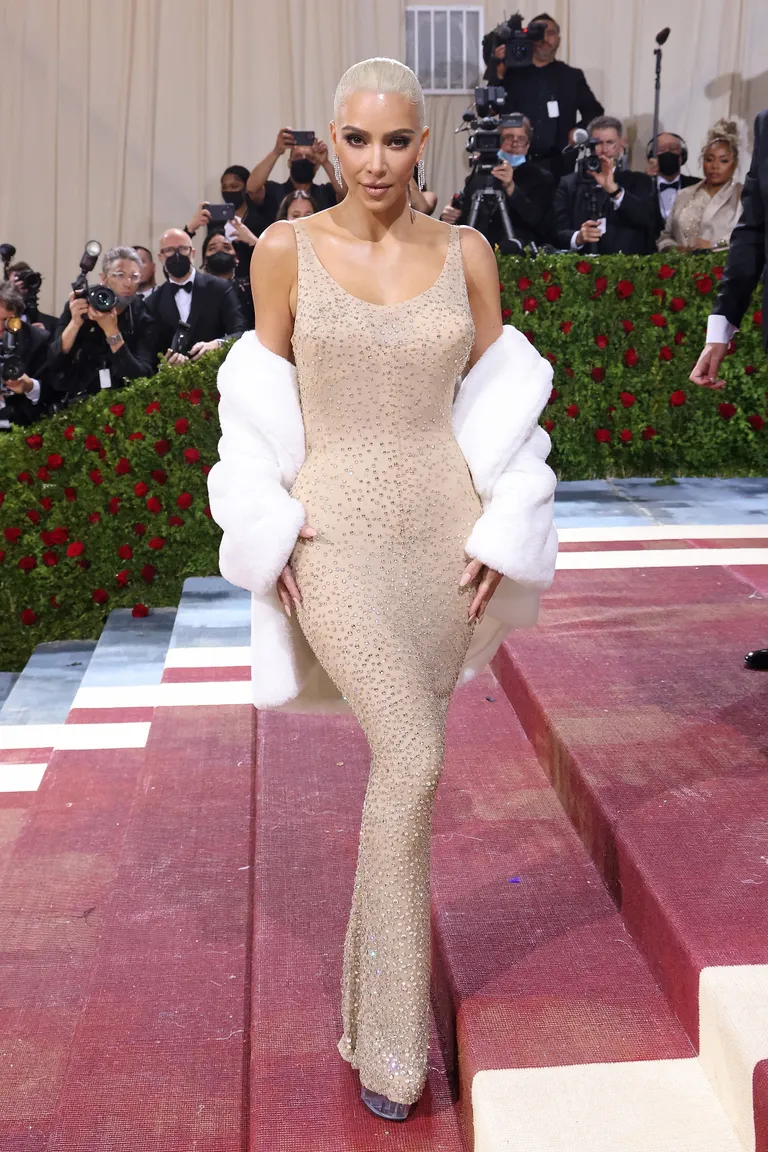 Photo: Getty Images
For these conservationists, Kim went beyond the context of the event to wear an archived historic garment. "I'm frustrated because it sets back what is considered a professional treatment for the historic costume," said Sarah Scaturro, chief conservator at the Met's costume institute. "In the '80s, a bunch of costume professionals came together to state a resolution that historic costumes should not be worn. So my worry is that colleagues in historic costume collections are now going to be pressured by important people to let them wear garments."
Orlando Ripley's Believe It or Not museum, the conserver of this most expensive dress ever sold at auction is said to have borrowed Kim the $4.8million garment. For a dress kept in a dark, temperature-controlled vault, you'd believe that any expense on it is worth it.
An estimate of 6000 crystals was carefully adorned on the unlined, skintight, flesh-colored gown. Monroe was believed to be unable to wear anything below it because it was so tight. Kim had tried fitting into it and met a huge disappointment. In her reaction, she said, "I always thought she was extremely curvy." Further speaking of Monroe ahead of the gala night, she said, "I imagined I might be smaller in some places where she was bigger and bigger in places where she was smaller. So when it didn't fit me I wanted to cry because it can't be altered at all."
Her desperation knew no bounds as she took on a restrictive diet and an exercise routine within three weeks to fit into the cloth. Viola! Kim lost 16pounds to debut one of America's most glamorous historic channels "the original naked dress" after Marilyn Monroe had about 60-years ago.
A few other principles granted Kim success at the dress at the Met gala night. She said, "I'm extremely respectful to the dress and what it means to American history. I would never want to sit in it or eat in it or have any risk of any damage to it and I won't be wearing the kind of body makeup I usually do." She also went further to explain that she had to practice climbing the Museum's iconic staircase.
Nothing good comes easy, yeah? People's criticism of Kim is overboard with the top on the chart being her alleged damaging message about dieting. Nichola Ludlam-Raine, of the British Dietetic Association, reacting to the secret of Kim's fitting into the iconic dress said it's an "irresponsible" regime. A few other tweets frowned at her journey to losing 16pounds in three weeks all for a dress she wouldn't wear for up to 10 minutes. Asides from the varying opinions of people on trends, all of the hate comments about Kim pointed to a thing: the obsession with global figures is real!
Truthfully, it is rather cringe-worthy to hinge your decisions on what a celebrity does or does not do. At least, Kim, herself confirms this —"We can argue that it's not a celebrity or influencer's job to display healthy habits, but then we'd be ignoring the vital part media consumption plays in our society.
All of the reality surrounding Kim's decisions notwithstanding, it's best to regard the Kardashian sister as a person with free will and as an entity with rights over her body, style and looks as long as her morality and the law permits. Don't be too broken-hearted. She wanted it and she went all out for it. Now, 60-years later, look the way Marilyn Monroe came back in Kim, gilded-age honored in a new generation and sexier. Even more astounding are the "more than just a dress" highlights of Kim and Marilyn's similarities — above-the-board sensual, overly criticized yet influential cultural icons.