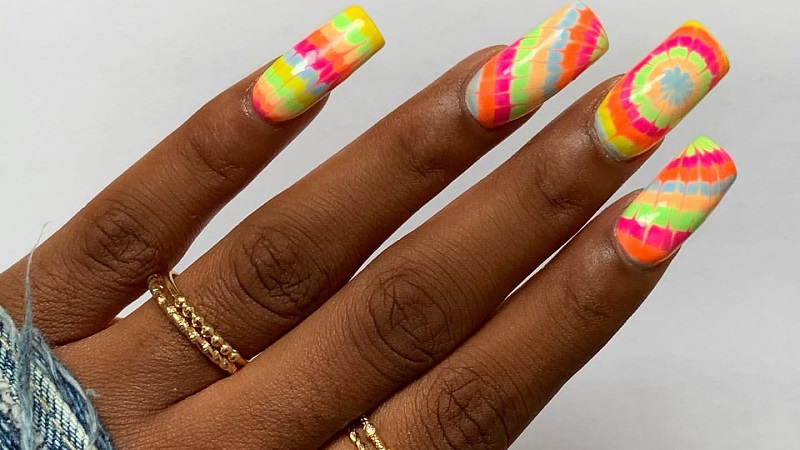 Forget Covid-19, tie-dye is all the rage in 2020. The trend is so big that it has gone beyond the usual tie-dye dresses and nail artists have found a way to infuse the 60s and 70s hippie trend into their manicure. Since 2019 the trend has been around but seems to have hit the peak this year. If you haven't tried it yet, now is the right time. Continue scrolling to see how you can jazz up your nails with the tie-dye and also check it out here how girls are wearing the electrifying trend.
Gigi Hadid had her nails done in mustard tie-dye to mark her birthday in April, so if you've got any party coming up, this design will certainly have your day vibing.  
 

 

 

View this post on Instagram

 

 
Call it whatever you want but this multi-colored tie-dye motif is enough to turn a boring day into a blissful one.
 

 

 

View this post on Instagram

 

 
If you're just too faint-hearted for the super bold colors, this pastle-dyed acrylics will suffice.
 

 

 

View this post on Instagram

 

 
So you're having a tie-dye color indecision, why not mix, blend, or opt for variety.
 

 

 

View this post on Instagram

 

 
For more of creativity and uniqueness, go for darker shades with a splash of soft pink like what this South Korean nail-artist Park Eunkyung of Unistella did.
Stripe Tie-Dye on Neutral Nails
 

 

 

View this post on Instagram

 

 
What makes this manicure special is the application of bold colors on a neutral shade, giving off a stripe effect.
 

 

 

View this post on Instagram

 

 
Give your nails a magical twist by opting for this dusty, coral tie-dye.
 

 

 

View this post on Instagram

 

 
A full back manicure can be a bit gloomy. In this case, jazz it up with a tie-dye motif at the center.
 

 

 

View this post on Instagram

 

 
This rainbow candy tie-dye is a definitely a manicure for joyful dressing. Although, this time around isn't for festival, the multi-hued mani is a mind-booster.