Net-a-porter has since 2019 hailed tie-dye fashion a huge trend ever since they made their way down the Stella McCartney, Prada, R13, and Proenza Schouler spring/summer 2019 catwalk. And, since the runway recurrence, they've been spotted on a smattering of famous faces, including Jennifer Lopez, Rihanna, Hailey Baldwin, Kylie Jenner, and a lot more others.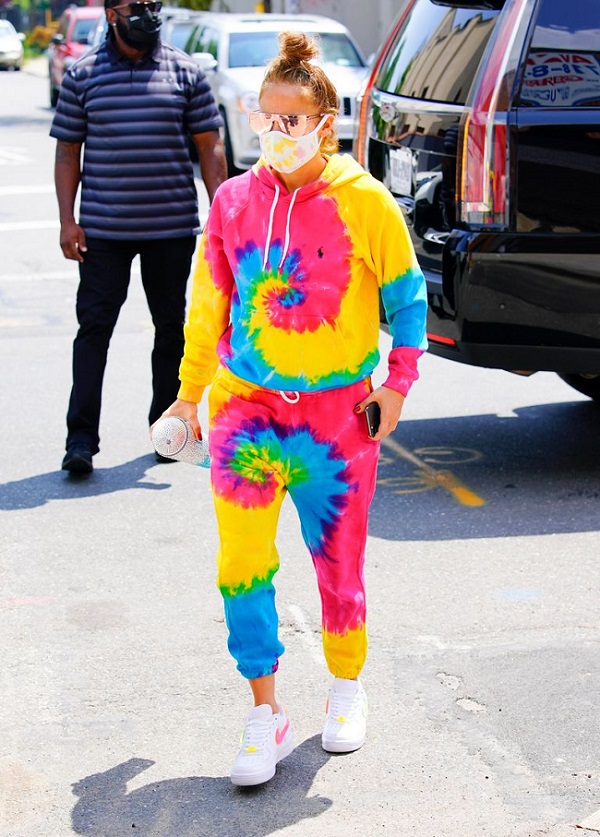 TheImageDirect.com/Elle.com
"It was a huge trend that we saw both on and off the runway and we embraced it from a wide variety of brands," Net-a-Porter global buying director, Elizabeth von der Goltz told Bazaar UK. "T-shirts were our key item; think the Ibiza degrade at Chloé, the purple tie-dye at Paco Rabanne, a bright and vibrant version at R13 and Stella McCartney's oversized T-shirt dresses in pastels colours."
View this post on Instagram
In fact, the claim that the 60s and 70s hippie trend was making a huge return was backed up by its searches on social media platforms. According to Pinterest, searches for tie-dye went up to 462%. Global fashion search platform, Lyst, also reported that 'tie-dye is one of the fastest-growing fashion search keywords of the year so far.' And confirming that the trend is truly back, shopping app LiketoKnow.it revealed the searches for 'tie-dye shirts' were up to 900 percent sometime in May last year. 
All this happened in 2019 and since it was a big trend already, tie-dye recurrence evidently becomes the biggest fashion trend of 2020. You've likely already seen it on your feeds. The psychedelic print has already been widely embraced by celebrities, models, fashion girls, and everyone in between. For the love of the vibrant prints, some have even experimented it on the nails, proving that tie-dye fashion really does rule the roost and from the look of things, it doesn't seem to be going anywhere anytime soon. Here, keep scrolling to see how everyone is embracing the trend. 
1

. Wear with a pair of short pants.
View this post on Instagram
2

.

Go all out for the tie-dye trend in a sweatshirt and pants like Hailey Balwin Bieber.
View this post on Instagram
3

.

Give the trend the Covid-19 vibes with a nose mask.
View this post on Instagram
4

.

Summer can also be done in a tie-dye swimsuit.
View this post on Instagram
5

.

Sweat shorts and top look good together.
View this post on Instagram
6

.

It's okay to wear a tie-dye shirt with a hijab if you're a Muslim.
View this post on Instagram
7

.

Top it off with a tie-dye shirt like a fashion girl.
View this post on Instagram
8

.

Opt for a tiny tie-dye crop top.
View this post on Instagram
9

.
Just like Jackie Aina, o
pt for the tie-dye sweatshirt and pants.
View this post on Instagram
10

.

The nails also deserve a tie-dye
View this post on Instagram