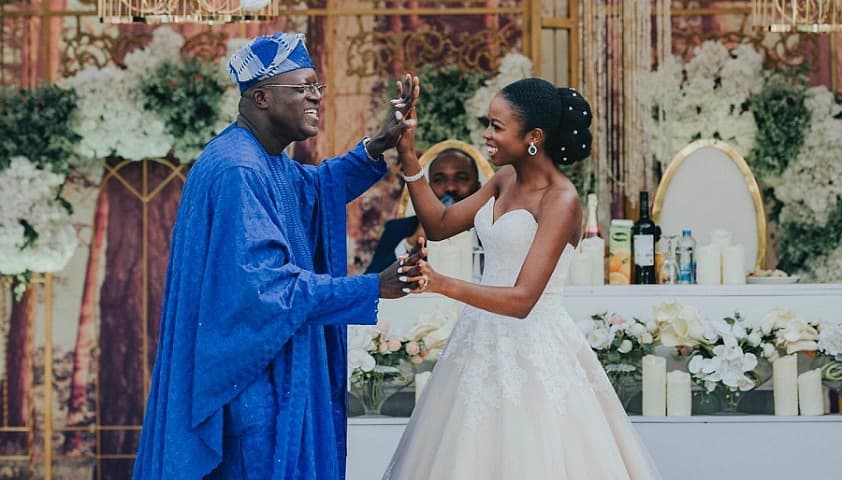 Marriage is a beautiful thing and top on the list for every bride-to-be is to make a lasting memory out of her big day. These are memories that would never be vague, especially when well documented. From the radiant smile on your face to the sparkling wedding dress, the company of your dearest friends, and all the nostalgic moments with your groom and family — this is where the camera takes the effort, to bring to life the best moments there could ever be and something to keep you and yours going for the rest of your beautiful lives together.
If you're already engaged but still having a roller-coaster of emotions, then we've got some bridal photo inspirations that would make you want to pick up your phone, call your best friend for the needed "moral support," and ask your significant other to meet you at the altar because, well… you are probably just about getting married. Ahead, keep clicking through the gallery for unforgettable bridal moments.  
1. Photo of the bride prepping up herself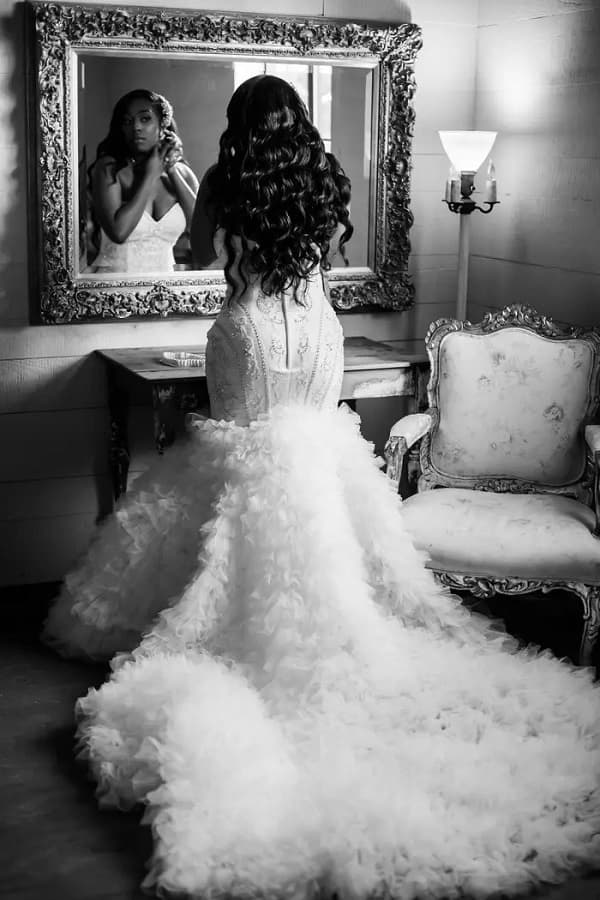 Photo Credit: Bedge Pictures
Every woman loves dressing up while examining herself in the mirror. But there's nothing quite exciting to finally seeing yourself in your dreamy wedding gown prepping up for the big day. Between the dress, the eye-catching curls, and the cute accessories, the confidence level is high that you can't just wait to hit the aisle.
2. An aerial photo of the bride making the most of her wedding gown whilst enjoying the intimate session with the groom.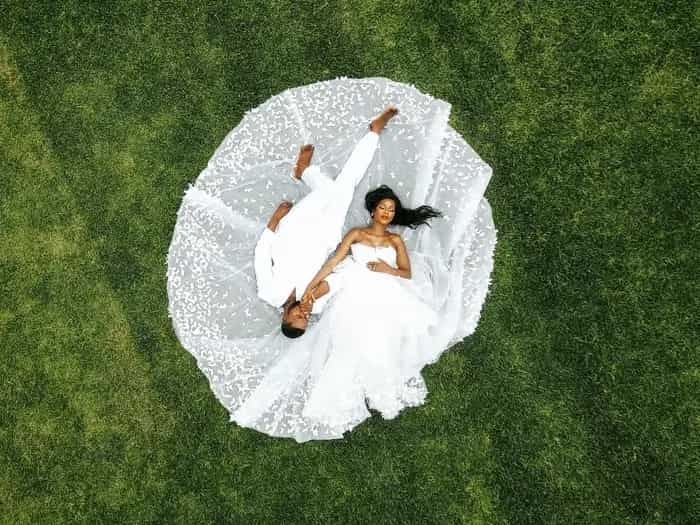 Photo Credit: Bedge Pictures
Pictures speak louder than words and while your wedding day photos will save as a good memory, it's a plus for any bride and groom to come up with the unthinkable photoshoot postures. Opting for an aerial photo that captures the entirety of the bride's wedding gown will create an everlasting memory of your big day. Here, the groom and bride are dressed in white and lay in a field with the groom perched atop the bride's train. From the couple's wedding attire to their carefully clutched hands, the photograph is remarkable and rather intense. For you, this would be an intimate inspiration.
3. Close friends and family members to the rescue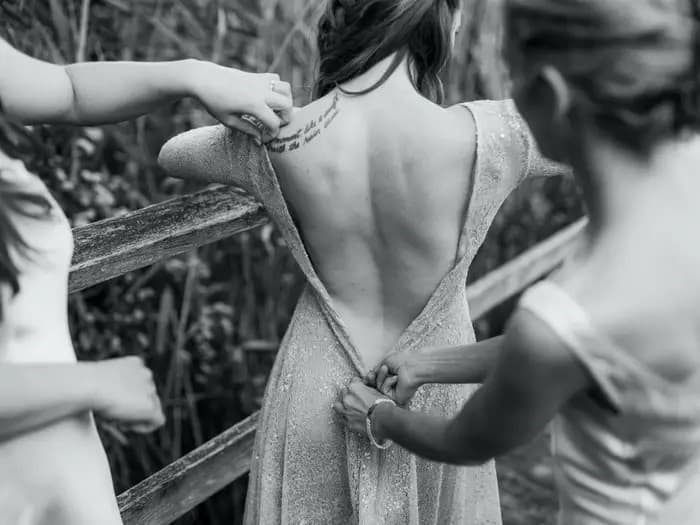 Photo Credit: Forged in the North
The thrill of having friends and family members perform special roles on her wedding day is shared by all brides. This image shows two women zipping up a bride's gown as she gets ready to say "I do." Cute sight, really.
4. No happy bride without a happy bridesmaids moment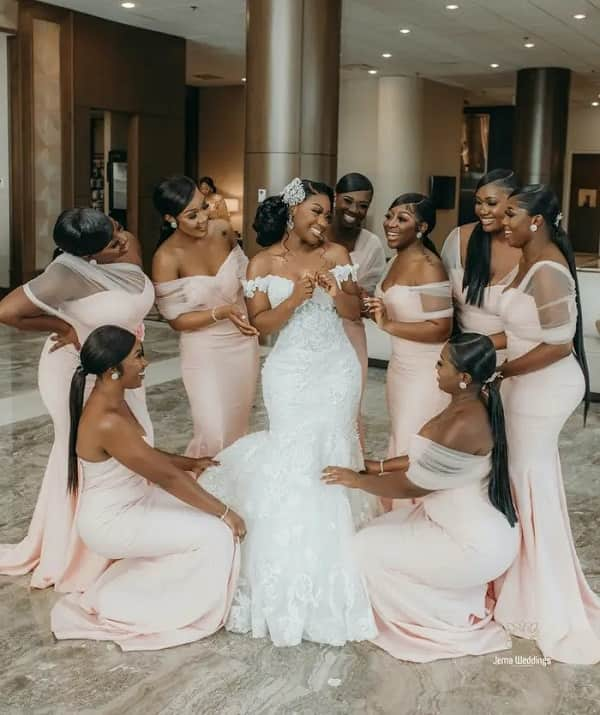 Photo Credit: Jema Weddings
Don't you simply adore it when the bridal party is visibly happy? Nobody desires a squad that does the opposite. Every bride finds inspiration in the wide grin of her best friends, on her wedding day.
5. That majestic VIP moment with your Squad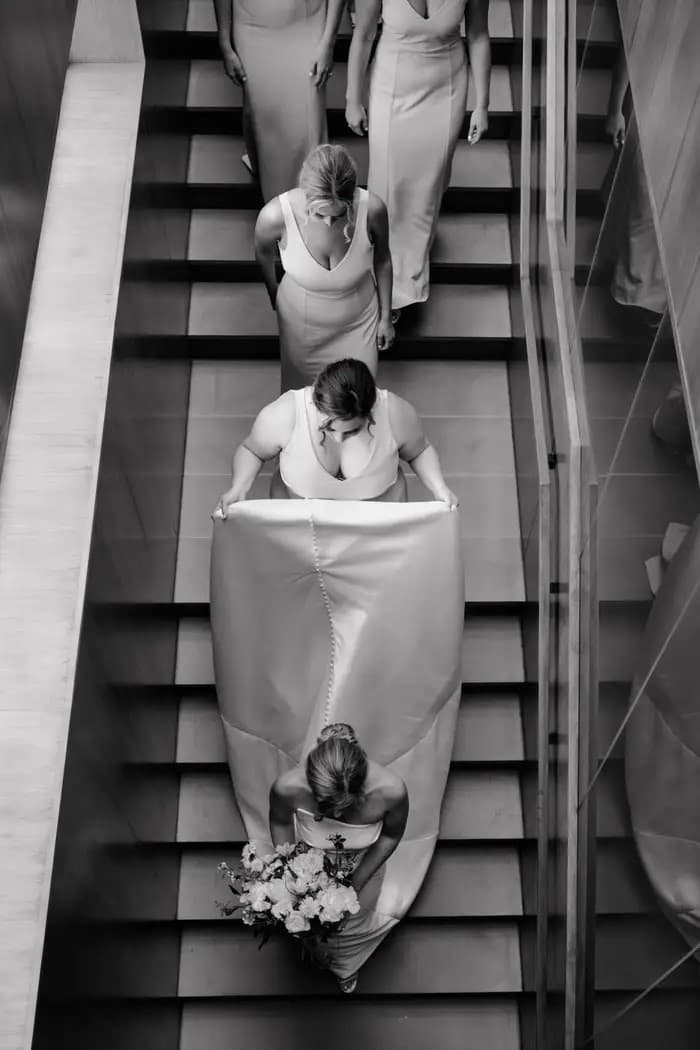 Photo Courtesy
The bride and her entourage are in the spotlight. In this image, the bride is followed by her bridal party who carries her train as she descends a set of steps. The picture represents support, which is the greatest asset someone could provide a bride on her wedding day. I'm sure you think of your closest besties right now and how they can pull this off too.
6. Signed and sealed: a photo of you and the groom showing off your wedding ring.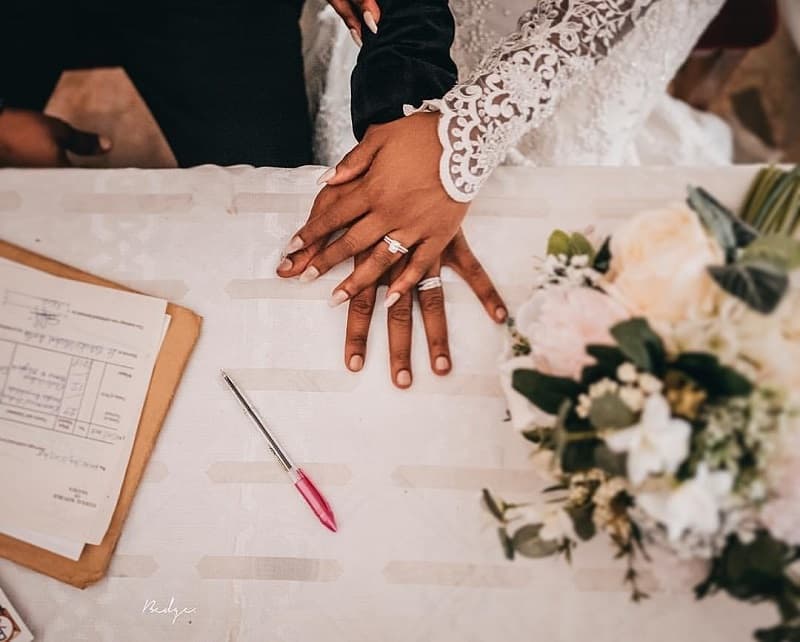 Photo: Bedge Pictures
Tell you one thing about newlyweds? They enjoy the braggadocio of having to wave goodbye to singlehood. Additionally, every chance that comes around is definitely worth the camera.
7. The showoff and the confidence, knowing he's yours forever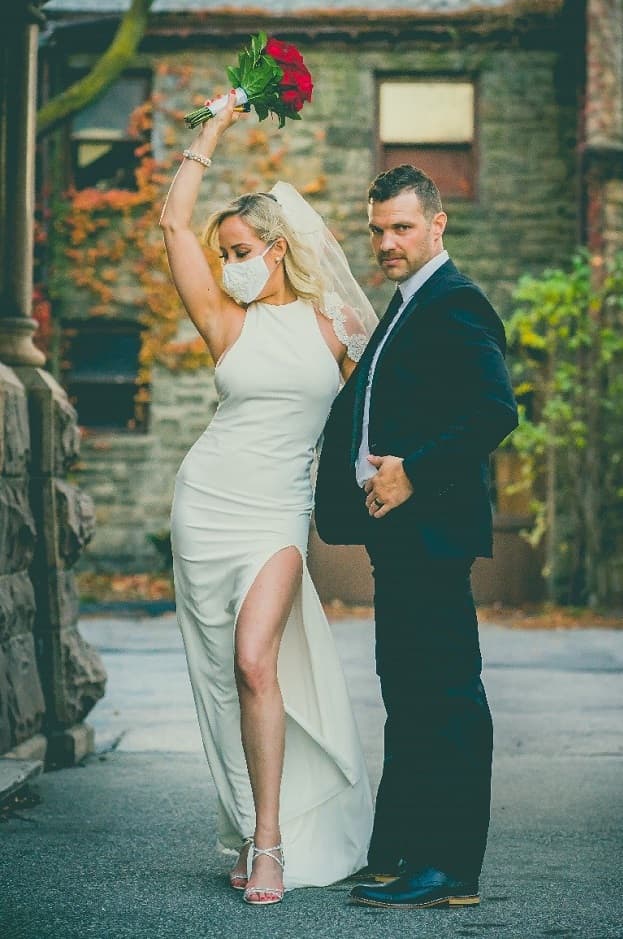 Photo Credit: Pexels/ Hussien Altameemi
This Bride! She's got the vibes and the moves — a literal representation of positivity for the journey after physically walking down the aisle.
8. The Goofy Groom Moment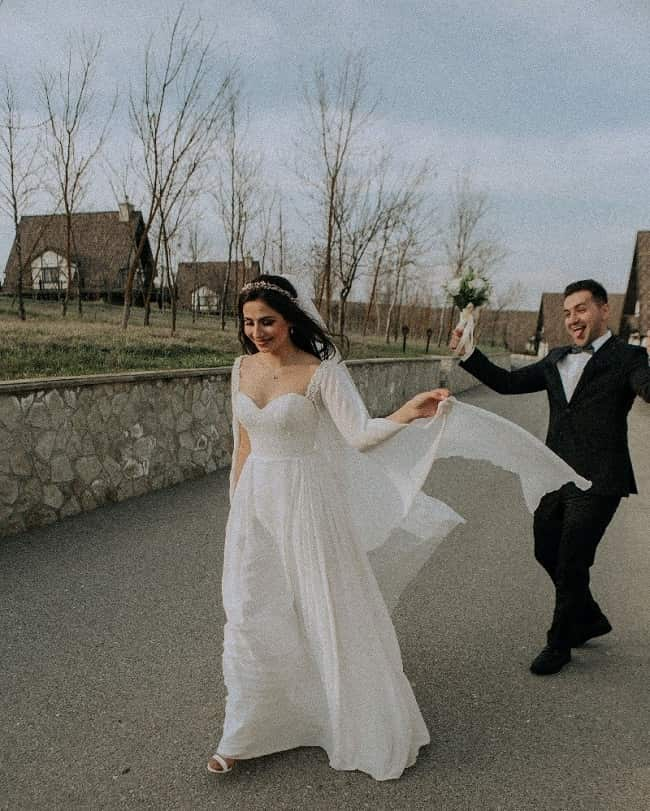 Photo Credit: Pexels/ Eko Agala
This is the feeling you get when the groom is always chasing after you. Find some great bits of enchantment in the happiness shared between this duo as they embody everything that should inspire you to get married ASAP.
9. Throwing the bouquet moment
I'm sure this bride is looking back to make sure that no bad energy is trailing her behind. Haha! Well, I'm envious of the girl who would catch that bouquet; it's so beautiful and the bride too. Awww.
10. The just-wedded moment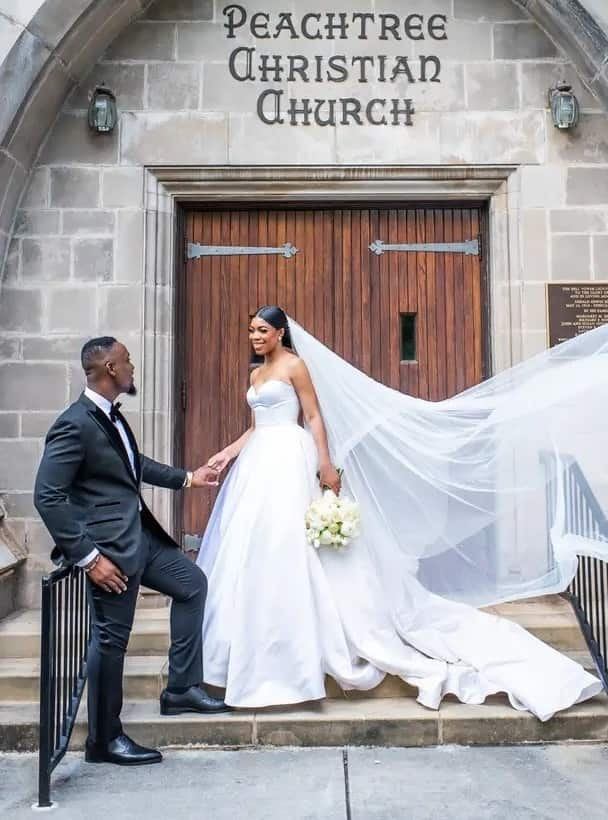 This is both tenderness and excitement aptly captured. While the couple is so admirable, on the other hand, and in just one simple sentence, — "it's the bride's veil for me."
11. Hands-free, getting ready to say "I Do"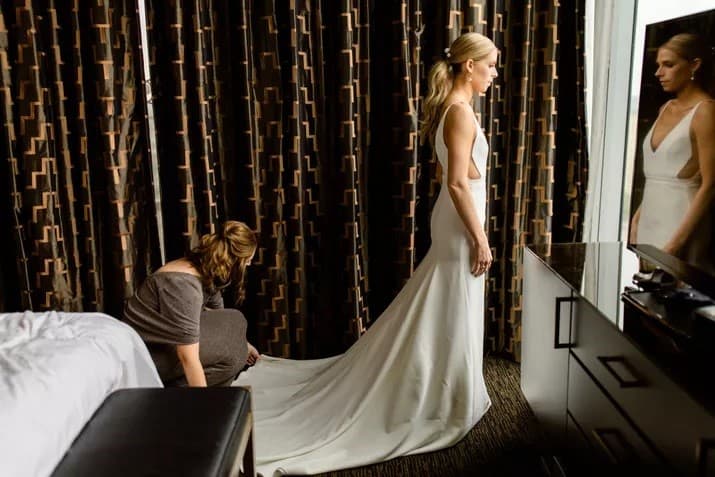 There's no forgetting how queenly a bride's big day makes her feel. This photo is one out of many moments where either of your friends, mom, or mother-in-law will be helping to fix your wedding dress.
12. Sharing a kiss with the groom under your veil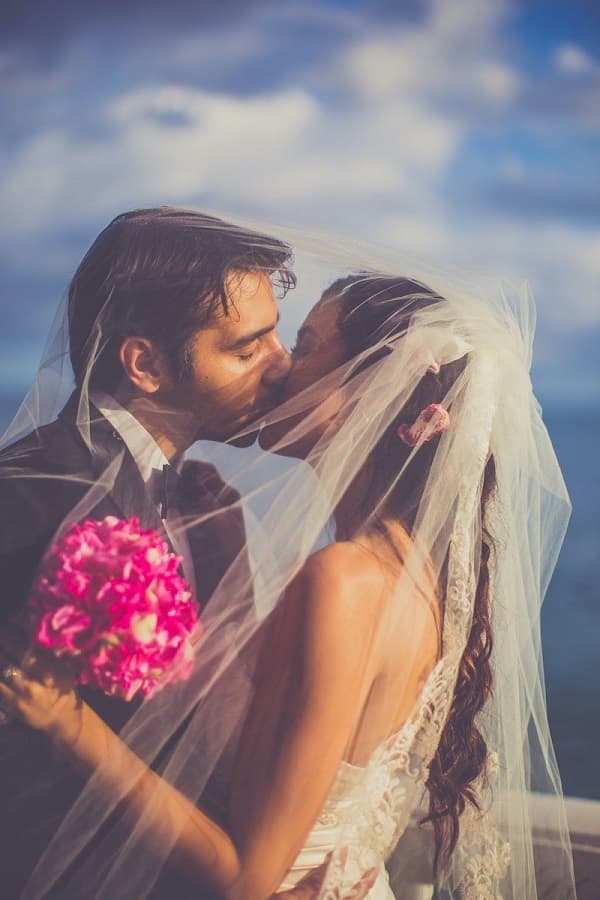 Photo Credit: Caleb Oquendo
How best to experience the first official public intimate moment between you two after it's declared —"You may now kiss the bride?" For added flair to the moment, the bride's veil is pulled over the groom's face in this photograph. By doing this on your special day, you'll inadvertently create a private time for the two of you.
13. The Communion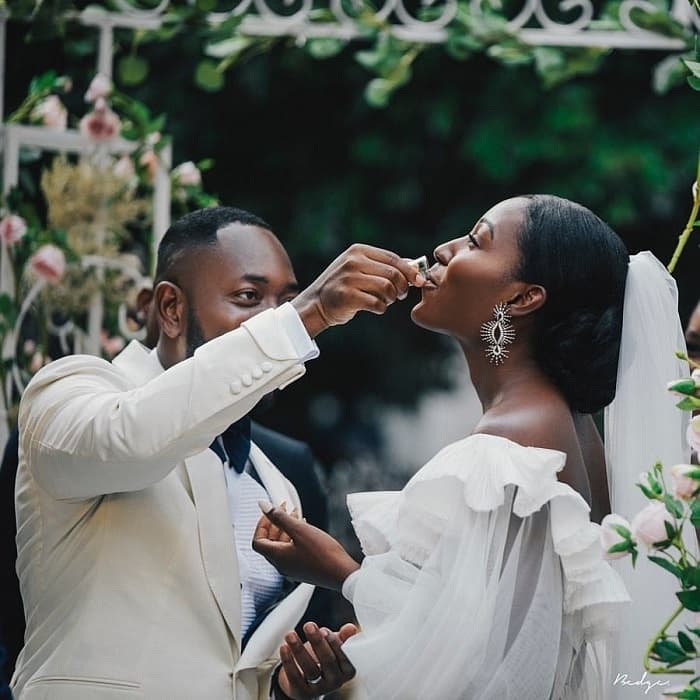 This is an intimate moment for this couple; a celebration of the sacrament of their marriage. The communion between couples is an intimate act that serves as a sign of harmony and the strengthening of their shared love.
14. Photo of the bride and her parents sharing a moment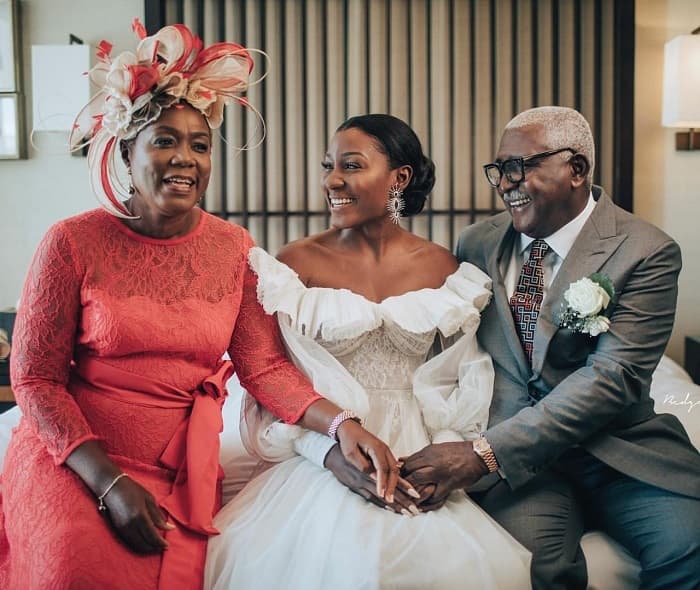 Even though this moment with your parents holding your hands and praying for you will make you cry a little bit here and there, it's all for the best and will be a blessing that you will enjoy for the rest of your life. Most brides-to-be like you are most probably anticipating this exact moment and saving their happy tears for it.
15. A special dancing moment with your first love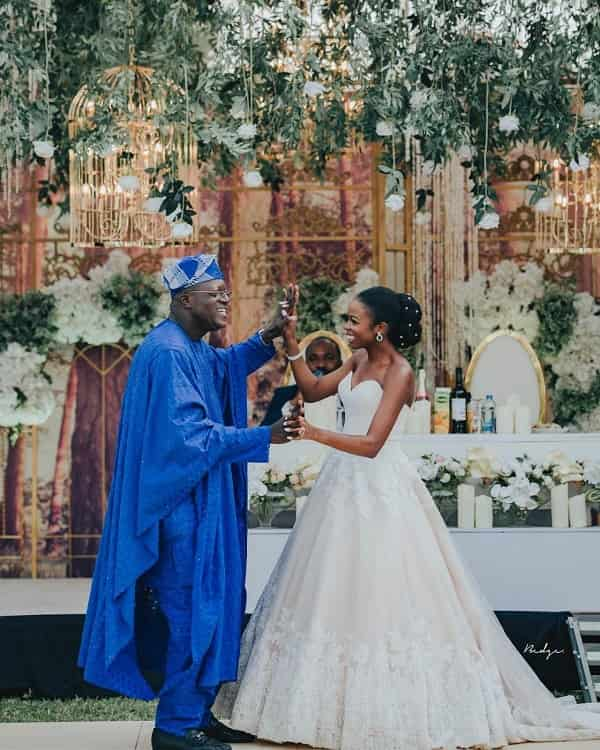 One of the amazing moments on the dance floor on your wedding day is sharing it with your father or another father figure. In all honesty, I'm sure you've been dreaming of this moment for a while. I'm genuinely thrilled for you because it's going to be downright fantastic and nostalgic. You would undoubtedly cry at such a sensitive time, so prepare to get emotional and grab some tissues too.
hhhh
16. "She's My Queen" Moment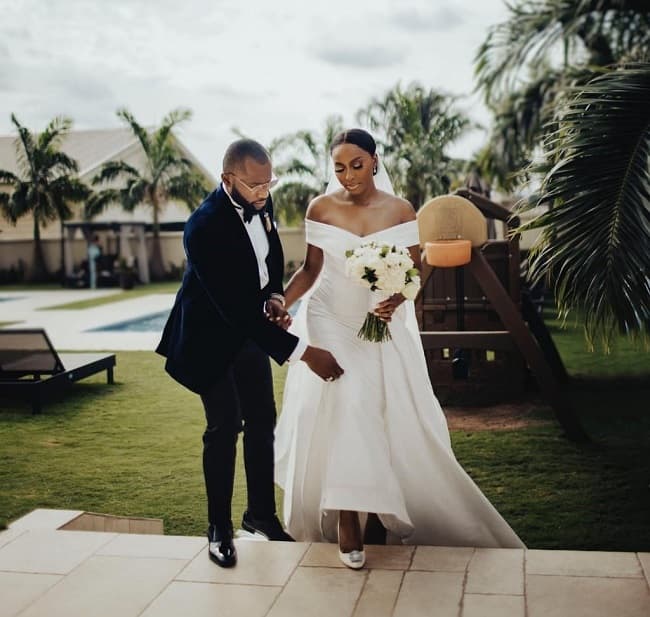 Every bride anticipates moments like this when the groom's responsibility is to keep a tight eye on his bride while sending the nonverbal message that says — "she's my wife, you all."  From helping with your dress to leading you to the car to helping you ascend a platform. Even just being a bystander, it's always pleasant to see.
17. A Photoshoot session with your groom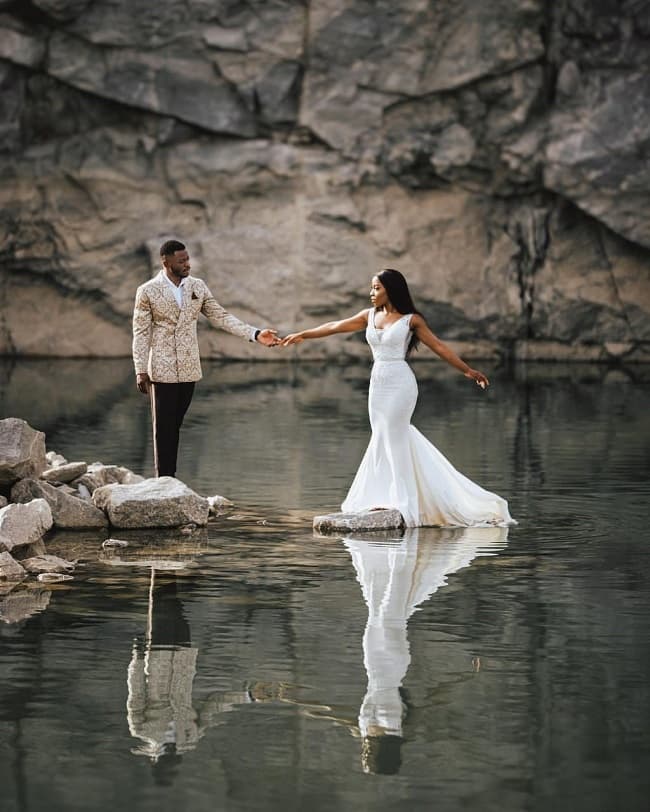 Without paparazzi, what would a wedding day be like? Asides from the candid shots of chance, a deliberate photo-shoot as a couple are worthwhile. You can capture even more beautiful and entrancing images, which have always served as inspiration. This can be done in a variety of locations, after the party, of course.