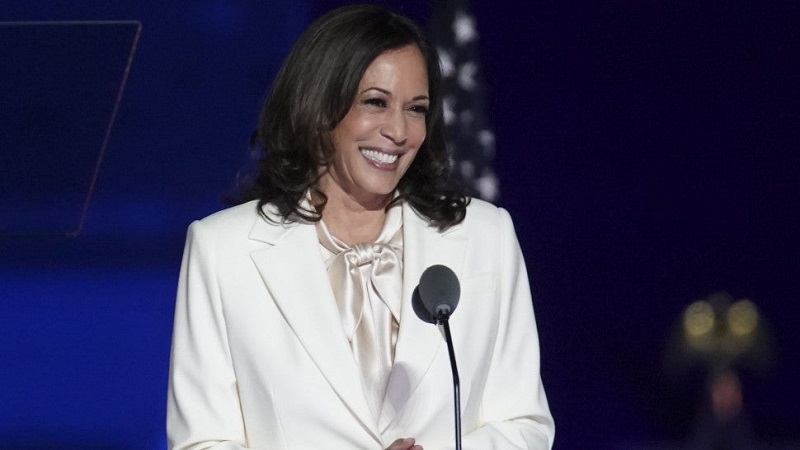 On Wednesday, 20th January 2021, the world will witness the inauguration of a new government of the United States of America. The inauguration will end the era of Donald Trump as the President and welcome the leadership of president-elect Joe Biden and his vice president-elect, Kamala Harris. While there's a lot of tension surrounding the transition of power due to fears of possible violence by Trump supporters, at noon (EST) of the said date, Harris will become the first Black woman and first person of South Asian descent to ever be elected to the US vice presidency.
Her victory, however, gives hope to women across the world and not to even mention her black identity which is also a beacon of hope to the black community, especially in a time where police brutality and systemic racism need serious attention. Having served as a United States senator since 2017 and this she does in power dressing, Kamala Harris is coming into power to serve the American people in the chicest wardrobe pieces possible. Because not only does she have a knack for wearing pantsuits but she uses her choice of fashion to tell a story. 
In fact, during her first address as the first Black, first female vice president-elect of the United States of America on 7 November last year, the 56-years-old former attorney general of California took over the podium wearing a white Carolina Herrera suit pantsuit. The color choice holds a strong significance in the American National Woman's Party, which as per reports, signifies "the emblem of purity."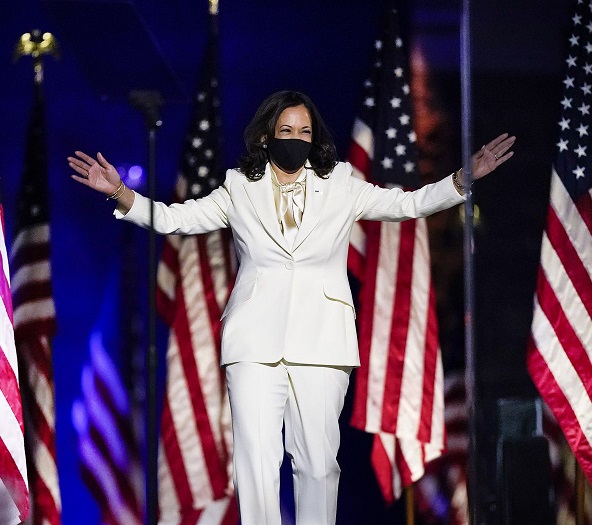 Photo: Getty Images
The look was however offset with neutral hues as she layered it over a pussy-bow blouse and finished off with a pair of pointed-toe heels and shoulder-bouncing hair. This is just the beginning and in the next four years, we bet Kamala is poised to leave unforgettable fashion moments in our minds. But if you pay attention to the vice president-elect, then you know she's also the ultimate boho babe who doesn't sacrifice comfort for style. Kamala has a strong penchant for converse sneakers and having been spotted in the casual kicks for many occasions, we can't wait to see how she juggles in the White House for her VP duties.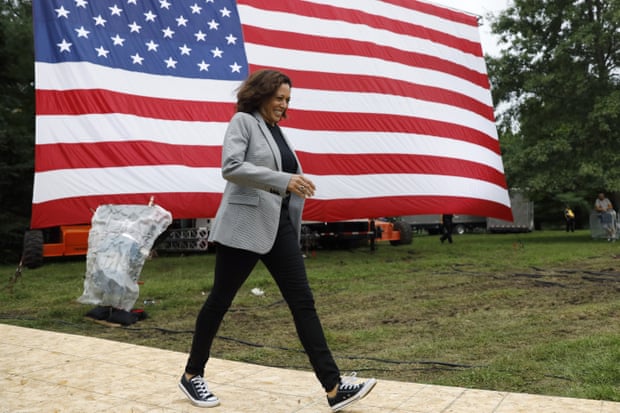 Photo: Charlie Neibergall/AP
According to the US Vice President-elect, it's a comfortable shoe and she even met her husband while wearing the off-duty staple. "Converse are my casual go-to," Kamala explained during an interview on CBS News Sunday Morning. "You know, I grew up with Chucks. I just love them. They're comfortable." Husband Doug joked she has "several closets full of them" ("He's exaggerating," Kamala responded) and she didn't start wearing the shoes on the campaign trail. "When I met her, it was Chucks and jeans," he said.
As the inauguration day is just around the corner, many are currently on the tenterhooks waiting to see what the new Vice President would wear. Of course, it wouldn't be anything close to converse sneakers or Timberland boots this time but her most formal look, perhaps in an ethereal frock.