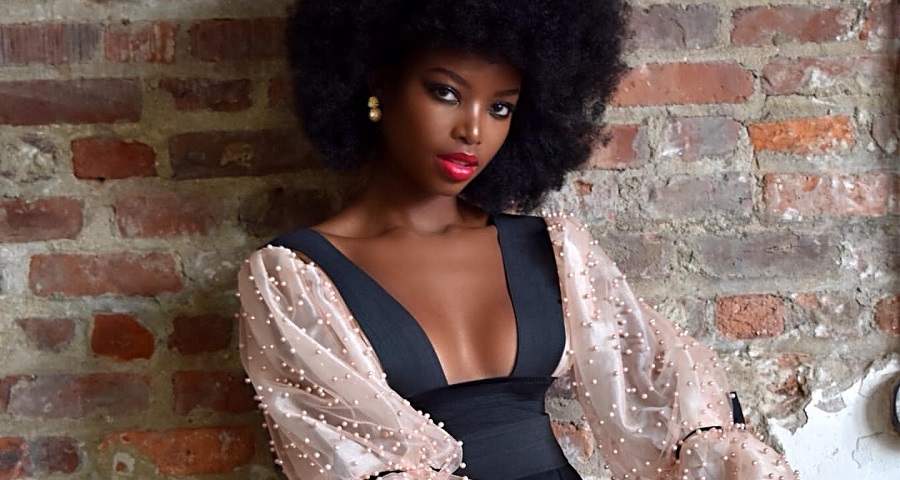 Victoria's Secret model and runway darling, Maria Borges, is pregnant.
The Angolan international model took to Instagram to make the surprise revelation yesterday that she's expecting a child. Borges shared the exciting baby news by posting a cool video featuring the model catwalking on the pavement as she wore a gorgeous maternity dress while showing off her growing baby bump.
The video started with the model striking a pose like she was on the runway before strutting down in the super high-slit and halterneck baby blue dress. She captioned the clip with just a question mark, which of course triggered a bunch of congratulatory messages from astonished colleagues and fans in the comment section.
View this post on Instagram
Borges however accessorized her look with a small handbag with the appropriate footwear, a pair of flat sandals perfect for her out and about. She also wore a full wig hair courtesy of her Lisbon-based hairstylist, Belos Cabelos, who once rescued the model out of financial hardship in 2012 when she was trying to make it in the fashion industry.
"Supporting my friend Business," the model captioned another video as she shows off her voluminous and lustrous long hair while promoting her friend's beauty salon in Lisbon. "Long short story! Back in 2012 when I first visited Lisbon trying to make it in the fashion industry I meet the owner of @beloscabelos.pt and we become a friend, at the time I was working wearing hair extension the most," she explained. "One day it was fashion week in Portugal and I need to get my hair done, I was without money and had no family around. She took one of the most expensive wig and fix my hair without charge me. All the friendship I have like this around the globe no money can pay. If you come to Lisbon please visit her Salon for any type of hair treatment 💫."
View this post on Instagram
Commenting on her pregnancy news, fellow model Ebonee Davis wrote, Omg 😍😍😍 congratulations!!" Her Angolan sister Leila Lopes, who is also a model wrote in Portuguese "Essa barriguda não para 😂😂😂" (which means: 'This belly doesn't stop'). This was also followed another comment by a friend writing, "LINDA MEU AMOR! Fomos os primeiros a receber a notícia! Love ❤️ uuuuu (BEAUTIFUL MY LOVE! We were the first to receive the news! love ❤️ uuuuu).
It is not clear how many months is the pregnancy or who the father is but we do know that Maria Borges will beget our future model. Mega congratulations to the model!