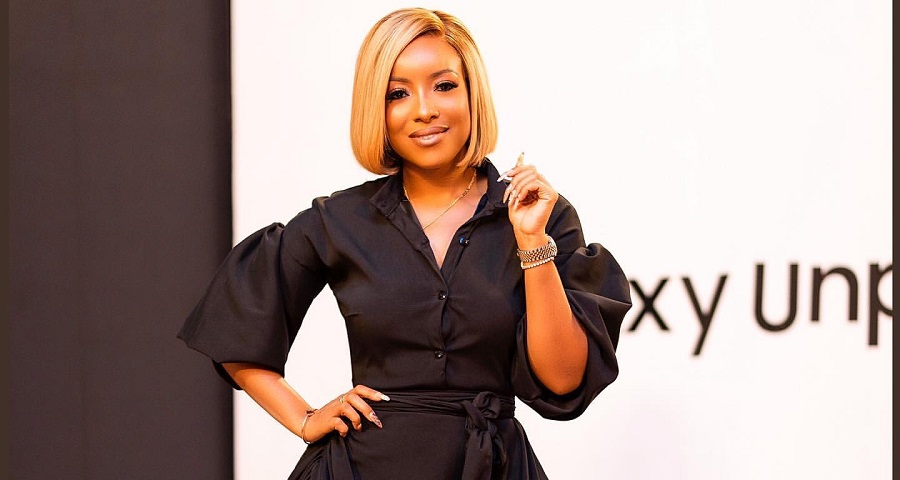 Joselyn Dumas brought her love to dark colors at the Samsung Galaxy event during the week in Accra, Ghana.
The actress and TV Host shared pics of herself at the event, all dressed up in a flowing black gown by a 'deliberately conscious' Ghanaian brand, Zuri Azalea.
Dumas wore the black number which has a shirt dress design and distinct vintage feel, featuring a round collar, puffed sleeves, tie waist, and a modest slit that oozes the 80's appeal. She wore her wig hair in a gold short bob and accessorized with matching ankle strap heels. Dumas complemented the look with a red clutch bag that was color-coordinated with her face mask.
Sharing the gorgeous photos, the 40-year-old star asked fans about their favorite look with a caption that reads, "...It's slide one🥇for me 😍 what's yours ma'❤️?"
View this post on Instagram
The star also shared an outfit pic two days ago, where she attended a Covid-19 radio discussion session with Ghana's Joy FM, which per the actress was such an incredible conversation. In the look, Dumas embraced colors wholeheartedly, donning a black camisole top, matching wide-leg pants, a pink blazer, and red mask. She completed the look with her long raven hair and heel sandals. 
View this post on Instagram
With the high level of corruption going on in most African countries, Ghana is no doubt grappling with bad leadership and in response to it a few months ago, the actress used her social media platform to advocate for a change. 
"Why don't we start with the man in the mirror…," the actress tweeted. "we have normalized bribery, corruption etc as a people…maybe if we unlearn all these,stop making excuses, shifting blame and change our ways we can start seeing the change we need. #You+#Me=#Government #FixThe#Country."