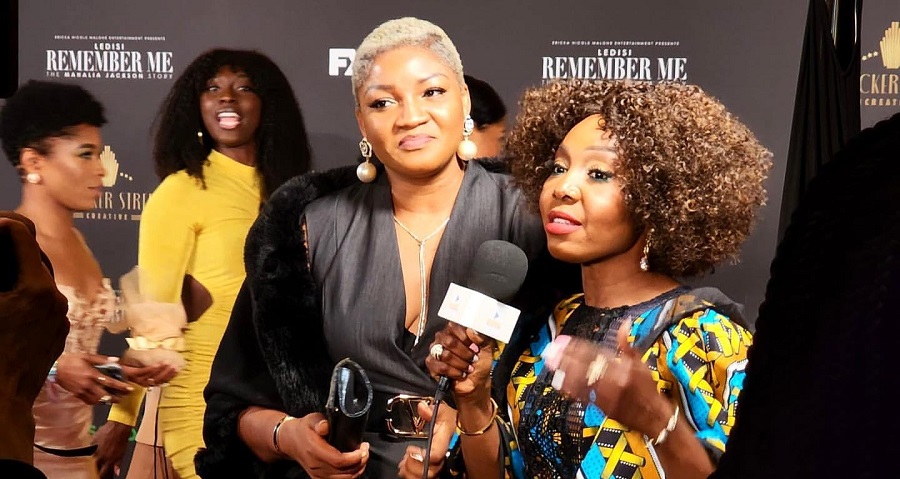 Call it Nollywood glamour! 
Omotola Jalade went super chic and fresh for the opening ceremony of the Pan African Film & Arts Festival in Los Angeles, Tuesday, April 19. The 2022 event which will end on Sunday, May 1st, marks the 30th anniversary of PAFF promoting the "cultural understanding among peoples of African descent" through exhibiting art and film. 
For the ceremony, Nigerian actress Omotola Jalade arrived on the red carpet wearing a desirably black jumpsuit, featuring sleeveless cuts and a plunging neckline. She also seized the opportunity to debut her spanking new short haircut tinted in a gold hue. The looked was finished with a pair of black heeled sandals, a VLogo Signature buckle belt, and dangling earrings. 
In another photo, the 44-year-old threw on a furry jacket atop her look, along with a sleek matching clutch. "Who's that girl?," the actress asked while sharing the images on Instagram.
View this post on Instagram
Omotola's new look comes three weeks after she shared a photo on the social media platform, announcing that she's cutting off her hair. Posting a photo of herself in a long pink shirt dress while sporting her new hair, she then asked followers to share their opinion. "Yep … I Cut and Tinted my hair….Yahhhhh or Nahhhh ….," the post captioned. 
View this post on Instagram
While some fans however praised the hairstyle, some expressed their dislike, saying it's a 'No' for them — which may possibly indicate why the actress decided to cut the hair shorter.
She also wore the new look to the TIME100 Impact awards and gala in Dubai, a black-tie event that honored leaders and change-makers who, 'through sustained effort, have done extraordinary work to shape the future of their industries and the world at large.'
View this post on Instagram
But however, we don't know about you, the short hair transformation looks refreshingly perfect on the mother-of-four.