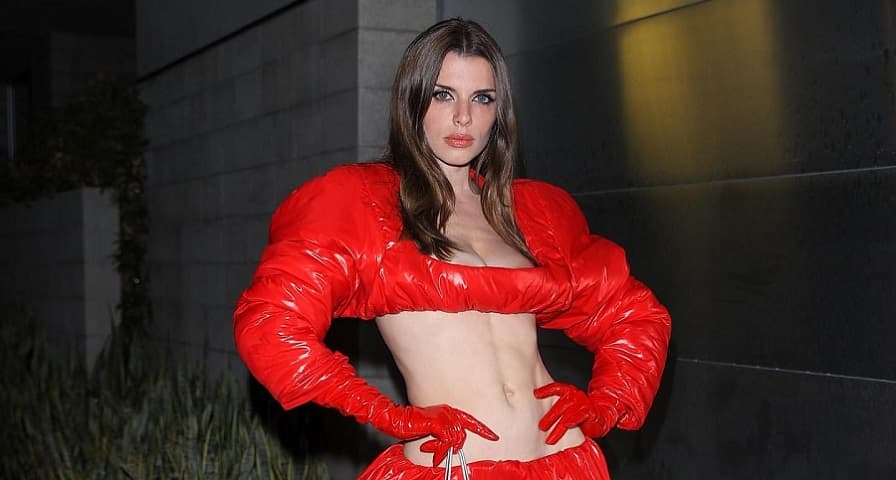 Guess who has been spotted in New York wearing yet another pair of super low-rise pants? It's Julia Fox, of course!
To be honest, I'm not sure we've seen everything about Julia Fox. It just goes bold, bolder…boldest, and even some more, with the Italian-American actress. This time around, she pushes the boundaries of low-rise clothing with yet another pair of pubis-baring pants that appear to be hanging on the thread of some mystical glue.
Fox seems to have an answer to the reinvention of ultra-low rise pants because she's synonymous with the trend for a while now. The actress was recently pictured wearing a pair of incredibly low-cut black leather trousers during her visit to Indochine, a Vietnamese restaurant in New York City. Fox paired the bizarre pants with a string bikini top, complete with pointy toe heels and a matching leather bag. 
She was joined in some Instagram photos by drag performer CT Hedden, and model Amelia Gray Hamlin, who was dressed in jeans and a ribbed white tank top, as well as "Selling Sunset" star Christine Quinn, who was dressed in a yellow minidress with side cutouts.
You can't separate some dramatic insights from really daring outfits and this explains why Fox posted this particular ensemble to Instagram, with a photo edit that included the hindquarters of a horse wearing matching shoes. She gave it the caption "Sleigh," and trust a single, wild post from Julia to create some exciting rumbles on the internet. We love!
View this post on Instagram
The pants, however, erupted some reactions on social media, with fans joking about the look. "I wish i was as confident about anything as julia fox is about those pants staying up," a fan tweeted. Another said, "Julia Fox in Uncut Gems feels like a fever dream at this point. Everyday she strays further from the light as she transforms into Jar Jar Binks."
A third user also added: "I want everyone to wear whatever they want & to feel comfortable & authentic in who they are except for Julia Fox in these pants. Afraid I can't allow it."
The 32-year-old "No Sudden Move" star has been experimenting with unthinkable wardrobe staples, often pulling them off with serious drama. Fox has her way of getting people talking. How does she even do it? For the internet's sake, she has transgressed the boundaries a few times and from the look of things, she isn't slowing down anytime soon. Remember when she recently went grocery shopping in her underwear — just after she made buzzing headlines by converting her jeans into a bra top.
View this post on Instagram

It's the confidence with which she clads these bizarre outfits for us and even though we are braced up for more thrilling fashion details, Julia's internet-viral moments make us curious about what to expect next.