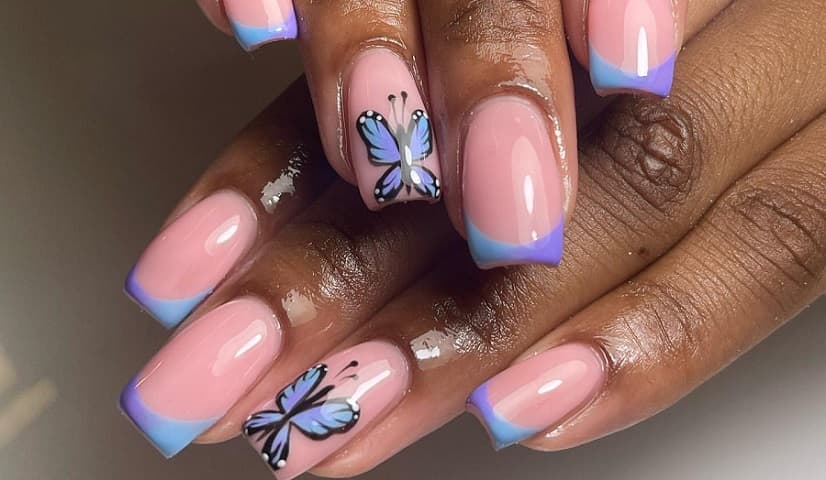 With butterfly aesthetics being a source of untamed creativity in the fashion industry for decades now, one would guess that it extends to all areas of beauty including the nails. The bold and bright designs available in the buttery nail arts are simply loveable. You'd easily be swayed by its versatility, literally — as there's absolutely nothing about it not to love. For nails of different shapes and lengths, there is a huge selection of colors and styles to choose from, so ahead, indulge yourself in the cutest butterfly nail arts.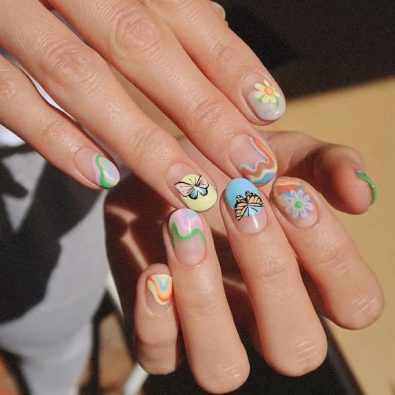 Let's start off with gentler tones. Butterfly art and pastel colors go beautifully together, and this exact design puts your favorite natural elements directly at your fingertips.

Pink and Yellow Butterfly Nails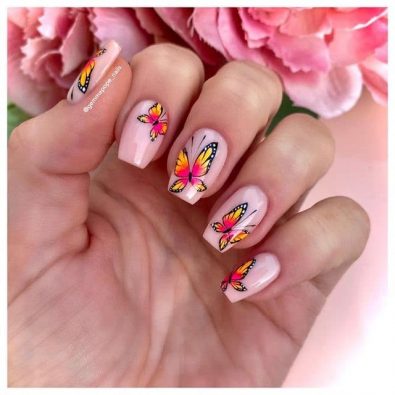 Because butterflies are so largely uninhibited, every sample you encounter is quite striking, and now, this color combo? You know what, take this design sample straight to your nail artist and get it done. It's just straightforward as the word summer!

Alternating Red Butterflies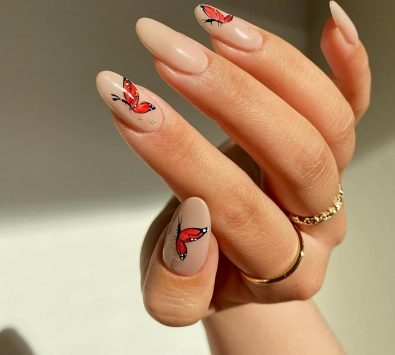 In the spirit of unbridled creation, these tiny red butterflies are so distinctive because they only display one set of wings, not both. If you don't care too much about painting your nails, you should still consider applying this half-butterfly pattern to your alternate nails.

Multi-Colored Butterfly Nails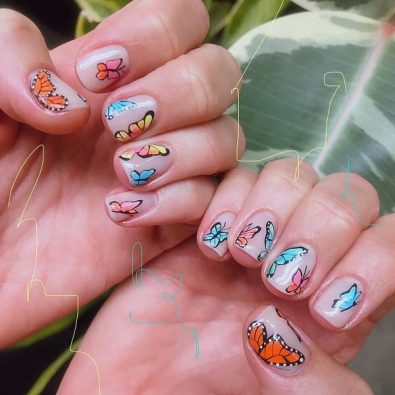 See how the butterfly has different colors? Without any limitations, you can do that with your nails. For butterfly nails, you don't have to stick to one or two colors; open up, get creative, spice it all the way up and have fun.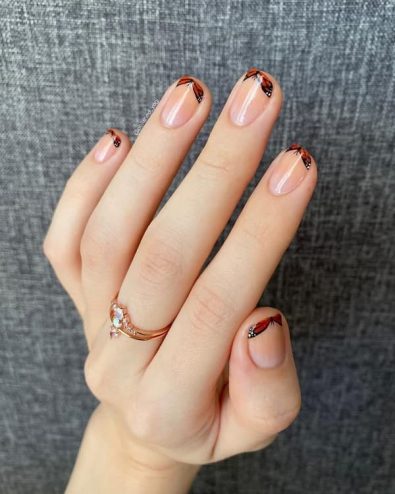 Yeah right — fairy vibes! French tips' versatility is one of its best qualities. Thanks to the invention of butterfly nail art, you can now apply the same manicure design repeatedly while changing the colors, matte or shiny finishes, and positioning without ever having to worry about it losing its attractiveness. A pop of orange color isn't a bad idea, after all.

Blue Butterflies Nail Art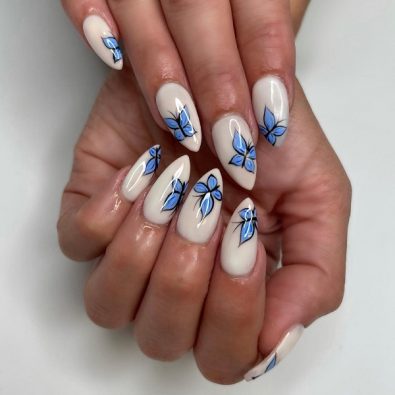 Blue exudes an "own brand" of calmness and simplicity. Nothing dramatic, not even an extra detail, nothing. Just a gorgeous blue butterfly nail design with a glossy top coat to make it sparkly. Classy has never had finer circumstances.

Subtle Gold Butterflies Nail Art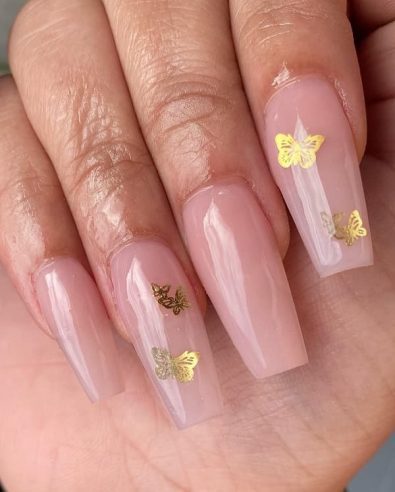 The idea is to get over being bored with your favorite neutral designs. With some adorable gold butterfly stickers and a sheer neutral base coat, you can easily duplicate this extremely gorgeous combo. It gives off some aura of sophistication while still being minimal.

Ballerina Butterfly Nails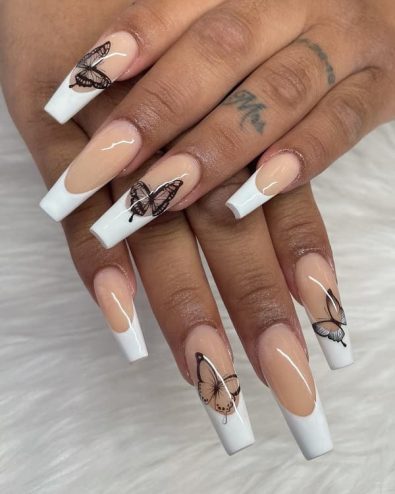 By using black butterfly stamps, these Kylie Jenner's ballerina nail shape is much improved. Additionally, while neutral and white nail polishes never go out of style, you can easily switch up the look by changing the color of the butterfly's wings or the tips.
Why Butterfly Nail Art?
This manicure style is as adaptable as you want it to be. It can be embellished with gemstones, covered in sparkles, or left simple. Dua Lipa and Demi Lovato have some time ago been spotted wearing the glitzy nail style.
All facets of the global beauty culture incorporate butterfly iconography. The butterfly has served as an unending source of creativity for beauty artists, collections, advertising campaigns, and packaging for the past 100 years.
There is maybe no more fitting theme to represent the metamorphosis that cosmetics can bring than the butterfly, which is possibly the ultimate emblem of transformation. Like flowers, different butterfly species are a favorite source of inspiration for the hues, textures, and finishes of cosmetics and by extension, your nails.