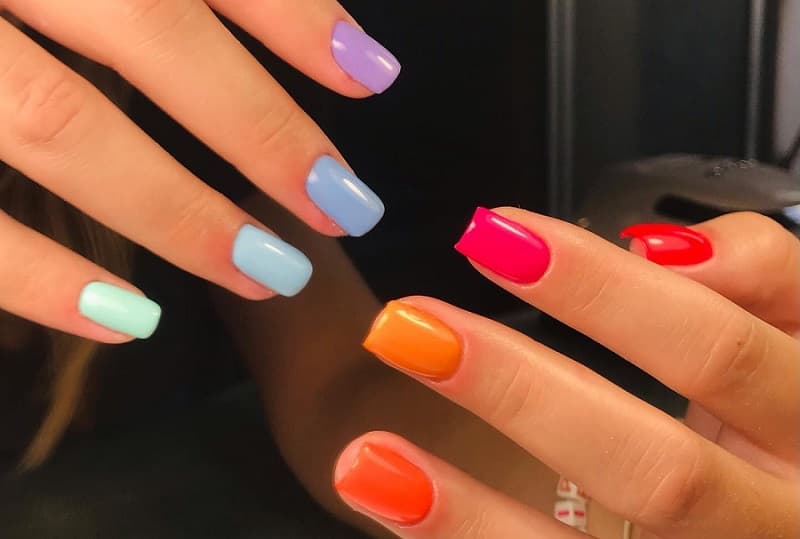 I've only been alive for a few years, but I've already learned that the concept of practicality thrives and is sustainable in the beauty market. This is the category where the Italian manicure falls into—practicality for daily wear. Without a doubt, long nails are beautiful to look at, and by Jove, they will never go out of style. But on the other hand, there are women who want to keep their nails short while still looking chic. Guys, the "in-between" lifestyle is real, and I have nothing against it! So, if you have naturally short nails but occasionally wish they are longer and "chic-er", you'll be happy to learn about the Italian manicure.
Currently, Italian manicure is a favorite among nail technicians given its well-liked ability to make short nails and fingers in general appear longer. Applying polish to the nails with finesse so that it gives the impression of length is the secret to an Italian manicure. Traditionally, it can be used with painted tips or full-color manicures. Keep reading for all you need to know about this Italian manicure.
What is Italian Manicure?
The Italian manicure is a clever nail-painting method that has become popularized by manicurist Alexandra Teleki (aka @thehotblendofficial on TikTok). The nail-art procedure lengthens the nail and least creates the appearance of longer nails. The method is typically used with traditional full-color manicures and involves getting as near to the cuticles as possible with the polish bottle's brush.
According to Teleki, short, square, or oblong nails are the most common types of nails to apply this nail hack on.
For the nail design, if you're not choosing a single shade, you can give your tips some Italian flair as well. Italian manicures start around halfway up the nail on both the left and right sides, forming more of a "U" shape than the traditional French manicure, which places the tip closer to the edges of the nail in a crescent shape.
Can the Italian manicure be done using any type of polish?
Sure, you can get the same effect with ordinary nail paint or classic gel. Alexandra used builder gel polish on TikTok, which is a more robust type of nail varnish. For the first 24 hours after applying the gel, you must make sure you stay away from any heat, such as long, hot showers or baths, saunas, and the like. This is because the gel needs time to be fully set. Not paying attention to this unwritten rule is a major factor in why gels could not last as long as they need to. Using lotions and oils on a daily basis will help keep your hands and cuticles moisturized. Additionally, it will stop lifting and keep the manicure in top shape.
Can you do the Italian manicure at home?
It is advised that you visit your nail technician, who is probably an expert with this nail-painting procedure, for the very best effects. If you insist on DIY, however, you can pick up a conventional nail polish that can be erased with acetone.
Keep scrolling for some inspiring Italian Manicures before 
Darker wine hues are ideal for folks with more rounded cuticles when it comes to Italian manicures. Additionally, it's the ideal shade to transition into fall while giving the appearance of longer nails.
Italian manicures particularly sparkle when they are painted with strong, brilliant colors, and this raspberry hue is no exception. If you look closely, you can see where the edges have been delicately cut off to produce nails that appear leaner and longer.
This is one of the reasons the Italian manicure is widely loved — you can use any kind of polish to perform an Italian manicure. Your appearance is significantly less prone to chips and lasts much longer when using gel, such the black gel.
We often hear the uncool blues, like "Monday blues," but this blue tint on these nails is sending forth the perfect sentiments. The Italian manicure method, after all, enables the possible nail aesthetic without sacrificing practicality.
Did you know that you can even perform a French manicure in an Italian manner? Now you know! The Italian nail art starts around halfway up the nail and creates a more "U"-shaped design, in contrast to the traditional French manicure, which starts closer to the sides of the nails.
How better to show off your nail pride at home than with this rainbow manicure? Italian manicures are perhaps one of the most exquisite nail arts, in major part because they might be completed using any assortment of polishes and nail art. And we adore rainbow manicures, especially ones that look as fantastic as the one pictured above.
What do they say about nude colors again? They complement all skin tones and are widely appealing. Even more pleasant, it produces a polished and adaptable aesthetic when combined with the Italian manicure, making it the ideal go-to manicure.