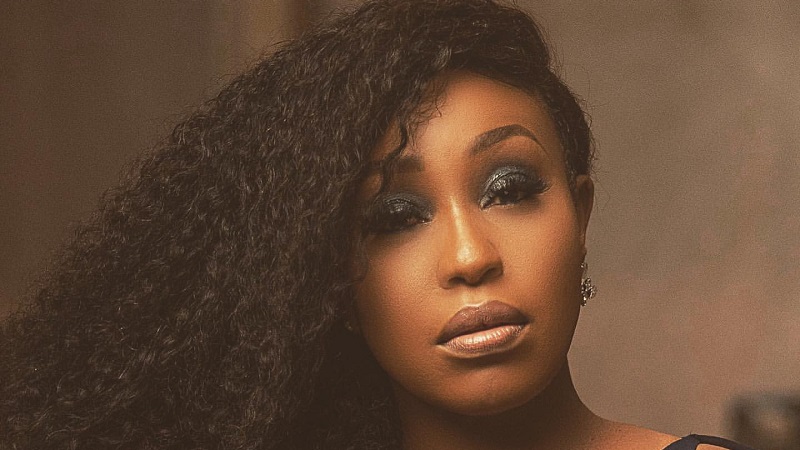 Happy Birthday to Rita Dominic as she adds another age today!
When a movie star turns 45, it should be celebrated with a new look. The Nollywood actress just turned 45 today and she is officially blonde. Dominic decided to not only drastically change her look but mark the special day in style. She shared the photo on her Instagram last night, which she sits against a black sofa in a room that color-coordinated with her look.
Wearing an icy silver-toned pantsuit and keeping both her manicure and pedicure in tandem with the outfit, she looks elegant and youthful, bringing the thoughts that age is just numbers.
View this post on Instagram
And it seems like the big day is going to be all about glitz and glamour as the actress is also giving fans a glimpse with a bunch of gold balloons displaying a happy birthday sign in her apartment. 
"Thanking the Almighty for another year, for life and good health..🙏🏽," the Nollywood star captioned the preview post before sharing a snap of her blonde hair. "I've been in the industry for 22 years and you all have been steadfast with your support. This I do not take for granted. It has been good most times and rocky sometimes but in all I give God the glory. Love you all so much! Bless..❤️❤️ Happy birthday Reedee 😊🥂 #ritadominic."
For her new hair transformation, we don't know how long Rita will stick to her newfound blonde obsession or whether it's for the rest of her life but we do know that for years, the actress has remained committed to the brunette beauty. If you have a special event coming up, do like the actress and put yourself in something unique.