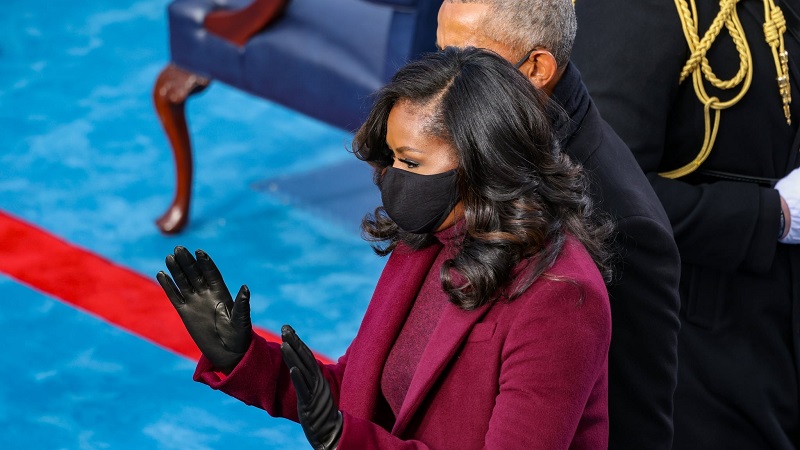 The inauguration of President Joe Biden and Kamala Harris yesterday was a very posh event with everyone including First Lady Dr. Jill Biden, the Vice President, the former US Secretary Hillary Clinton, the former First Lady of the United States dressing up in their finest for the ceremony.
It was somewhat a celebration of black talents as Kamala Harris and Michelle Obama sported the looks created by black American designers. However, one thing that certainly had people talking more was Obama's shoulder bouncing curls.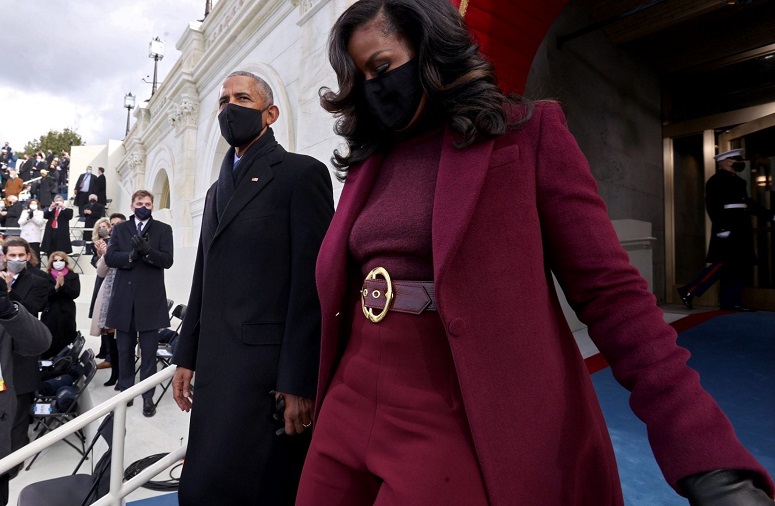 Photo: Getty Images
The former FLOTUS made her entrance into Capitol Building wearing a burgundy overcoat layered over a turtleneck, wide-legged pants, and a matching belt. Her hair was styled into voluminous shoulder-bouncing curls and Twitter users were quick to point out how the 51-year was oozing pure glamour. It was an inspiration to millions of black women — because of course, the curls, the sheen, and the bouncing effect were everything. The hairstyle is however the handwork of Hairstylist Yene Damtew and she's undeniably overwhelmed by the praises. Here, continue scrolling to see the best Twitter reactions.
Michelle's stylist sitting at home after doing God's work and seeing Laid trending. pic.twitter.com/oalTue856t

— Butter.Bear (@ButterBear212) January 20, 2021
MICHELLE GOT MORE BOUNCE TO THE OUNCE WITH THIS HAIR.

— Openly Black (@ScottieBeam) January 20, 2021
I found my joy. It was Michelle Obama's hair. COME THROUGH CURLS AND VOLUME.

— Jemele Hill (@jemelehill) January 20, 2021
michelle obama's hair has sent the family group chat ablaze

— Steadman™ (@AsteadWesley) January 20, 2021
MICHELLE IN THIS HAIR AND THIS COAT HUNNY. THE SWOOOOOP CHILE. THE FLIP! THE SLIGHT OMBRE. pic.twitter.com/NAVAjX7ZJV

— That's Madame Vice President To You (@BienSur_JeTaime) January 20, 2021
https://twitter.com/amberskyez/status/1351922973788221449?ref_src=twsrc%5Etfw%7Ctwcamp%5Etweetembed%7Ctwterm%5E1351922973788221449%7Ctwgr%5E%7Ctwcon%5Es1_&ref_url=https%3A%2F%2Fwww.harpersbazaar.com%2Fbeauty%2Fhair%2Fa35267021%2Fmichelle-obama-hair-curls-biden-inauguration-2021%2F
Michelle Obama's hair is a political statement. And I'm here for it. 2017 vs. 2021. @MichelleObama #Inauguration2021 pic.twitter.com/QJBeCRy5Hy

— Tanika Davis (@tanika_davis) January 20, 2021