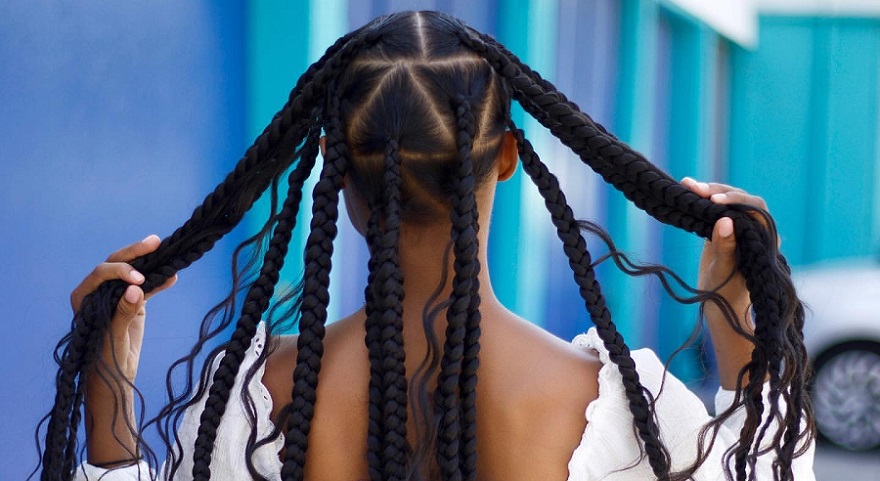 Braids have been every woman's go-to protective style since before we can remember. Apart from helping the hair to grow, both knotless braids and other types of braids. protect the hair from breakage and dehydration.
We have seen different braid styles come and go over the years but right now there's one that has got everyone buzzing. Maybe it's because of its lightness and ease of styling, who knows? But Knotless braids have become every woman's favorite hairstyle.
Let's dive into the details of the hairstyle that one out of 10 black women has on right now. What makes knotless braids different from the normal braids we've been used to? We'll tell you all about it!
What are knotless braids?
Fun fact; Knotless braids have been in existence since the 2000s! Although it was not so popular back then, it has now taken the front seat of the beauty and braid world.
 It is called Knotless braids because the braid has to begin with your hair and then the stylist will slowly feed in the extensions to a certain point until she finishes the braid. In regular braids, the hair is secured tightly at the roots with a knot formed by your hair and the extension.
How long do Knotless braids last?
Knotless braids can last up to six weeks. Depending on how well it is taken care of, it has the potential to last even longer.
Do knotless braids last longer?
Knotless braids can last longer than traditional braids with proper care. The hair at the root can be rebraided to look as good as new since there's no knot like regular braids.
What are some benefits of wearing Knotless braids?
The benefits of rocking knotless braids are endless. For starters, it's super easy to style even when it's new. Regular braids take at least 4 days before they begin to gain some sort of flexibility but Knotless braids are the direct opposite.
As soon as you make them you can style them as you like because your hair is at the base controlling the movement.
Apart from flexibility and ease of styling, knotless braids prevent breakage and scalp stress. Starting the braids with your hair means your scalp is saved from the pressure caused by starting with the extensions.
That pressure from knotting can also lead to your hair breaking, or pulling out from its roots, especially your edges. With Knotless braids, you don't have to worry about any of that. It's a true protective style.
Knotless braids are lighter! The braids are fed in lightly as the hairstylist goes down the braid so eventually, they are not as bulky or heavy as normal braids.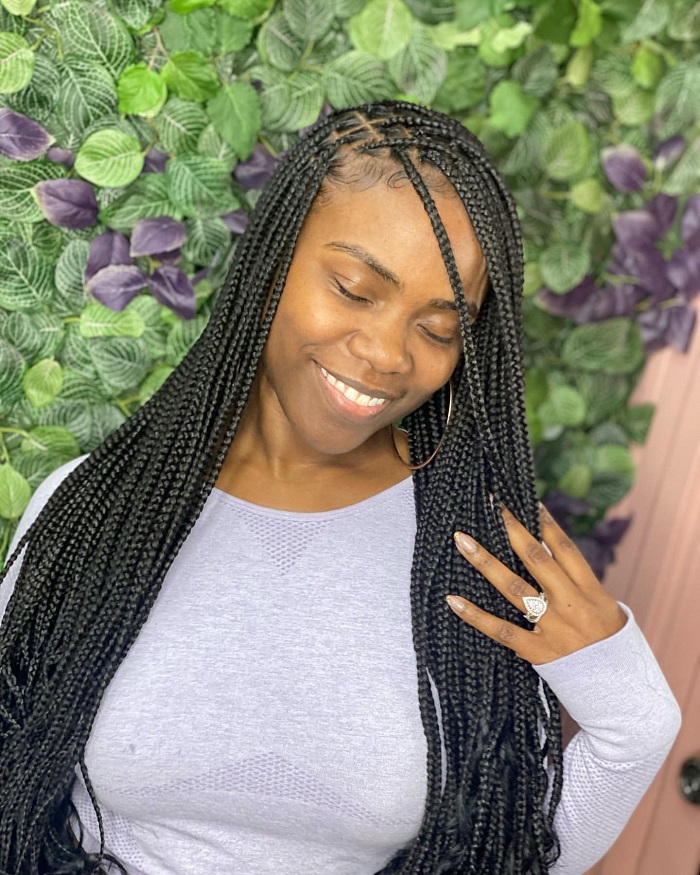 Photo: Instagram.com/the__essencials_CYeKotXLP2C_
How long does it take to do knotless braids?
Knotless braids take longer to make probably because of the feeding in process. You should expect to spend at least 5-8 hours making your Knotless braids. Although it all depends on the size you want your cut to be and the expertise of the stylist.
How much does it cost to knotless braid?
What's the price tag on this hairstyle that everyone is buzzing about? Depending on the size you want, you can expect to spend around $200 to $500.
Again, this depends on how professional the stylist is and how many tweaks you want to add to the hair. Like the length, the size, addition of curly ends, or curly strands on some braids. It also depends on the country where you are. So the pricing could be more or even less.
Are knotless braids easy to DIY?
DIY? Not so much in this case. While it may be super easy to DIY traditional braids, Knotless braids are not so easy to DIY.
The process of feeding in the braids and gently starting from the roots may require more expertise than you think. You may not be able to measure the extensions properly and to size. So, if you're considering hopping on the Knotless braids train, it's advisable to trust a professional.
How to care for Knotless braids
The durability of your Knotless braids depends totally on how much you care for them. To care for your Knotless braids make sure to keep them hydrated with oils or hair mousse.
If you need to wash it, pay more attention to washing your scalp not the braid itself. Oil your scalp regularly too, to keep it looking fresh and clean. Caring for Knotless braids is not so difficult.
For further care, you can always go back to your stylist to either rebraid the roots or professionally clean and oil your scalp.
Are Knotless braids trending?
Knotless braids are definitely trending! The gorgeous hairstyle has been on the trending table since the wake of the pandemic and we are not seeing it going anywhere anytime soon. So go ahead and rock the hell out of it a la Rihanna.