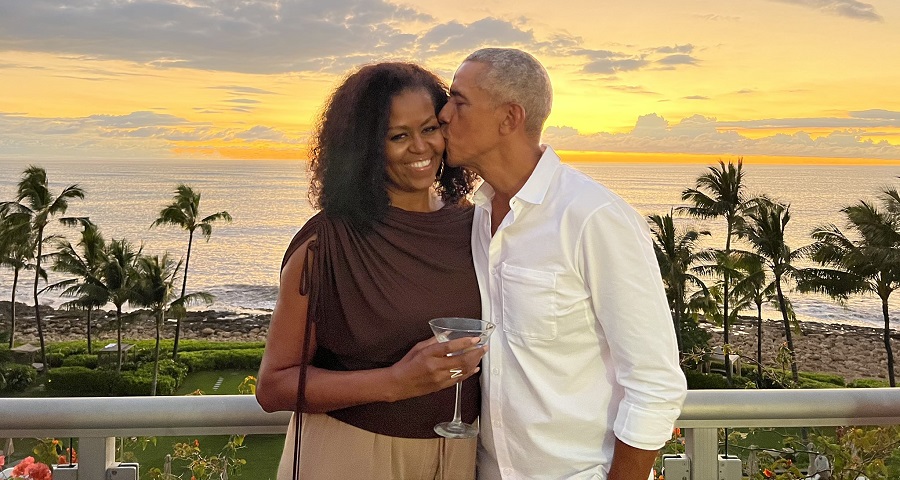 It's not every day that the former US president, Barack Obama, publicly showcases his love for his wife, Michelle Obama, but when they do, it's sure to be heartwarming and of course, romantic.
With a photo of the pair taken during their Hawaii visit earlier this month, the 44th U.S. President took to social media yesterday to celebrate the former First Lady who just turned 58th on Monday 17.
"Happy birthday, Michelle. My love, my partner, my best friend…," the 60-year-old captioned a Hawaiian sunset photo of him kissing the wife on the cheek.
Happy birthday, Michelle.

My love, my partner, my best friend… pic.twitter.com/5oDMOgcsWI

— Barack Obama (@BarackObama) January 17, 2022
With her dignified status, the messages that have been pouring in for the former FLOTUS are overwhelming. This includes the current First Lady Dr. Jill Biden, who also sent her well wishes with a throwback photo of them. 
In response to the numerous birthday tributes, Michelle shared a joyful video of herself jubilating as she sat on a chair in front of her birthday cake.
"Here's to a sweet 58th! Thank you so much for your outpouring of love," Mrs. Obama captioned the video on Instagram. "Whether you texted, emailed, or posted on social media, every birthday message I received today meant a lot to me. I am so grateful to have so many people cheering me on. Looking forward to seeing what this upcoming year has in store. 💕."
View this post on Instagram
However, Michelle and Barack are no strangers when it comes to expressing their romance on social modia. In October last year, the mother-of-two celebrated their 29 years of marriage with a sweet "how it's going vs. how it's started" anniversary post that features their younger couple and the present time. 
"Happy anniversary, Barack—love you! ❤️😘." the post captioned.
View this post on Instagram
Previously, she spoke in an interview about their marriage, where she described their affair as 'Friendship.'
"Before the White House, before the kids, before careers, it was just me and Barack together shaping our lives, building a friendship, being one another's everything," she told PEOPLE.
And "that's what we were able to return to once the White House was over and the kids were grown and you knew they were okay. We came through the struggle together, which makes our foundation even more solid than it was," the former first lady said and then added: "I am happy to say that I can now look up from all of that and look over across the room and I still see my friend."
Happy Birthday to the Queen!