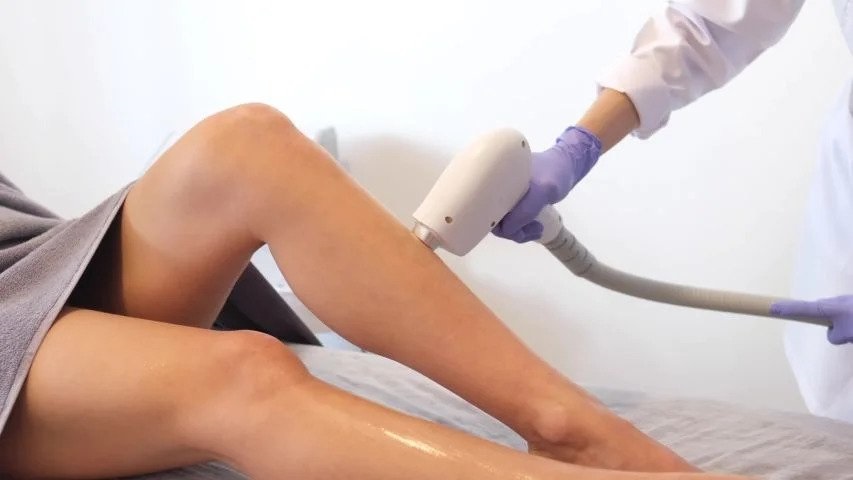 Unwanted hair is the biggest nightmare for most people. This is especially true for those going for that sleek and clean look for the upcoming prom or a night out with a date. A person could have the best face, eyes, and even hands, but at the same time battle unwanted hair growth. Thankfully there are so many ways to get rid of it that it's hard to name just one. However, there is one device that trumps them all and that is laser hair removal.
Laser hair removal has gained so much popularity in the past years that people can't help but jump on the bandwagon. And if it weren't for this technology, the world would still be stuck in the old days of plucking out unwanted hair one by one with tweezers. With laser hair removal, it is easy to get rid of hair stubs that grow in an unsightly way all over the face and body.
Understanding How Laser Hair Removal Works
Laser hair removal works by using an intense light to heat up and destroy the hair follicles. The light from the laser device is absorbed by the pigment in the hair follicles, known as melanin, which leads to the hair dying and breaking down. When the melanin is destroyed, the hair shaft cannot regenerate, and in turn, the hair falls out. Unlike other methods, hair growth in the treated area becomes stunted for a long time, which makes it almost seem like a permanent solution to unwanted hair removal.
To get the best result, a cosmetic patient will need multiple sessions. Laser hair removal can be done to individual hairs or entire areas like the face, neck, chest, arms, legs, bikini area, and more. Laser hair removal has been proven safe and effective and only has one side effect — the treated area may experience redness for a short period. And in most cases, people won't experience any after-effects after a few days.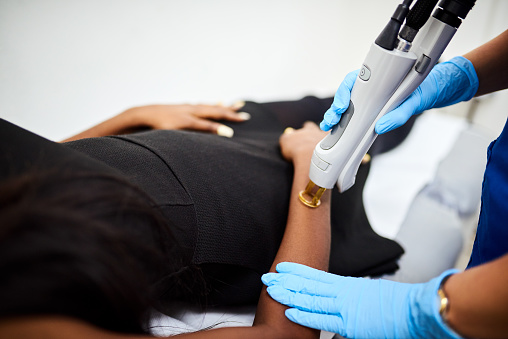 Photo: iStock/Getty Images
Now that the process behind laser hair removal has been addressed, let's look at which device to choose. There are tons of laser hair removal devices on the market, but not all of them produce the same results. Hence, here are some top choices.
Top-Voted Laser Hair Removal Devices
The following laser hair removal devices are selected based on several factors, including fast results, FDA approval, affordability, dermatologist pick, multipurpose functionality, overall performance, and many more.
Deess Permanent Hair Removal (Multipurpose Functionality)
For those who have trouble deciding which treatment area or type requires the right laser hair removal device, a multipurpose option will be helpful. The Dess Permanent Hair Removal comes with various features, including three different lamp attachments — AC, SR, and HR lamps — each with a unique hair and skin treatment functionality.
Cosmetic patients can treat acne-related issues using the AC mode, while the SR mode revitalizes the skin. The HR lamp's primary function is to remove unwanted hair, which is further enhanced with the built-in ice compress technology that delivers comfort during treatment. As such, patients get a triple-action combination of hair removal, acne therapy, and skin rejuvenation.
The laser hair removal device also combats hyperpigmentation using the light spectrum. It can treat hair growth in multiple areas.
Tria 4X Beauty Hair Removal Laser (Dermatologist-Voted Device)
This dermatologist-recommended laser hair removal device from Tria is an effective and affordable solution that can treat unwanted hair growth in the body. Its embedded diode technology can precisely target even hard-to-reach places, which makes it reliable. The light intensity delivered is safe in that it doesn't affect the eye. It is also safe for home use. Results are visible within a few days, with around 80% of unwanted hair removed under 7 weeks.
Fezex Laser Hair Removal System (Affordability)
This laser hair removal device is designed to help anyone achieve the best result at a low price. With its affordability of only $50, it provides a practical function of getting rid of unwanted hair all over the body within a short time, thanks to its IPL system that produces 999,999 flashes.
A pair of safety glasses is included in the box to ensure a safe treatment session. A razor is also available to help patients prepare for therapy. The Fezex Laser Hair Removal System is so effective that it eliminates 50% of hair stubs within 4 weeks.
Ora Iluminage Touch Permanent Hair Reduction System (FDA Approved)
This device is on the top of the FDA-approved list. The device eradicates unwanted hair using radio frequency and IPL technology. It features unlimited flashes, making it a product of a lifetime. It is effective in providing a clean shave within ten weeks with minimal pain and downtime. According to users, two treatment is enough to remove almost half of the unwanted hair. After 7 weeks, 94% of the hair is eliminated. The device works on most areas of the body, including the bikini region.
Xsoul Laser Hair Removal System (Overall Performance)
Looking for a laser hair removal device that performs well? Then, the Xsoul Hair Removal System from Xeos should be the first choice. Its five energy modes provide different treatment outcomes, depending on the body area. It is easy to use and is capable of removing unwanted hair from anywhere on the body with no pain or damage to the skin. Users can choose between the automatic and manual modes.
The light beam of the device is safe for the eyes, and no extra tools are required. It delivers high energy while achieving optimal results and sports 500,000 flashes. The results are fast and visible, taking a few months to remove all unwanted hair from the face and body. It also ranks well in terms of affordability, with a cost of $110.
Conclusion
It is easy to get overwhelmed when choosing the right laser hair removal device. However, knowing the needs and requirements of one's unwanted hair growth concerns will make the search much easier. Some cosmetic patients would pick an FDA-approved option and budget above other factors, while others may go for performance. In the end, one would need to go for the right solution that delivers effective results.