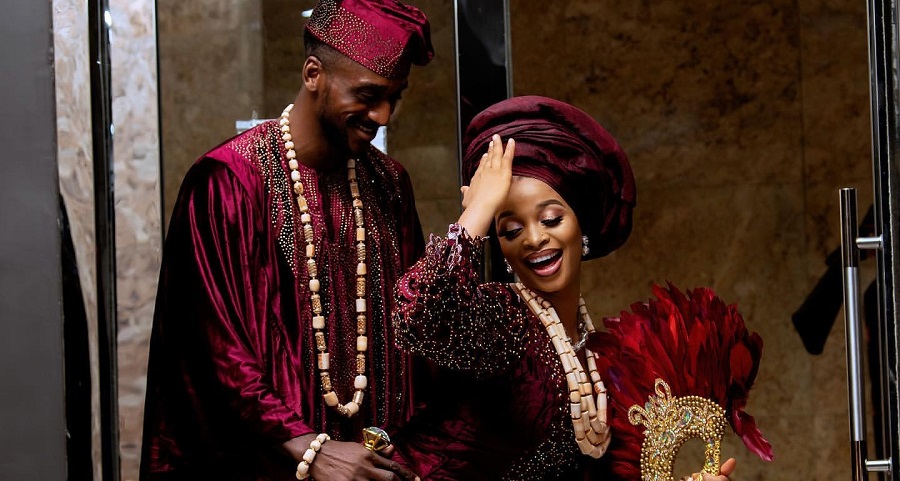 There's no marriage in Nigeria without the traditional wedding ceremony where peculiar cultural traits are displayed. It's a ceremony in which culture takes precedence and in this part of Africa, traditional marriage attires worn by the bride and groom and the overall wedding activity show the identity and peculiarity of their culture. So with the abundance of the diverse cultures comes extravagant and colorful attires that not only represent the identity but expression of the people through fashion. If you want to marry a Nigerian, you are welcome. But just brace up for some extravacant cultural display. Read on for more understanding about the different traditional wedding attires in Nigeria. 
Yoruba Traditional Wedding Attire
The Yoruba wedding culture is very popular in Nigeria. The bride usually rocks what is called 'Iro and Buba'. This is a wrapper and blouse combined with the Gele; a skillfully tied headgear. The groom wears a Sokoto (loose trouser), Buba (shirt), and Agbada (flowing gown) topping it off with a headgear called Fila; a cap that can be worn and styled in whatever way the groom fancies.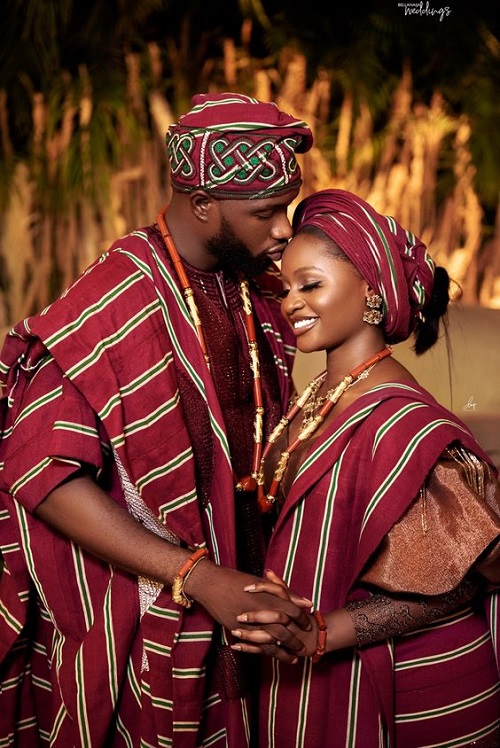 Photo: Instagram/dmphotography.ng and instagram/dexterstudios
The Yoruba traditional wedding attire is not complete without traditional beads worn by both the bride and the groom. In the olden days, the duo's wedding clothing had to be made from only traditional Aso Oke but culture has now evolved allowing the bride and groom to wear only the Aso Oke or little pieces of it with other materials like silk, satin, laces, and Ankara. In all of this, the bride and groom have to wear matching choice colors to depict unity.   
Cross-River Wedding Attire
Cross-River brides wear two different types of traditional wedding attires. One is called Ofod Ukod Anwang, a combination of a crop top, a short wrap skirt, and coral beads. Then the Onyonyo, a long flowing gown resembling an English wedding gown with very bold golden accessories attached to it. The bride can decide to wear both or one. Both are worn with an Ekpa Ku Kwa; adornments on both legs and arms.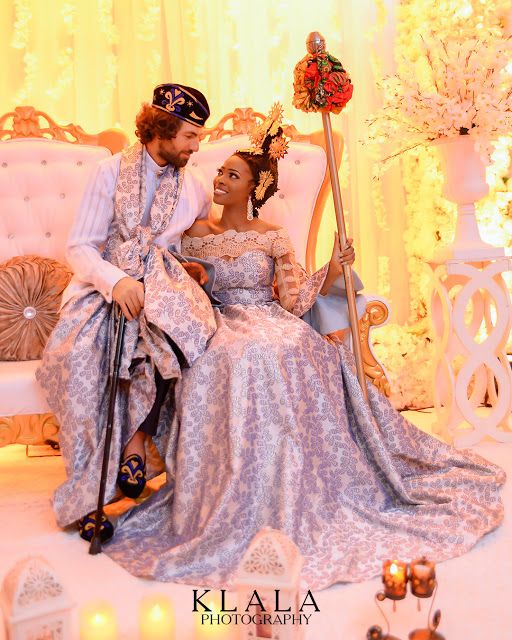 Photo: Getty Images
To finish off the attire, the bride carries a long staff designed with nicely scattered materials at the handle. The groom's attire consists of a wrapper tied on the waist, a long shirt resembling that of a chief in the tribe, a hat, a scarf on the neck, and a staff that is less decorated. 
Akwa Ibom Wedding Attire
An Akwa Ibom bride can choose to be dressed in a blouse and double wrapper with a headgear styled beautifully but if she decides to express the beauty of her roots deeply, "mkpin" which is a short wrapper skirt teamed with a crop top and a beaded cape will be a perfect choice.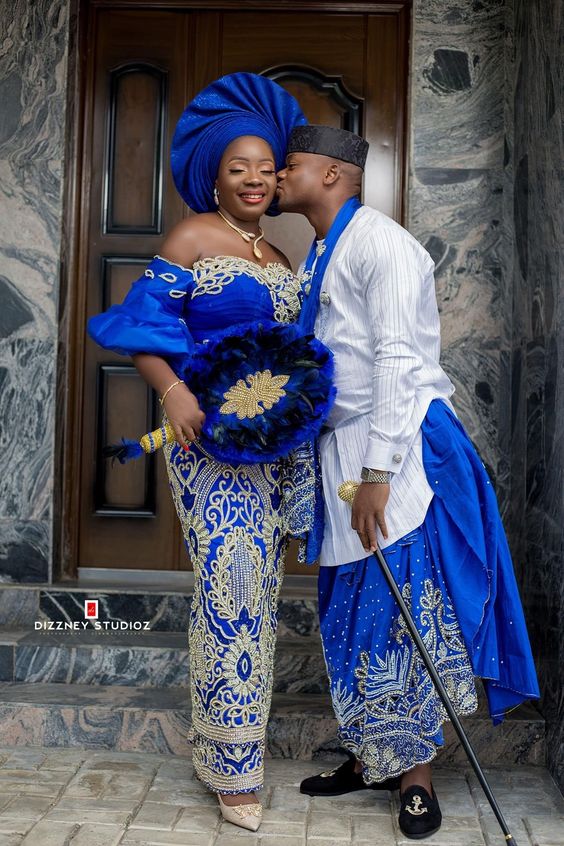 Photo: Getty Images
Her hairstyle will be the beautiful "Bantu knots" styled with beads and golden combs. The groom would tie a wrapper called "Usobo" on his waist, a white long shirt, and a woolen cap. 
Edo Traditional Wedding Attire
Edo culture does not joke with the coral beads. For starters, the bride wears a special hairstyle known as the Eto-Okuku. Coral beads are sewn into it to form the okuku crown. For lesser stress, the bride can decide to wear a ready-made wig that comes with both the hairstyle and the crown. The bride has a wrapper made from lace, George, silk e.t.c tied on their chest down to the ankles.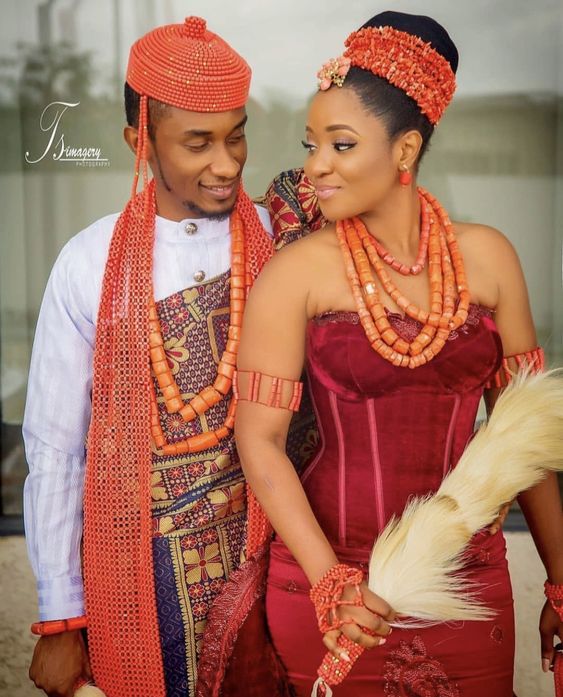 Photo Courtesy
Some brides decide to wear the Ewu-ivie (a beaded cape or blouse) or adorn their necks with coral beads known as Ivie-Uru and on their hands, beads known as Ivie-obo are worn. Other accessories such as the Emi-ehorivie (beaded earrings) and the Ekpa-ivie (beaded handbag) finish off the look. The groom wears a white shirt and ties a wrapper made from any beautiful fabric on the waist. This is accompanied by a hat or a cap made of coral beads. The groom can decide to add a fancy walking stick to enhance the style. 
Rivers (Ikwerre) Wedding Attire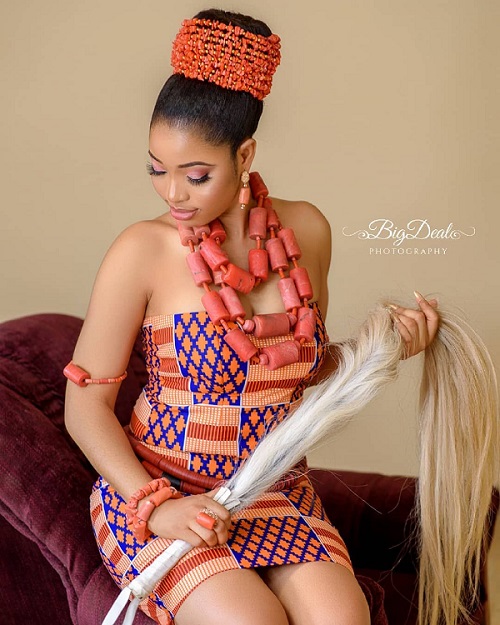 Photo Courtesy
Beads are also an essential part of the bride dressing in Rivers. The Ikwerre bride combines a busty traditional top with a short wrapper including coral beads around her waist, her head, neck, arms, and legs. The groom wears a shirt-like dress called Etibo, a traditional jumper with a combination of big wrappers or trousers, a hat, shoes, and a fancy walking stick to top it off. 
Hausa Wedding Attire
The rich Hausa culture does not allow the groom called Nikkai to wear anything without rich embroidery; from his cap to his Baban Riga (flowing gown), shirt, and trousers, classy embroidery designs are displayed.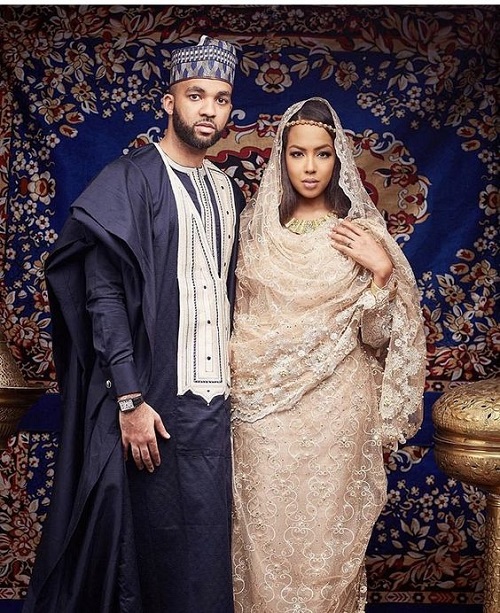 Photo Courtesy
For the Hausa bride, her hands and legs are decorated with body paint known as lalai, and her attire is made from different fabrics like lace, velvet, Ankara, and the likes styled in a mermaid look with a beautiful head wrap and veil depicting history and culture. 
Tiv Wedding Attire
Just like other Nigerian tribes with peculiarities, the bride and groom in a Tiv wedding would wear a fabric called A'nger usually white and black. The attire can be complemented with coral beads which are also white and black.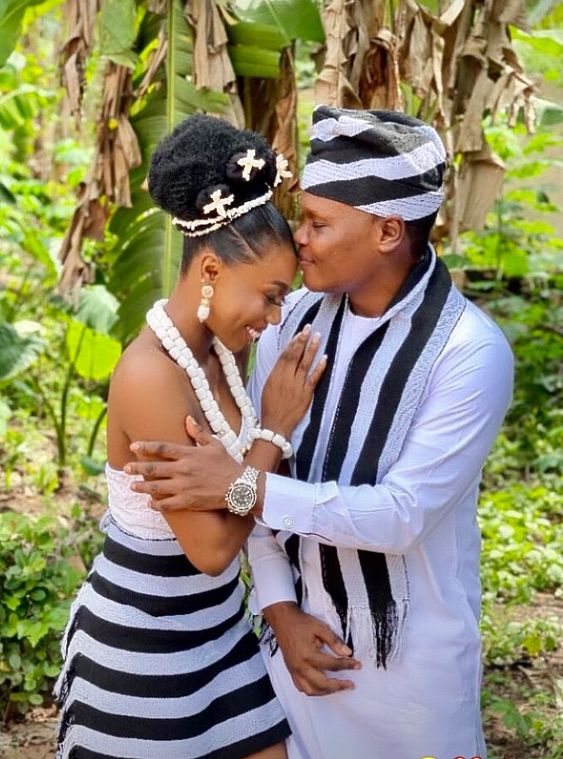 Photo: Pinterest
The bride and groom can decide to wear it in whatever style they choose but the most popular styles are gowns, wrappers, and white blouses for the bride and headgear to match. For the groom, the wrapper is wrapped over a white shirt with a walking stick, cap, and white and black coral beads for both bride and groom. 
Igala Wedding Attire (Kogi State).
The Igala people have a special material called Igala Achi. This material which is black and yellow can be paired with other materials or worn completely by the bride and groom on their traditional wedding day. Heavy red beads are worn to complete the look.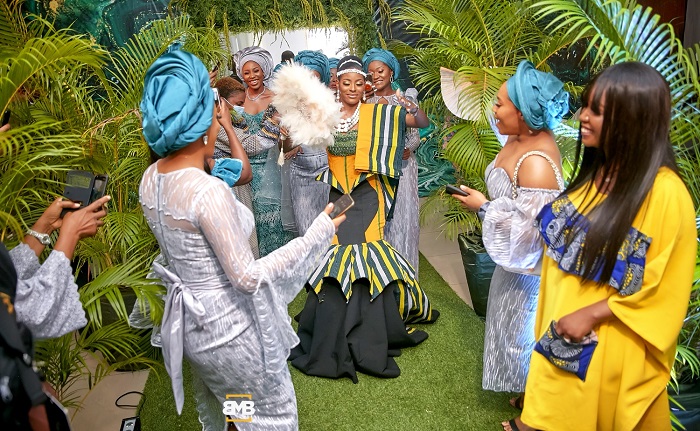 Photo Courtesy
The bride can decide to wear the Igala Achi as a gown, wrapper, and skirt or she can pair it with other materials. The groom can also decide to wear the complete attire in form of a trouser and a shirt, a white shirt with white trousers with a flowing Igala Achi gown over it, or just the white shirt and trousers with an Igala Achi cap.  
Igbo Traditional Wedding Attire
For this tribe, the bride comes out twice and for each, she comes out with different unique attire. The second is unarguably the best. She comes out first with both a skirt and a blouse, a wrapper tied on her chest, or a gown. All of these styles can be made with beautiful materials like George, laces, expensive wax, and more with, of course, coral beads on her head, neck, arms, wrist, and legs.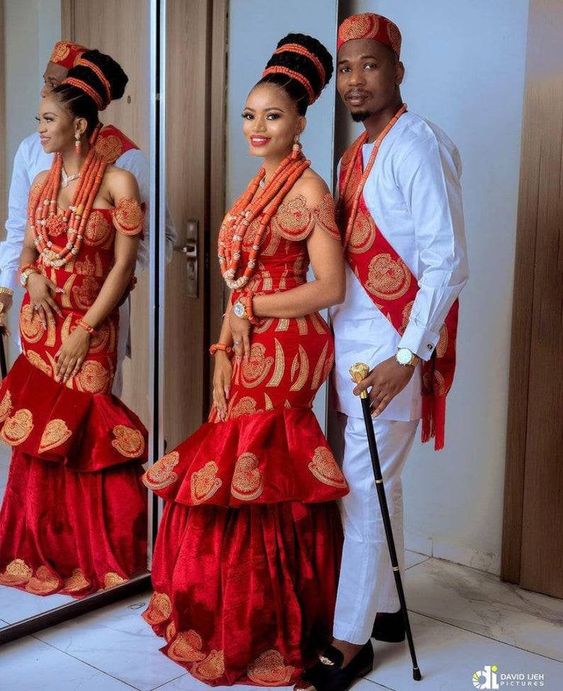 Photo Courtesy
The second attire is a double wrapper with a very elegant blouse made from any of the materials we mentioned and beautiful pieces of jewelry or coral beads. The groom wears a wrapper similar to that of the bride both in color and material, with beads adorning the hand and neck, a walking stick, and a cap.
Idoma (Benue State) Wedding Attire
Just like the Igala tribe, the Idoma tribe has specific colors common to all the different sects of their clans. Their fabric is a combination of red and black which can be worn in whatever elegant style the bride and groom choose.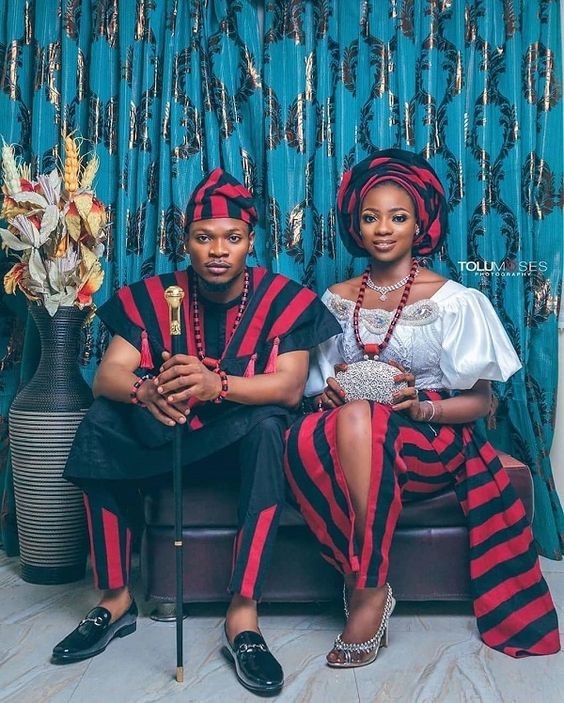 Photo Courtesy
But there are some compulsory elements like the cap and muffler made from the Idoma material and the women, a headgear. Black and red coral beads are used as adornments by both bride and groom.
The beautiful thing about each of the traditional attires worn by the different tribes including the ones not mentioned is that they are amazingly creative. All of these different materials and styling give the tribes their flair.