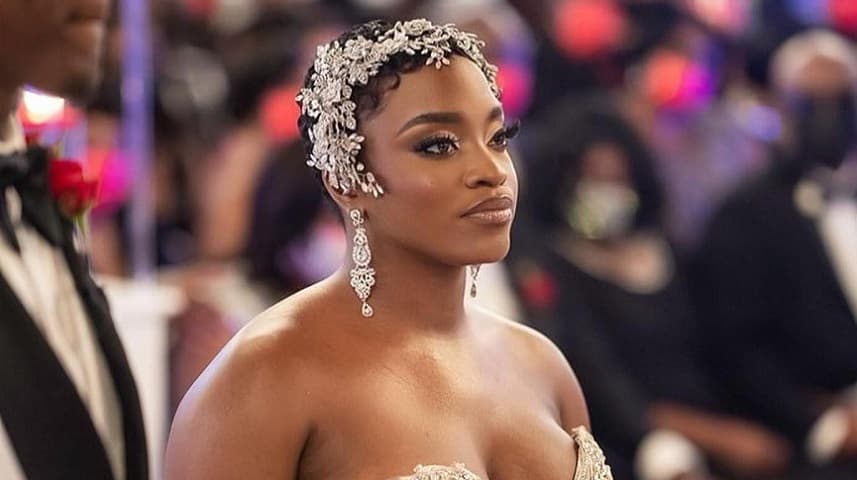 The bridal tiara is a timeless tradition that has been gracing weddings for centuries. While today it is seen as a fashion statement, it actually has a much deeper meaning and significance. In fact, the tradition of wearing a bridal tiara dates back to ancient times.
The word "tiara" is derived from the Greek word "tiaras," which means "a circlet or band of flowers, leaves, or gems worn on the head as a symbol of sovereignty." In ancient times, tiaras were actually used as crowns and were only worn by royalty.
The tradition of wearing a bridal tiara became popular in the West in the 19th century. Queen Victoria is credited with starting this trend when she wore a tiara on her wedding day in 1839. Today, the bridal tiara is seen as a symbol of elegance and grace. It is the perfect finishing touch to any bride's look on her special day.
What is the true meaning and significance behind the bridal tiara?
A tiara is more than just a piece of jewelry. It's a symbol of everything that a woman is – strong, beautiful, and powerful. But while the answer may not be clear, it is believed that the tiara symbolizes the bride's status as a queen or goddess. In some cultures, the tiara is also seen as a symbol of protection, as it is thought to ward off evil spirits. 
Whatever the true meaning may be, the bridal tiara is a beautiful and timeless tradition that is sure to make any bride feel like a princess on her big day.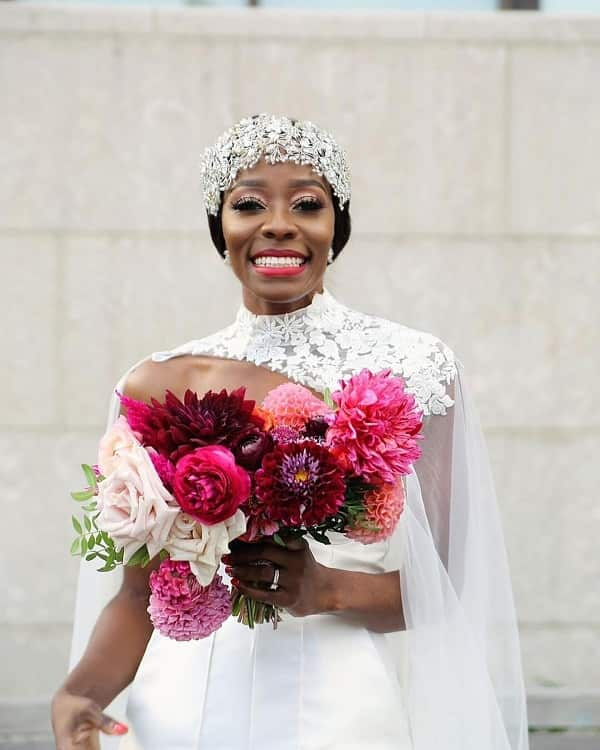 Photo: Instagram.com/weddingsonpoint
How did the bridal tiara tradition come to be?
The tradition of wearing bridal tiaras can be traced back to the early days of the Roman Empire. At that time, brides would wear a small crown made of flowers or leaves to symbolize their purity and innocence. This tradition eventually made its way to England, where it became popular for brides to wear small crowns or tiaras made of precious metals and jewels.
Today, the tradition of wearing a bridal tiara is still alive and well. Many brides choose to wear a tiara to add a touch of elegance to their wedding day ensemble. And while tiaras are not required, they are certainly a beautiful accessory that can make any bride feel like a princess on her big day.
How has the bridal tiara evolved over time?
The bridal tiara is a classic wedding accessory that has been around for centuries. While the style of the tiara has changed over time, the overall concept has remained the same — a tiara is a piece of jewelry that is worn by a bride on her wedding day.
The first recorded instance of a bride wearing a tiara dates back to the Roman Empire. In those days, the tiara was a simple band of gold or silver that was worn around the head. The tiara evolved over the centuries and by the Middle Ages, it had become a more ornate and decorative headpiece. Tiaras became especially popular among the royal and nobility classes and they were often adorned with precious stones and jewels.
In the modern era, the tiara has become more of a fashion statement than a symbol of status. Tiaras are now available in a wide range of styles, materials, and price points. You can find simple and understated tiaras as well as more dramatic and over-the-top designs. The most important thing to keep in mind when shopping for a tiara is that it should complement your overall wedding look.
If you are having a traditional wedding, then a classic tiara made of pearls or crystals is a beautiful choice. For a more contemporary affair, there are many fashion-forward designs to choose from. If you are on a budget, then you can find some great deals on tiaras online or at local bridal shops.
It is also important to keep in mind that the tiara you choose should be comfortable to wear. You don't want to be tugging at it all day long or have it slide off your head during the ceremony! When trying on tiaras, make sure you put your hair up in a bun or ponytail so that you can see how it will look with your hairstyle.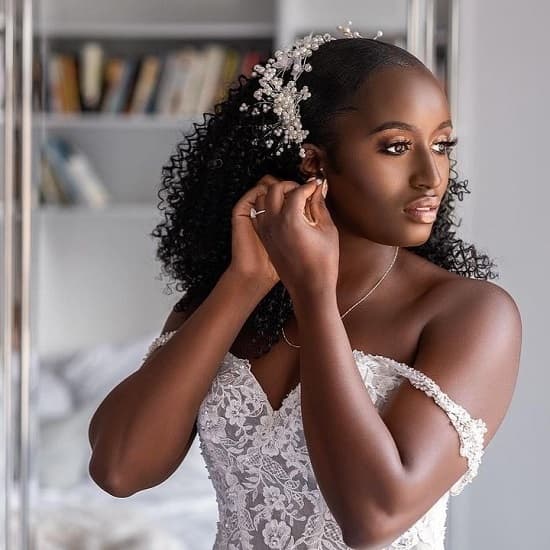 Photo: Instagram.com/weddingsonpoint
Why are bridal tiaras so popular today?
Bridal tiaras are a popular choice for today's modern bride. They are elegant and timeless, and it's no doubt an edge to any bridal look. There are many reasons why bridal tiaras are so popular, but some of the most common reasons include their ability to add a touch of glamour and sophistication to any wedding look.
If you are considering wearing a bridal tiara on your wedding day, there are a few things you should keep in mind. First, you'll want to choose a tiara that complements your wedding dress. There are many different styles of tiaras to choose from, so take some time to browse through different options before making a final decision. You'll also want to consider the size of your tiara and whether you want it to be worn as a headband or a completely separate piece.
Tiaras are made from a variety of materials, so you'll want to find one that will work well with your overall wedding theme. For instance, if you have a vintage-themed wedding, you may want to consider wearing an antique bridal tiara. If your wedding is more modern, however, you may prefer something made from more contemporary materials. Keep in mind that tiaras come in all different sizes and shapes as well as different colors and designs. You'll likely be able to find one that suits your taste and budget perfectly.
Tips for choosing the perfect bridal tiara
Your wedding day is a special occasion that you will remember for the rest of your life. Every detail of your wedding should be perfect, from your dress to your shoes to your bridal tiara. When choosing a bridal tiara, it's important to find one that compliments your wedding dress. If you're wearing a delicate, lace dress, a simple tiara with a few pearls or crystals will be perfect. If your dress is more elaborate, you may want to choose a tiara with more stones or a more detailed design. It's also important to consider the style of your hair. If you're wearing your hair up, you'll want a tiara that sits on top of your head. If you're wearing your hair down, you may want a tiara that sits in your hair or on the side of your head.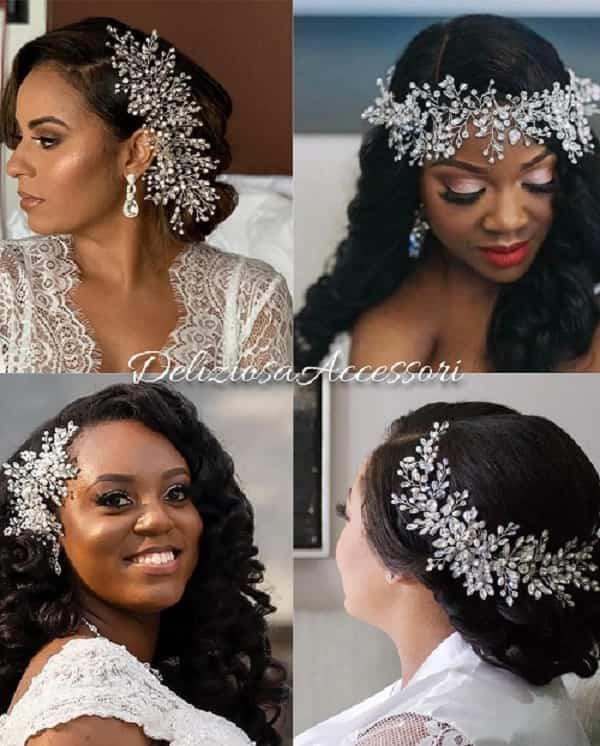 Photo: Instagram.com/weddingsonpoint
Once you've found a few potential tiaras, it's time to try them on. The best way to do this is to ask a friend or family member to help you. This way, you can see how the tiara looks in person and get an idea of how it will look on your wedding day. When trying on tiaras, be sure to take pictures so you can compare them later.
When you've found the perfect bridal tiara, it's important to buy it early so you have plenty of time to wear it before your wedding day. Most bridal shops will sell tiaras online or in their store, but if they don't have what you're looking for, keep searching until you find the right one.