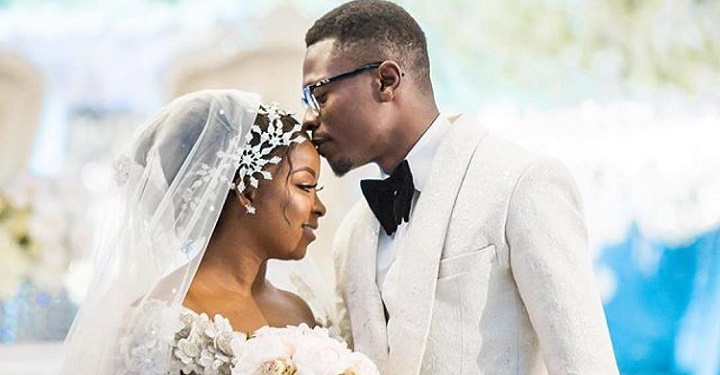 Finding the perfect wedding dress to wear on the big day can be a real challenge but having being used to dressing top Ghanaian actresses  like Joselyn Dumas, Juliet Ibrahim, Jackie Appiah, Zynnell Zuh, Selly Galley and others on the red carpet, it wasn't so hard for Sima Brew to craft a dreamy dress for herself:
Considering the Instagram-worthy pictures and the epic reception decor, the bride, and the groom had a wedding fit for a prince and princess. And as you know, Sima isn't technically a royal neither is the husband but she managed to bring her dream to life by donning a Cinderella-esque wedding gown:
"A glimpse into my FAIRYTALE wedding Gown carefully coutured with lots of love and passion by me for me!" she wrote while sharing the image. "The ride is definitely much better together!!! 💑"
The off-the-shoulder gown featured delicate floral embellishment and like a royal, Sima wore a starlike tiara to complete her look while the groom looked clean-cut in an embellished ivory and creamy tuxedo. Watch the clips below to have a feel of what we're talking about and keep scrolling for more images.