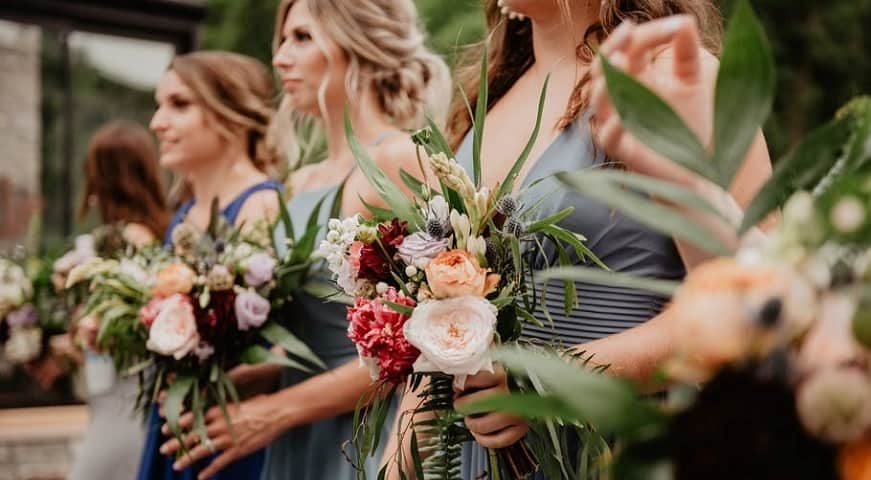 Finding bridesmaid dresses for your wedding day is a delicate process. After all, your bridesmaids are your closest friends. Be it sisters, childhood friends, or co-workers, choosing a dress for them should be a fun but meaningful choice.
Yet, it can also be a stressful process. Many brides out there don't know where to begin to pick out a look that will complement their own. So how do you go about choosing the right bridesmaids dresses for this pivotal part of your big day?
We're here to help! Below are some tips to help you choose the perfect bridesmaid dress.
Colors and styles that complement your wedding theme
Dress colors and styles play a significant role in pulling the overall look of your wedding together. If you're unsure of what colors or styles will work best, consider your wedding's overall theme and the time of year you're getting married. For example, a summertime wedding might be brighter and more casual, while a winter wedding might be more subdued and formal.
Once you have a feel for the overall tone of your wedding, you can start narrowing down your options for bridesmaids' dresses. Take a look at what's trending in terms of colors and styles, and don't be afraid to be a little experimental. After all, it's your big day!
Find the right silhouette to flatter your girls
Start by discussing different dress options with your bridesmaids. Consider their body type, personal taste, and what would look best with your wedding theme.
If you have a mix of girl shapes and sizes in your bridal party, A-line dresses are always a good choice. This silhouette is flattering on everyone, and you can find A-line dresses in a variety of necklines and sleeve lengths to suit each girl's taste. Also, make sure to find long sleeve bridesmaid dresses that are perfect for the girls.
For a more casual look, try a fit-and-flare silhouette. This style is perfect for a destination wedding or a laid-back ceremony. It's also great for showing off curves, so it's a good choice if you have a few girls in your party with a more hourglass-shaped figure.
If you're looking for something a little more formal, consider a ballgown silhouette. This is a classic choice for a reason – it's incredibly flattering on all body types. Plus, there are endless options when it comes to necklines, sleeve length, and fabric choices.
Once you've narrowed down the options, let each bridesmaid choose her dress. This way, they'll have a say in their look, and you'll end up with a group of beautiful, stylish bridesmaids by your side!
Cost
On average, a bridesmaid dress costs between $100 and $200. However, the cost of a dress can vary depending on the style, designer, and materials used. Many bridesmaid's dresses are purchased through bridal shops, which typically charge more than department stores.
The bride usually pays for the bridesmaids' dresses but may ask her bridal party to cover the cost of alterations. It is also common for maid of honor and bridesmaids to pay for their dresses. It is ultimately up to the bride (and groom) to decide who will cover the cost.
Select the perfect bridesmaid's dresses
When it comes to choosing bridesmaids' dresses, there are many factors to consider. But with these tips in mind, you should be able to find the perfect dresses for your best ladies! And don't forget, at the end of the day, it's your wedding, and you should choose what makes you happy!