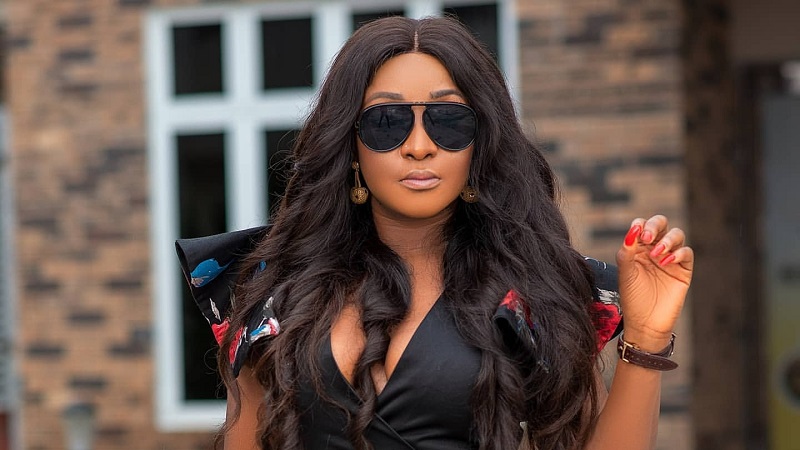 Ini Edo knows the sartorial power of red. Whether it's for the festivity purpose or for a casual dressed up with heels, the actress is always looking good in any red piece she's wearing.
This past weekend, the 38-year-old beauty gave her own take on how to go traditional in a matchy-matchy outfit. Ini Edo made a case for the crimson red while celebrating the 2020 World Tourism Day and it's worth taking notes. She wore a netted Iro and Buba dress style comprised of a blouse with bell-sleeves and wrapper. The actress who is also the special assistant on tourism development to Akwa Ibom state governor, Udom Emmanuel, completed the look with a pair of matching heels while her curly hair hovered over her shoulders.
View this post on Instagram
In her statements, the Nollywood star pointed out how the pandemic is affecting holidaymakers and thereby asked fans to stay positive.
"It's World Tourism Day, it's a uniquely challenging period for tourism across the globe," Ine Edo said in a statement. "Clearly, while our travel options have been seriously limited all year, that doesn't mean we shouldn't mark the occasion. Interestingly, adapting to the new normal is a reality we are still walking into and so some questions could be pretty mind-boggling. When can we travel again? When will international travel resume fully? When will it be safe to travel again? Times like this presents an opportunity to prepare and find new ways to engage cross-sectoral collaborations to boost domestic tourism. Let's remain Optimistic. Happy World Tourism Day!"
In addition, she added that the future looks particularly brighter and one should not relent. "Don't dwell on the negatives.. keep moving, tomorrow is soooo promising ..'don't be distracted 🙏."
The last time the actress wore red was three weeks ago when she squeezed herself into a bodycon dress with a sexy cleavage cutout. Her hourglass figure was displayed for all the glory as she finished the 'banging' dress with a pair of barely-there heels in gold hue. "Banging outfit," she captioned the photo.
View this post on Instagram
Meanwhile, World Tourism Day celebrates 'the unique role that tourism plays in providing opportunities outside of big cities and preserving cultural and natural heritage all around the world.' Taking place on September 27 of every year, the theme for the 2020 edition is "Tourism and Rural Development."