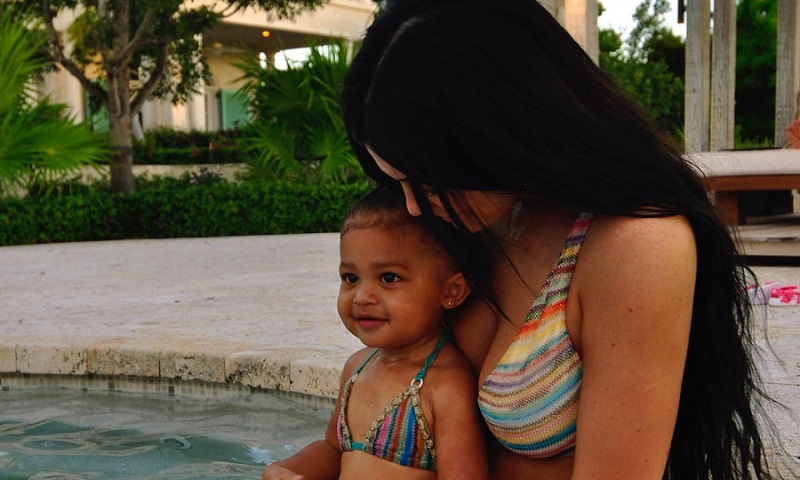 Reality star, Kylie Jenner, is expecting her second child with her baby daddy, Travis Scott. Although the rumors have been flying around the social media in the past few days, Jenner confirmed last night in an emotional video that shows the moment she discovered she was pregnant.
The short Instagram clip shows the-24-year-old revealing her positive pregnancy test while rushing to share the exciting news with the beaming Scott who then went down on his knees to kiss her belly. Of course, momager Kriss Jenner and the little Stormi Webster — her first child, were right there jubilating at the news.
In the scene, Stormi could be seen running to the grandma with Kris saying "Stormi, we're going to have a baby… this is one of the happiest days of my life." The video perfectly put together also shows Kylie who showcased her growing baby bump in a strategically cut-out black dress having a moment with her 3-year-old preschooler.
View this post on Instagram
However, with her 265m Instagram followers, Jenner has sent fans wild with loads of congratulatory messages. Supermodel sister, Kendall Jenner, wrote "I can't handle it" alongside a love heart emoji. Kim Kardashian West also joined in the comment section saying she was "Crying!!!" while Kourtney Kardashian commented: "Crying this is so beautiful my blessed angel sister."
Jenner and Scott became a thing in 2017, with Stormi arriving the following year. In 2019, the duo reportedly split but rekindled their romance earlier this year. Congratulations!