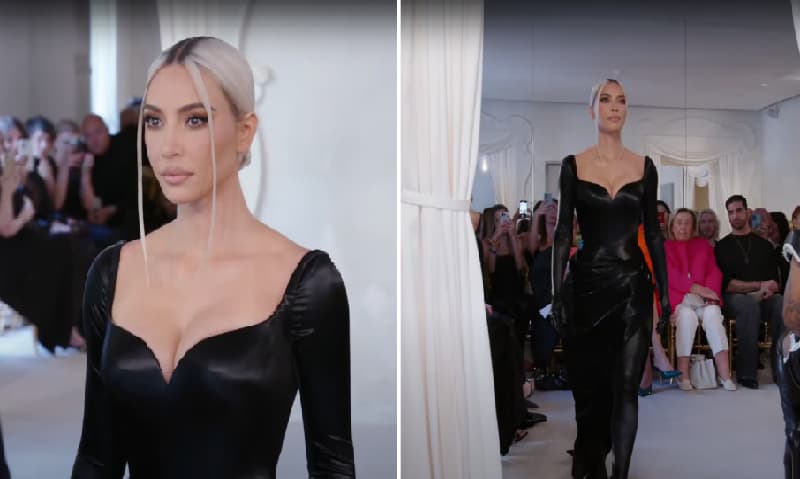 Paris Fashion Week has returned with the 51st Balenciaga Couture Show in this first full week of July. This year's Haute couture show has made a huge mark in the world of fashion with many global figures literally gracing the runway. It also coincides with the launch of the Balenciaga brand's original couture site at 10 Avenue George V in Paris, this same day.
Demna, Balenciaga's creative director revealed a second collection replete with iconic skin-tight bodysuits, extravagant ball gowns, unadulterated splendor, and exquisite craftsmanship as the spectators gathered outside the Cristobal Balenciaga salon. This comes after he left a memorable impression with the oversized black circular hats from the previous season.
This season's runway lineup was filled with A-listers, including close celebrity friends of Denma Gvasalia who dazzled the crowd on the runway. Kim Kardashian, Nicole Kidman, Dua Lipa, and Christine Quinn together with supermodels, Bella Hadid, and Naomi Campbell all strutted the iconic Balenciaga salons wearing the brand's most recent couture collection. Excitingly, the group was diverse, a little surprising, incredibly glitzy, and as usual, wholly Balenciaga.
There are a few turns on this particular event. First off, Kim Kardashian is chosen for her first-ever runway appearance. It hits close to home, really. The superstar and a longtime associate of the brand, strutted down the runway being the first person and wearing an over-the-knee boot, a full-length back gown with a low back, and her peroxide blonde hair pulled back into a low bun.
Hey, it wasn't only Kim. A list of stars graced the Balenciaga platform with the majority of them being transformed into momentary models for the couture's culture.
Kim Kardashian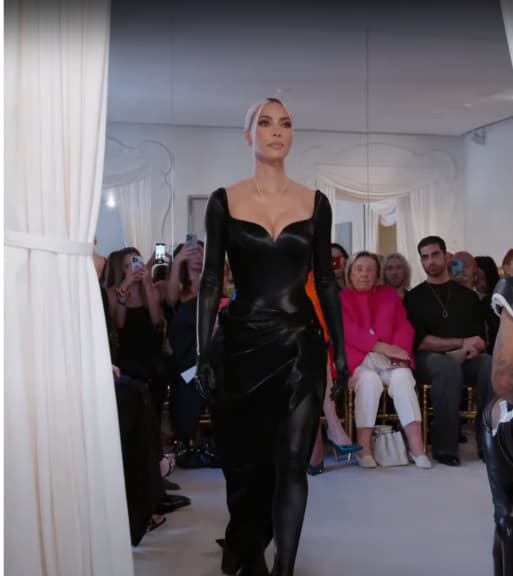 Photo Courtesy
As in recent times natural of her and True to the Balenciaga x Kim Kardashian combinational aesthetic, the brand's newest face on the runway sported a draped skirt that highlighted her famous shape, skin-tight pant boots with a corset top that doubled as gloves. She still had her platinum hair — a feature that well contrasted with her monochrome look.
Dua Lipa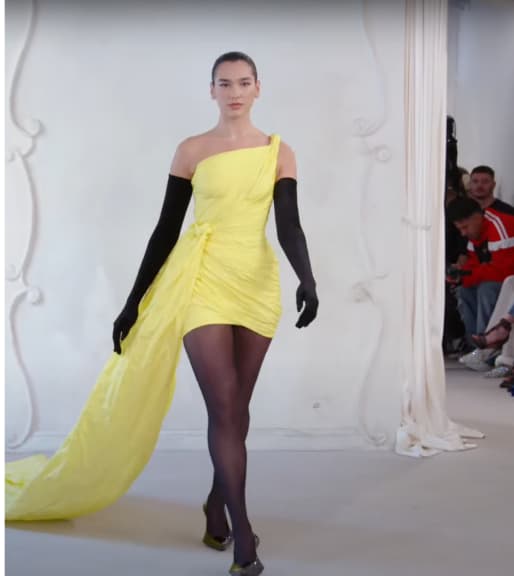 Photo COurtesy
In a canary yellow asymmetric mini dress with a train, Dua Lipa made her walk through the runway wearing her trademark extra-long matching opera gloves, sheer tights, pointed shoes, a sleek updo, and winged eyeliner.
Christine Quinn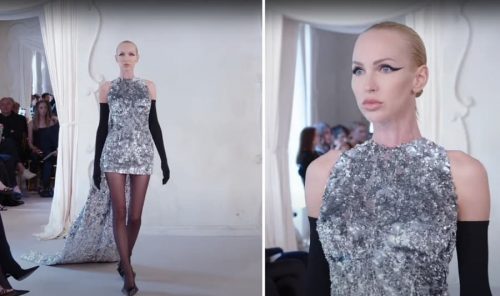 Photo Courtesy
Christine Quinn made a statement in a fully sequined silver mini dress with an extra-long train, bringing the appropriate level of drama to the show— a steady act that we have come to know and love from Christine. She wore translucent black tights, elegant black gloves, pointed-toe stilettos, and a dress that was a throwback to the boxy dresses of the 1960s.
Bella Hadid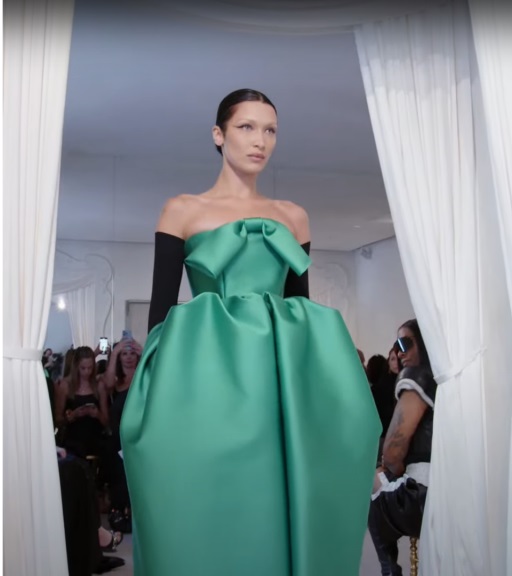 Photo Courtesy
Bella Hadid walked the runway in a cutaway satin silk green bustier dress with bow embellishments, making her outfit one of the few with a splash of color.
Nicole Kidman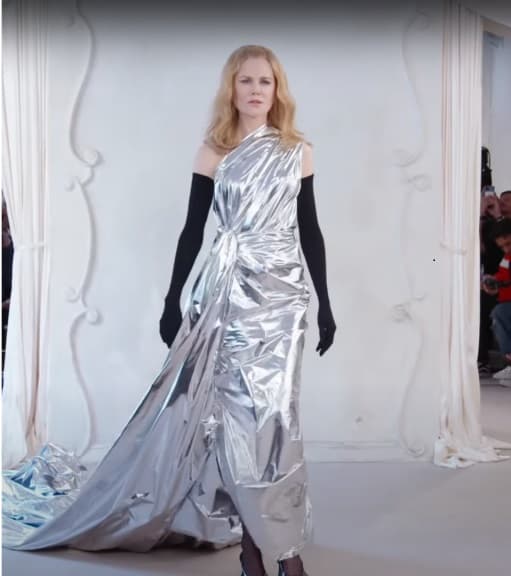 Photo Courtesy
Nicole Kidman walked the runway in a silver metallic foil dress with an extra-long train for maximum effect. Her runway walk was a fierce sashay.
Naomi Campbell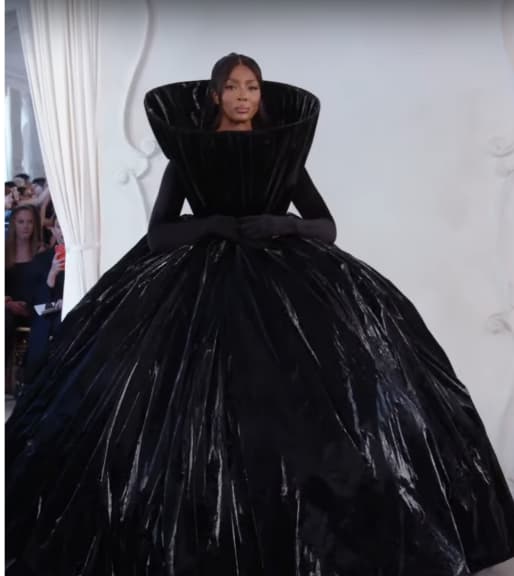 Photo Courtesy
In an unabashed dedication to pushing the boundaries of fashion, the supermodel grabbed attention in a structured black ball gown that was larger than the Parisian door frames of the Balenciaga house. In simple terms, Campbell's enormous hoop skirt made it difficult for her to fit through the salon door.
Quite unsurprising, the front row which included guests like Kris Jenner and her granddaughter North West, Alexa Demie, Offset, and many other celebrities, was equally as distinguished as the couture runway itself.
This show is the second couture presentation from Balenciaga's creative director, Demna Gvasalia after the brand rejoined the haute couture calendar in 2021 following a 53-year break. The brand had announced earlier this week that it would be reviving the traditions of its eponymous designer, "Cristobal Balenciaga" by launching a couture store in Paris.