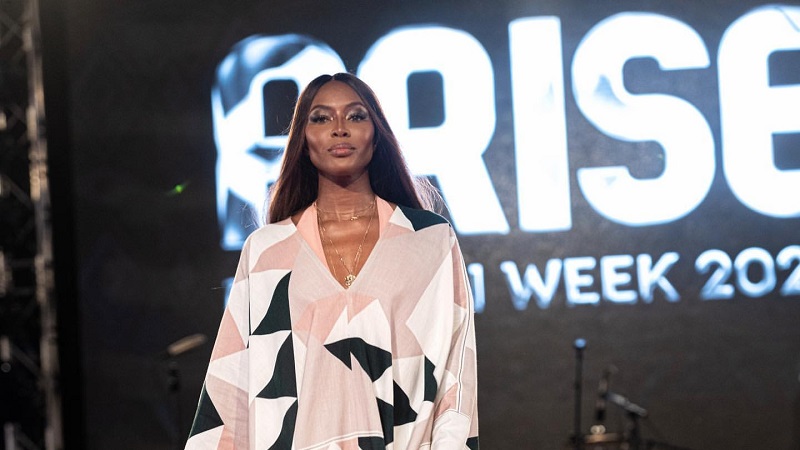 Naomi Campbell delivered a major surprise to guests at the Arise Fashion Week when she walked the runway for a South African based label MmusoMaxwell, and Nigeria's TZAR Studios over the weekend in Lagos. The 2020 AFW titled "30 under 30 contest: the New Stars" hosted 30 African fashion designers, which include brands such as Ladunni Lambo, DNA by Iconic Ivanity, Bloke, Pepper Row, Jawara Alleyne, T.I Nathan, Kiko Romeo, Ajabeng, Ilham Garba, Moon by Me, Boyeboe, Weiz Durm Franklyn, Mazelle Studios, and WUMAN that showcased on the Day 1.
The Day 2 of the event, however, opened the runways for other labels including Re Lagos, Elfreda Dali, Fruche, Lagos Space Programme, Muyishime, TJWHO, Kenneth Ize, GETO, and Ziva Lagos.
Aimed at offering young designers the opportunity to showcase their creations on a global platform, the show was not only a fashion display but a design competition that $500,000 grant was placed for top winners. Having been known for her dedicated supports and promotion of African fashion talents, this was all the initiative of Naomi Campbell who collaborated with Arise Style magazine to conceive the virtually broadcasted event. Although this isn't her first partnership with Arise, Campbell ensured she made herself available regardless of the Covid-19 pandemic.

"I didn't want just to sit there and do it virtually," Campbell told Vogue. "It's important to me that they have the awareness and recognition that they should be getting, and if I can help bring that to them, I'm happy to do it."
Walking for MmusoMaxwell, Campbell took the opportunity to showcase her supermodel prowess in a deconstructed brown pantsuit. She teamed up the look with a pair of heel sandals, complete with full face makeup and purple eyeshadow.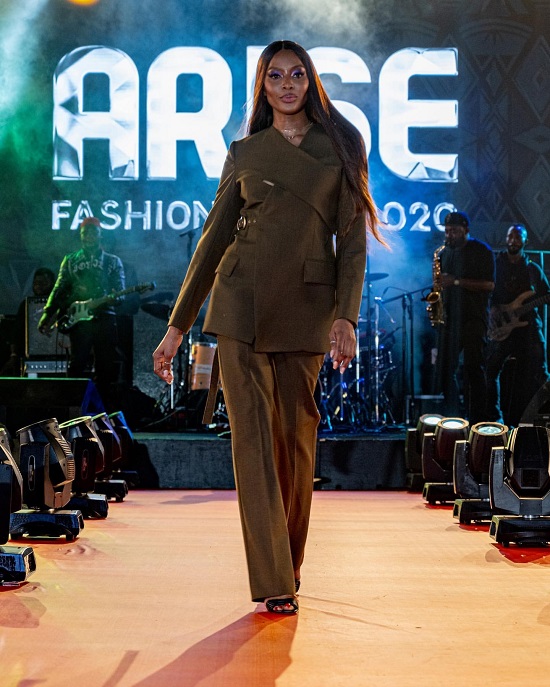 Photo Courtesy
She was also the star of the show on Day 2 when the runway darling hit the catwalk for the Lagos-based unisex label, Tzar Studios. Naomi stunned in a patterned kaftan from the brand's SS21 collection, a look she accessorized with a pair of sandals.
View this post on Instagram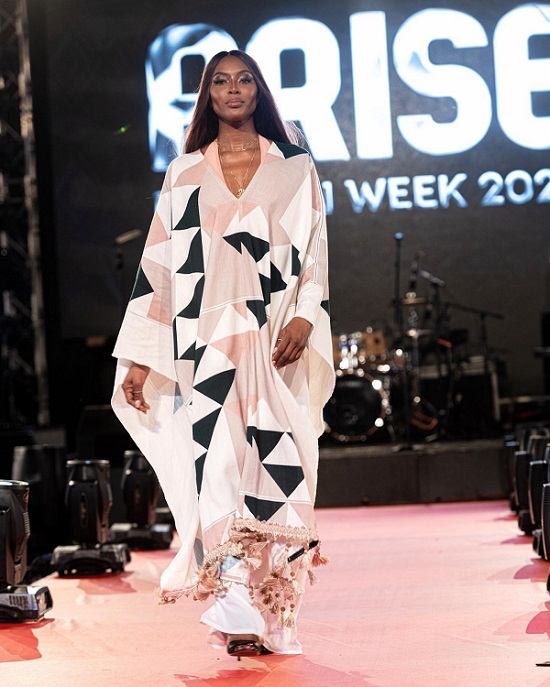 Photo Courtesy
The show however ended with Keneth Ize announced as the winner, followed by Re Lagos as the first runner-up and MmusoMaxwell as the second runner-up. The emotional designer was awarded a $100,000 cash prize presented by the supermodel herself, while others went home with $75,000 and $50,000, respectively.
View this post on Instagram
Click here to see our favorite looks from the 2020 Arise Fashion Week.