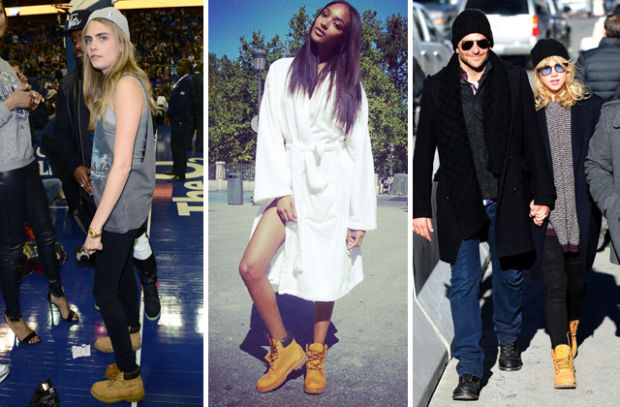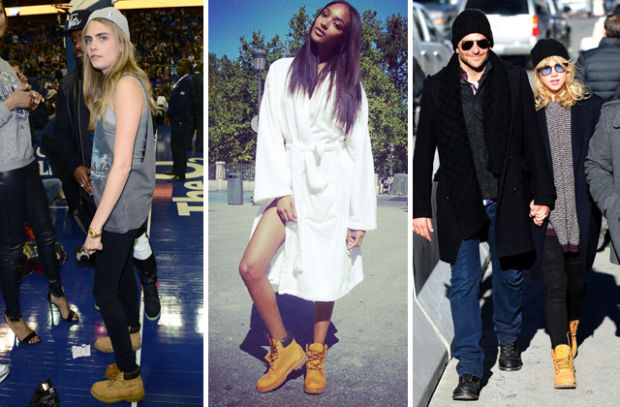 After years of going out of style, the late 80s and 90s footwear staples, Timberland boots are totally having a moment right now.
Founded by Nathan Swartz in 1973, Timberland quickly became known for its durable footwear, and was instantly the go-to shoe for construction workers, lumberjacks, and other men whose jobs were at the mercy of Mother Nature.
This influence then filtered down to streetwear in the late-'80s and '90s thanks to hip hop culture, which appropriated Timbs and showed the world a stylish side of the functional boots.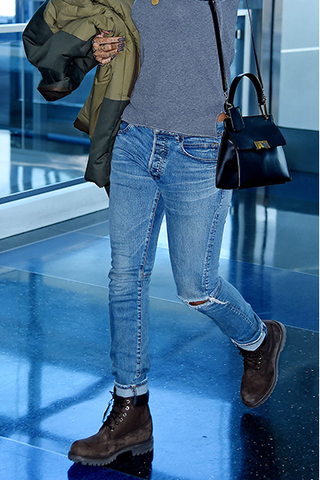 However, as at 2013, Adidas' Stan Smith seaker was the shoe that was spotted almost everywhere; but there seems to be a transition from the casual sneaker to Timberland boots this year.
From what we have seen so far, celebritties are taking this footwear to another level this season. All cool girls are wearing Timbs, from Cara Delevingne and fellow catwalker Jourdan Dunn, to Rihanna to Gwen Stefani. Even Taylor Swift who has never been photographed in a Timberland has been pictured rocking the yellow boot. The stylish babies North West and Blue Carter have been spotted too in Timbs; and they just learned how to walk.
Though the style of Timberlands is inherently rugged, it is possible to still look polished in the workboot, as evidenced by the aforementioned celebrities and fashion lovers who pair them with chic but casual staples like oversized coats, knit beanies, and destructed denim. (Buy it HERE)
Click next to flip through the pages to see how celebrities style their Timberlands, and let us know: Are you a fan? 
Sources: Elle, Stylecaster