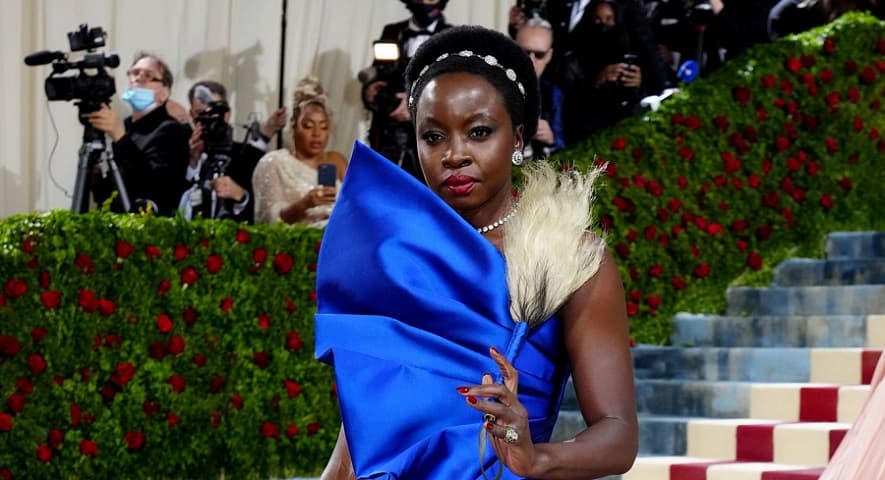 When the official teaser for "Black Panther 2: Wakanda Forever" was released last month July, our first thought was Danai Gurira, following her interview at Met Gala which she spoke to Variety about the highly-anticipated sequel to Marvel's superhero film. Gurira was very emotional during the rare interview and could hardly speak much — which of course, relates to the untimely passing of their lead, Chadwick Boseman, who died from colon cancer in August 2020. 
"We poured everything we had into it and we hope you experience that and it resonates for everybody the way it does for us," says the actress, who plays the role of Okoye, the protector of Boseman's T'Challa in the fictional country of Wakanda. "It tells a very heart-wrenching story," she hinted with a sudden feeling of unhappiness. "And that is all I can say!"
Danai Gurira discusses how "Black Panther: Wakanda Forever" pays tribute to Chadwick Boseman at the #MetGala: "It's all about him. It's all an outpouring to love and honor him." https://t.co/fJJbqtPY58 pic.twitter.com/4muSyIWcGe

— Variety (@Variety) May 3, 2022
But regardless of the sad memory, Gurira glowed in her blue ensemble, a stunning creation designed by a Nigerian designer, Taofeek Abijako of Head of State. The custom creation was crafted with a one-shoulder design and voluminous silhouette, which the American-Zimbabwean actress slipped in to boldly embrace the 2022 Met Gala's Gilded Glamor dress code.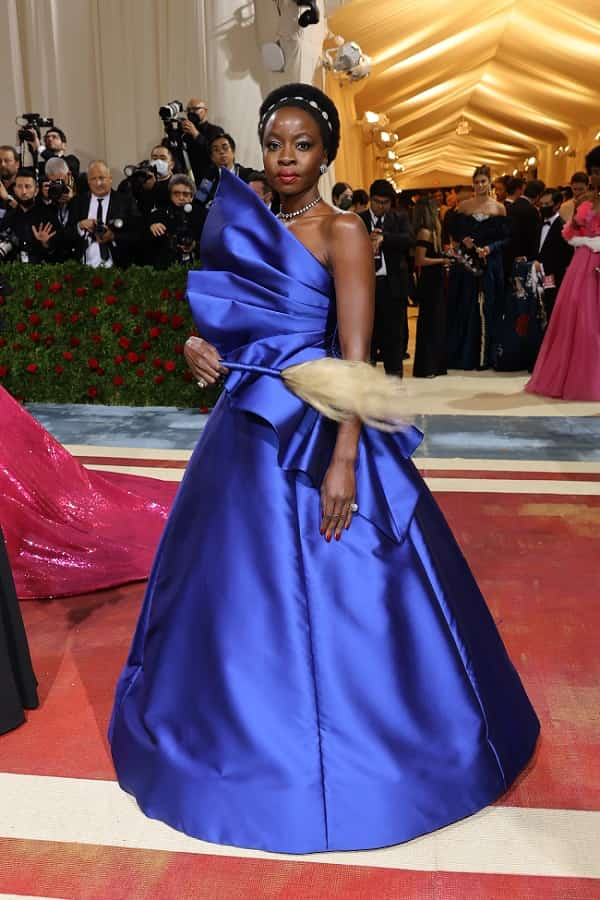 Getty Images
Known for the love she has for her root, Gurira's dress was a celebration of her African identity, and Abijako drew the inspiration from Festac 77 (a.k.a Second World Black and African Festival of Arts and Culture), a historic place in the city of Lagos, Nigeria, where the international arts festival used to be held back in the 70s. 
"This is an amazing young designer. He's only 23 years old and started this when he was only 17," Gurira told E! News while praising the young designer. "He's [a] Nigeria-born American and so it's this beautiful intersection of culture — the expression of it and celebration of it which I love because I am also intercultural in various ways. It was just a very organic connection. I'm very excited to celebrate his work today. He's very special."
At this point, however, we can all agree that Danai Gurira always slays. Whether she's rocking a plunging neckline or a high-low hem, Gurira always manages to look chic. And whether on her shaved hair, braided or in Afro, her hairstyles usually depend on the mood as she always adds her own personal touch to each look. Ahead, keep clicking for the 12 times the actress has our collective gaze pinned on her red carpet fashion.