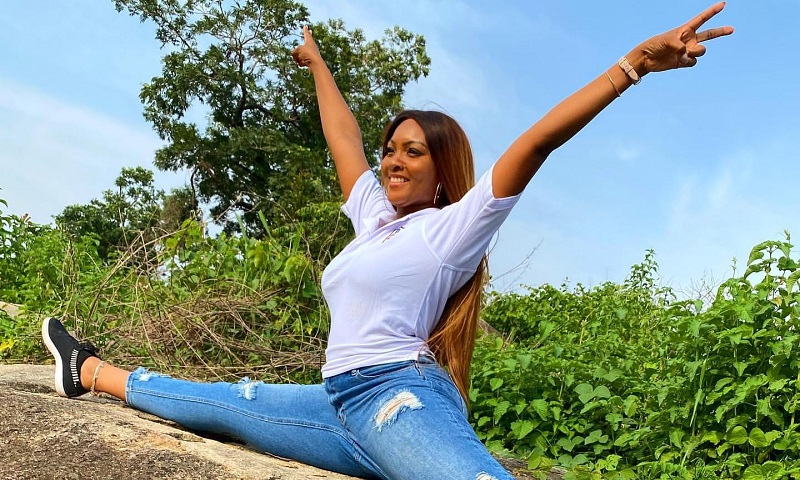 The summer heatwave is at its peak, and once again Osas Ighodaro would like to remind everyone, including herself, that she's got the summer body.
The actress, who returned from her early summer escape from the Boti Waterfalls in Accra three weeks ago, posted a series of sexy swimsuit pictures of herself living her life in the vintage Andrea Iyamah swimsuit. In the images taken on a poolside field, Ighodaro looked stunning while showcasing her incredible washboard abs in the structured and crossover two-piece swimwear.
"You can never go wrong in a classic @andreaiyamah 👙☀️🌴#Goodtimes #OsasBody 🤪✨," she captioned the three-slide post.
View this post on Instagram
Andrea Iyamah also responded in the comment section of the post, writing: "The sister in Vintage A.I 😍."
This isn't the first swimsuit photo Ighodaro has shared within a short time. Just last month, she shared gorgeous images with her three Ghanaian friends in colorful bikinis while enjoying the twin Boti waterfalls in Ghana. 
View this post on Instagram
The actress has been very active on social media since April after taking a break from the public eye last year due to the sudden demise of her mom. While returning back from the hiatus, she shared a message, thanking friends and fans for the support. And oh, the post was also accompanied with a chic snap of herself in a white dress and matching fedora.
"🤍🤎🖤 …I've missed you all too. I am my Mothers Legacy and it's time to get back to making her proud – so help me God🙏🏾," the post captioned.
She continued: "It's been a very trying few months but I'm grateful for all the love and prayers and support you all have shown me. I've seen your messages and concern and support and all I can say is Thank you from the bottom of my heart – it has helped in getting me through – one day at a time. God's blessings to you all. I truly appreciate it."
View this post on Instagram