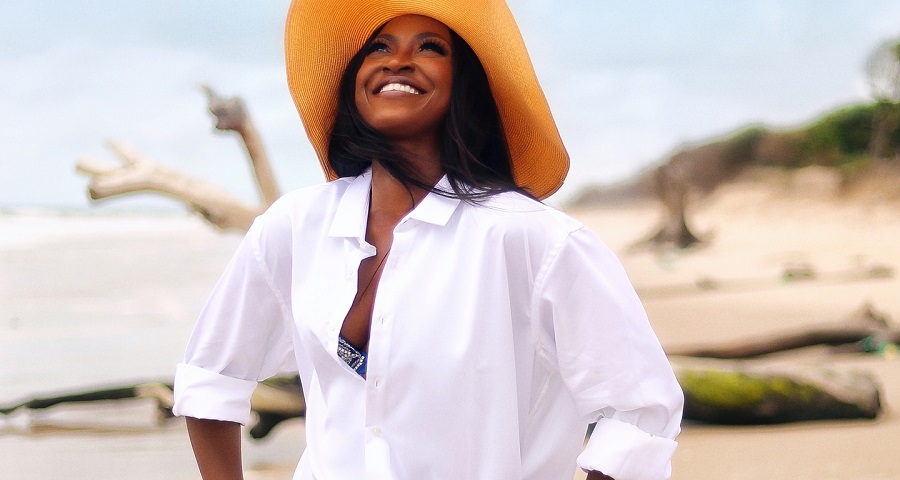 Veteran Nollywood actress, Kate Henshaw is turning 50 today Monday, July 19th, and she's glowing all the way.  
Kate who is known for her incredibly youthful looks shared new snaps this morning on Instagram which included different images of the actress posing in several outfits. 
In a true birthday girl mood, Kate looks cheerful in a purple, long-sleeve shirtdress without a pair of pants. She later posted another photo as she reclined on a sofa wearing a gorgeous red frock with matching heeled sandals.
View this post on Instagram
"Never would have made it this far without the King of Kings…🙏," the actress captioned the photo. "The laughter and joy in my life testifies of His goodness and mercy over me….. I am highly favoured!! This I know. 🧡🙏💥🎊."
View this post on Instagram
This was followed by another photo of the age-defying star striking a pose against a beachy landscape in a crisp, long-sleeve white shirt. She topped off the look with a fedora along with a beaming smile.
View this post on Instagram
The Africa Movie Academy Award winner also shared a video where she displayed her dancing skills while dancing to Drop It Like It's Hot — a song by Snoop Dogg featuring Pharell Williams. "Utterly and truly grateful for another year….My name is #K8DGR8 #50ShadesOfK8," she captioned. 
View this post on Instagram
However, friends and colleagues have all taken to the social media platform to celebrate the fitness enthusiast. "Wishing my hot beautiful friend a very happy birthday!" Rita Dominic posted on Instagram along with the picture of the screen diva. "You are such a bubbly bunny and an all-around amazing woman and I pray that the rest of your years be filled with every good thing on this earth. May the happiness you find today stay with you forever and a day! Love you lots @k8henshaw. P:S – This is what 50 look." 
Uche Jombo, her long-time friend also celebrated the actress for marking such a milestone, describing her as a "talented queen."
"I can write a book on the institution called KATE! I have loved her since my first day on a Nollywood set! That's over two decades of knowing, learning, working and believing in her brand! Timekeeper of sets. A talented queen. Fit4life at 50. WHAT!!!!!" she wrote. "Happy golden jubilee superstar! I celebrate you like always but most importantly I pray God continues to bless, keep, provide and lead you!!! HAPPY BIRTHDAY K8 @k8henshaw."