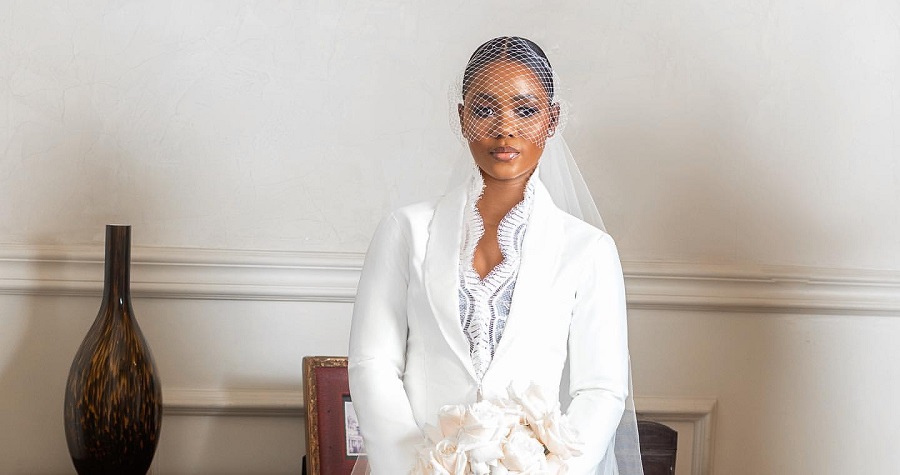 It wasn't Oluwasheye's style to wear a breathtaking, whimsical gown on her wedding day and as a fashion designer, she knew exactly what she wanted. The bride quietly tied the knot in a small, intimate civil wedding in Lagos one week ago. While it seemed like the couple planned to be extraordinary unconventional with their looks, the groom chose a pink tuxedo, while his bride slipped into an all-white look, featuring a blazer, matching pants, and a pair of court shoes. She was also covered up with a white veil as it complimented her lacy blouse, making sure her look ticked all right boxes of white wedding nuptials.
View this post on Instagram
And of course, there was no need to go overboard with accessories as the bride added a simple pair of stud earrings in other to keep the focus on her stunning pantsuit. She even to took to Instagram to buzz over her look, solidifying this wedding dress as one of the most beautiful unconventional creations for the occasion.
"Your fiancé fell for your adventurous spirit, and you've got a one-of-a-kind style." the bride captioned her look on Instagram. "It follows then, that you'd choose an unconventional, unforgettable look, like the Tuberose Pant Suit with its daring touch of Chantilly lace and dreamy color."
View this post on Instagram
The groom and his bride:
View this post on Instagram
And her shoes:
View this post on Instagram
Here at Fashion Police NG, our congratulations are in order.