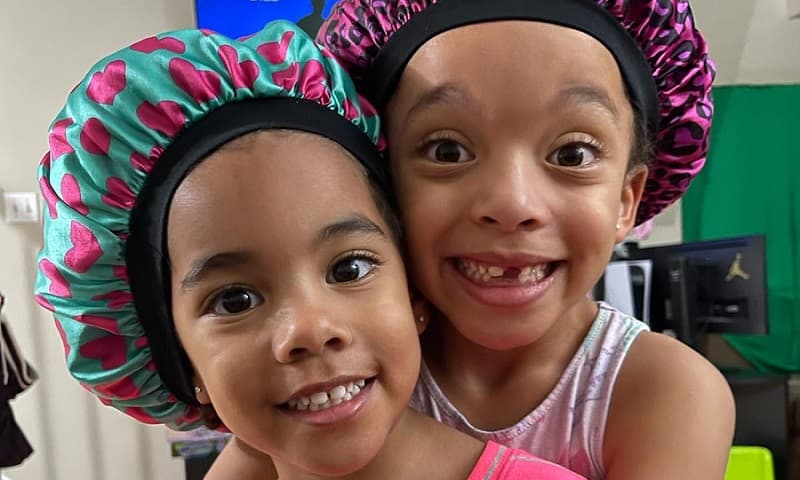 It's true that hair care is not as dramatic as it has recently become, but getting on a hair bonnet while you sleep is the current trend, so we have to get used to flowing with it. While you catch some shut-eye, protecting your hair with a hair bonnet helps to prolong the life of your high-end hairstyle while keeping it less frizzled and more hydrated. Without one, you may risk experiencing a drying out, breaking, and consequent ruining of your hairstyle. This could be that one hair accessory you didn't know you needed for a happier, healthier hair until now— a hair bonnet.
Over the years, black women have relied on bonnets as a necessity, but now, the beauty industry has begun to recognize the insights that back up its existence. Another good news is that owning a hair bonnet is not restricted to a particular race together with its recognizable affordability. Everyone (including men) is welcome to utilize it.
What is Hair Bonnet?
Hair bonnets are also known as bonnet caps or hair turbans and they are silked hair protectors that, in the words of famous hairstylist Cheryl Bergamy, "help reduce friction caused by laying on a cotton pillow which causes split ends, knotting, frizz, tangles and hair damage."
An added benefit of using this hair accessory, unlike the traditional hair nets, is the free flow it grants your hair while you sleep, preventing your curls from becoming flat. It is ideal for use for hairstyles including; ringlets, curls, beach waves, twist-outs, soft curls, etc. In terms of accessories, hair bonnets are not just for people with a particular kind of hairstyle. The advantages of a hair bonnet are applicable to all hair types and textures.
By extension, wearing hair bonnets is a way to take care of your skin as well. You may be asking how wearing a bonnet cap can improve the appearance of your skin. To explain, while you sleep, your pillowcase absorbs all of the natural oils and styling products from your hair, which then ends up on your skin. It is a surefire recipe for pimples, clogged pores, and skin irritability. So you see, hair bonnets are an excellent way to make sure that your skin and your pillows stay clean.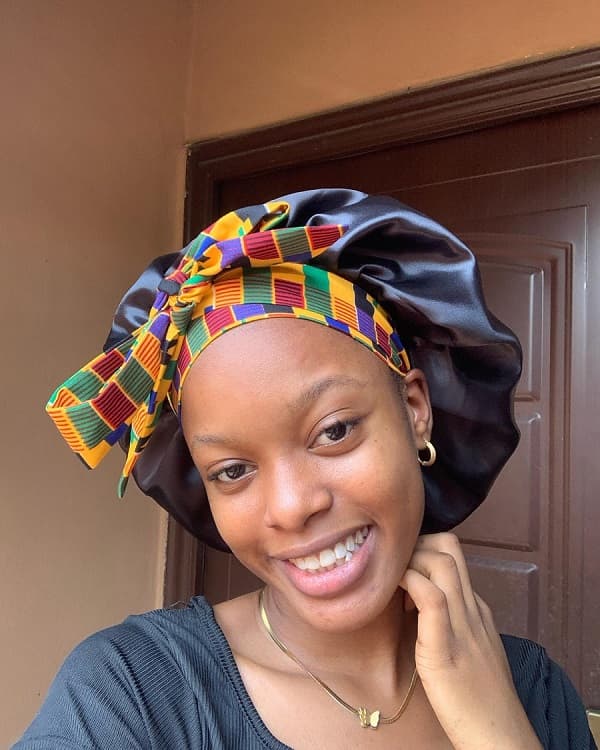 Photo: Instagram.com/tailoredbyjojo
How to choose the perfect hair Bonnet for you
It can be challenging to find a nice bonnet that won't mark your forehead or slide around when you sleep. But there are a few fabric rules to getting one —finding a silk or satin choice of hair bonnet is essential to safeguarding your priceless strands. The best material is silk because it is a natural fiber, is hypoallergenic, and causes no friction. Alternatively, satin-made bonnets can be used too.
Consider how comfortable your hair will be when searching for the ideal hair bonnet for you. Your experience wearing a bonnet will depend on how it is fastened to your head, from drawstrings to elastic bands to movable ribbons. The discomfort of choosing the incorrect hair bonnet might include having excruciating migraines, having it fall off while you sleep, having unruly baby hairs and edges from being improperly laid, etc.
Your choice of either the silk bonnet, towel wraps, or turban-like hair bonnets should be really comfortable, have a broad enough band, and strike that perfect balance between being too tight and too loose.
Additionally, fashion matters. I mean, as a girl, you have a concept of what sort of things you'd always choose over the alternatives, and that freedom is completely unrestricted since it matters that you should always have an all-around sleep. Thankfully, there are varieties of stylish hair bonnet options in the market today, including minimalist ones for those of you who prefer to keep things simple, as well as a selection of lively colors and patterns.
How to style your hair in a Bonnet
Styling your hair into a bonnet cap is quite simple there are 6-step procedures to follow:
Flip head upside down.

Hold the bonnet open with both hands.

Hook the bonnet at the nape of your neck.

Stretch the bonnet downwards, over the length of your curls.

Press the ends of your curls up towards your scalp to gather them into the bonnet.

Situate the bonnet and ensure all curls are tucked in.