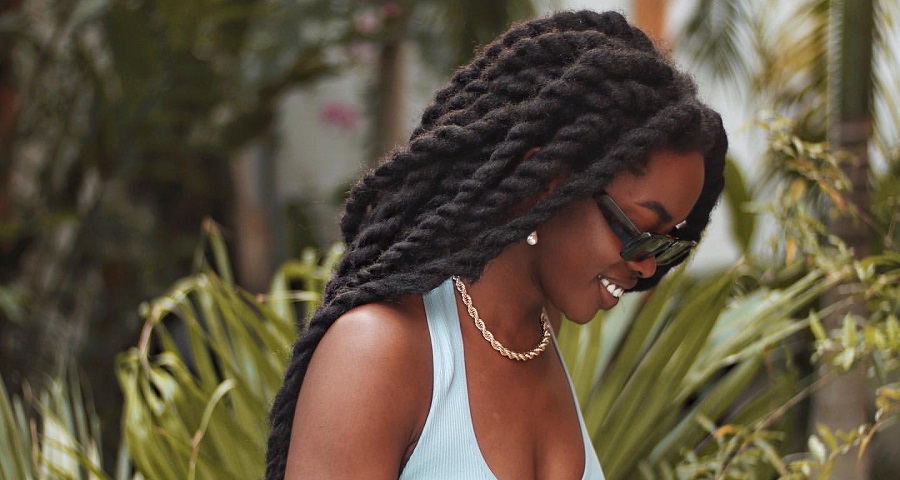 Choosing the right hairstyle for your hair can be a bit tasking sometimes, especially when you have type 4 hair. But we all know that a great braid goes a long way in shaping how your face looks. Whether it's a protective hairstyle or just something to enhance your looks, braids are easily the first choice.
The fact that our styling options are limitless, makes choosing a hairstyle confusing. How do you know which one would fit the shape of your face or the one that would make your eyes pop? Selecting a braided hairstyle requires lots of thinking and matching to see which one goes with the look you want to achieve.
When you surf the internet for hairstyles you might find an endless list and end up liking almost all the styles. This makes selection even more confusing because you won't know the exact vibe you want to go for.
For this reason, allow us to spoil you with some gorgeous braid ideas — the hairstyles you can always turn to day in day out. There are perfect for every type of black hair and you can never go wrong with it. Below, continue reading for the 25 braid hairstyles you should keep in your hair rotation.
The braided up-do is perfect if you're looking for a relaxing hairstyle that won't require too much manipulation. In the western part of Africa, Nigeria to be precise, the hairstyle is called 'SHUKU'. This style can be made with added extensions or just your hair. It meets in the middle of your head in a bun. 
Threaded hairstyle has its roots in traditional Western African culture. Most of the time it is made as a way to stretch the hair and give it a softer feel. The use of wool or thread to make intricate patterns is imminent with this hairstyle. Perfect if you're going for an African-inspired look.
Bantu knots are created by parting the hair into little potions, a knot is made on each part of the sectioned hair making it look like little twisted buns all around the head. The styles give off a very cultural look that gets everyone talking.
Instead of the normal matting, he twists hairstyle are made by sectioning the hair into two and rolling them together to form twists. You can also make a flat twist with this technique. It gives the same look box braids would give.
 

 

 

View this post on Instagram

 

 
Very popular with Jamaican ladies, natural locs are black women's favorite. The style starts either by coiling, braiding, or palm-rolling the hair to get your desired style. After that, the hair is knotted or sewn into each other and allowed to grow. Dread Locs are great when you're looking for a hairstyle that will last for a long time. It's more of a permanent hairstyle.
The artificial version of natural dread locs is what we now commonly know as faux locs. It can be made by braiding your natural hair in single pieces and then wrapping it with an extension. The extension makes the single strands thick and strong enough for styling giving it the look of the natural locs. Faux locs are also able to maintain a clean look for as long as 4-5 months.
 

 

 

View this post on Instagram

 

 
Added extensions are used for box braids. It is achieved by parting the hair into little rectangular portions. A knot is created at the root of the hair and matted down to the tip of the extension. You can style your box braids in many different ways to achieve different looks.
 

 

 

View this post on Instagram

 

 
Criss-cross cornrow hairstyle is a more sophisticated version of the popular cornrows hairstyle. It is made by overlapping one braid over another braid to form straight back cornrows.
 

 

 

View this post on Instagram

 

 
Boho braids are like your regular braids but in a more eccentric way. During the process of braiding, some strands of the added extensions are left out and then curled to give it a chic boho look. 
 

 

 

View this post on Instagram

 

 
For goddesses indeed! The goddess braid hairstyle is made like normal braids but thicker and a bit closer to the scalp. There are different styles of goddess braids, but regardless of the style you can be sure it will perfectly frame your face and make your beauty pop.
 

 

 

View this post on Instagram

 

 
As for Butterfly locs, the natural hair is section and made into individual braids after which they are wrapped in the desired hair extensions and they are pulled out at various points to form curly loops giving it it's unique style. 
 

 

 

View this post on Instagram

 

 
Knotless braids are unique for it's name because it starts with your natural hair and then extensions are added as you go. It can either be long or short depending on your preferred length. What we love about it, is that the hairstyle is versatile and easy to style. If you want something more stylish than regular box braids, Knotless braids are definitely one of the best options.
 

 

 

View this post on Instagram

 

 
The pattern of these hair is different because it is made from one side of your head to the other side. Different artistic patterns are added  as you go. It's a unique hairstyle for when you don't want the stress of styling everyday.
14. Half-up Braided Hairstyle
 

 

 

View this post on Instagram

 

 
The half-up braided hairstyle is made by parting the hair half-straight back and then the rest of the hair is made into single braids. The half corn rows can be styled at the tip into a bun for added versatility.
15. Stitch Braid Ponytail
 

 

 

View this post on Instagram

 

 
The stitch braid ponytail is made by making smaller braids crossing over each other in the middle of two big braids that would meet in the middle to form a ponytail.
 

 

 

View this post on Instagram

 

 
As the name implies, Jumbo braids are derived from the bulky size of the braids. The braids are made to be bigger than the average braids and the hairstyle is not so versatile when it comes to styling. This is because the size of the braid is already a highlight.
 

 

 

View this post on Instagram

 

 
These gorgeous braids are made in a zig-zag form or S-form. It can either be in cornrows or an up-do. The S-pattern is the highlight of the look.
 

 

 

View this post on Instagram

 

 
Like the sound of it's name, Braided Bantu knots hairstyle are braided in a style of your choice then rolled up to form knots. It looks like the regular Bantu knots but it's a more sophisticated version.
19. Half-up Half-down Braids
You can either use your natural hair or added extensions for the half-up half-down braids. After braiding your hair, half of your braided hair is put up in a fine bun, while the other half is left down on your back. How cool?
 

 

 

View this post on Instagram

 

 
Braided stitch bun is just like the regular cornrows but what makes the hairstyle different is that stylists uses their pinkie finger to create patterns while braiding and then creates a bun at the end of each line. It's perfect for when you don't want extra manipulation after your hair is made.
 

 

 

View this post on Instagram

 

 
The appropriate amount of extension is needed to make the beauty of Marley Twists hairstyle pop. Once that is done, the extensions are twisted into your natural hair in your preferred style.
 

 

 

View this post on Instagram

 

 
The long ponytail braid is one of the more popular up-do hairstyles we have today. Instead of braiding the whole hair this time, it is sleeked in a bun and the tip is braided with hair extension in a long braid. It gives off pretty Disney Princess vibes.
 

 

 

View this post on Instagram

 

 
Side-swept braids can be made in the form of French braid from either side of your head to the other side depending on the look you want to go for. It also frames your face perfectly on both sides.
 

 

 

View this post on Instagram

 

 
This gorgeous hairstyle is sleeked into a bun either in the middle of your head or at the nape of your neck. Hair extension is added and then braided to your desired length. It's a very urban hairstyle and when you want to connect to your fierce side, you can add a pop of color.
 

 

 

View this post on Instagram

 

 
Braided space buns is a fierce hairstyle and one for the strong. It's made just like regular braids but the hair is separated into tiny sections. The tiny sections are then braided  with small extensions. Put it up in a space bun when you're done braiding.
 

 

 

View this post on Instagram

 

 
This contemporary hairstyle can be achieved by parting your hair in two and using extensions to mat the tip of each section. Add a little edge control and hair gel to keep fly away hair in place and you're good to go.